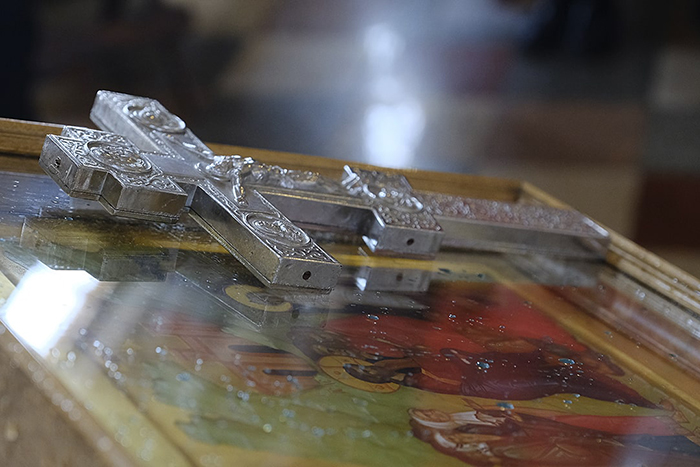 Mark 8:34-9:1
Hebrews 4:14–5:6
The Church reminds us that the Lord came to call sinners rather than the righteous to repentance. The Church lays the holy cross before our eyes today. Twice a year there is a solemn transfer of the cross from the altar to the middle of the temple: on the day of the Exaltation and today, on the Sunday of the Cross. On the Exaltation Day it is erected above people, solemnly and victoriously, while today it is "laid down" in front of us. The criminal was first put on a cross while it lay on the ground, and then nailed, and then the cross was lifted up. So, the cross rests in the middle of the temple. The word of God, Whosoever will come after me, let him deny himself, and take up his cross, and follow me can be heard from within this cross, as if from the Burning Bush. No matter what kind of person you are: it refers not only to your bad qualities but also to the good ones. It refers to your sins, your righteousness, your passions, your merits…
In order to deny yourself, you must first come to your senses just like the prodigal son (Luke 15:17). Here he comes back – dirty and broke. He comes to use what was multiplied by his father and brother during this time. He comes to lay his sonship at his father's feet and ask for mercy to be at least a wage worker in his house. He has crucified not only his passions and his former impulses, but also his dignity and pride. In order to be able to forgive someone, you also have to crucify yourself. The father does that – but not as a response to his son's self-crucifixion. The father's love was crucified even earlier, his heart was open long ago, if only the son returned.
Only the older brother couldn't crucify himself. He could not deny himself; he was so good, so faithful, so devout; he had not gone away, nor had he wasted a penny. He despised his brother who begged forgiveness and his father who forgave so easily. He was a man of this world, a man of this kind. The word Man sounds proud to the people of this generation! How can you humiliate yourself and ask forgiveness? How can you forgive so easily? It is a shame to even wear a cross on your chest: it means that you show your weakness and that you do not trust yourself. Who do you rely on? Wasn't Jesus unable to protect even himself, after all? The Lord says, Whosoever therefore shall be ashamed of me and of my words in this adulterous and sinful generation; of him also shall the Son of man be ashamed, when he cometh in the glory of his Father with the holy angels.
A person wakes up when he or she realizes that this cross in the middle of the temple is there for him or her, and for no one else. It would seem that suffering is closer than ever. In reality, though, now is our salvation nearer than when we believed. The night of death seems to have come, but in fact the night is far spent, the day is at hand, and now it is high time to awake out of sleep (Rom. 13:11-12). It is impossible to receive mercy and receive grace for timely help without taking the cross. That is because the cross in front of us is simultaneously the same altar on which the High Priest passed through heaven with the offering of his sinless flesh. The word of God urges us to approach the throne of grace boldly. This High Priest can also have compassion on the ignorant, and on them that are out of the way; for that he himself also is compassed with infirmity but without sin.
Translated by The Catalogue of Good Deeds
Source: https://azbyka.ru/otechnik/Vyacheslav_Reznikov/propovedi-na-kazhdyj-den/44_6