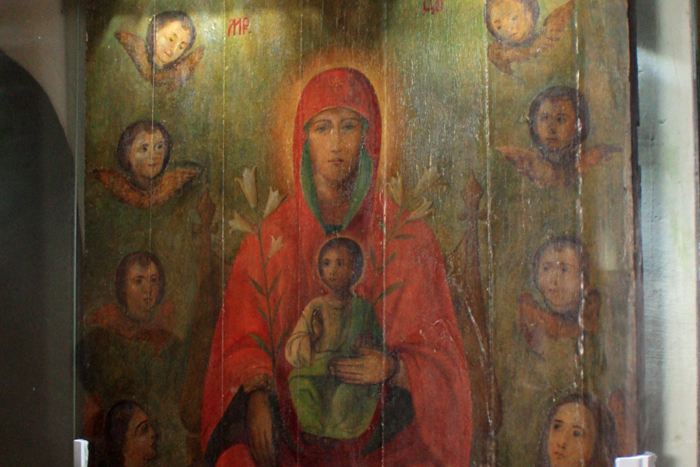 The Divnogorskaya Sicilian Icon of the Mother of God was named after the place of its original location and its glorification in the Holy Dormition Monastery of Divnogorsk, in the former Ostrogozhsky uezd, Voronezh Province. It was called Sicilian after the place of its origin, because according to a legend, this icon was brought from Sicily by pious elders Xenophontos and Joasaphos. They are believed to have been Orthodox Greeks and to have come here probably not before late 15th century. Xenophontos and Joasaphos founded a monastery in a picturesque place above the Don River, at the confluence of the Tikhaya Sosna River. The area is called Divy or Divnye (marvelous) Mountains because of the astonishingly shaped pillars of chalk located in the mountains.
It is supposed that Xenophontos and Joasaphos dwelt in a cave (where the Church of St. John the Baptist was later built) and that the first church in the chalk pillar was carved out by them. It was in that church that they put the icon of the Mother of God that they had brought with them from Sicily. This was also where they found their eternal rest.
The Mother of God of Sicily (Divnogorsk) is depicted sitting on clouds. There is a blossoming white lily in her right hand, and She supports the Holy Infant who sits on Her knees with her left hand. The Savior holds a flower (a lily) in His left hand and blesses the onlooker with His right hand. There are eight Angels depicted beside the Mother of God, two of whom, at the bottom, are shown kneeling and with raised arms. The Holy Spirit in the appearance of a dove is above the head of the Mother of God.
The icon became particularly famous in 1831 during a cholera outbreak. In Korotoyak, 7-8 miles from the monastery, there was an elderly woman, Catherine Kolomenskaya, who saw the Blessed Virgin in a dream (as She is represented on the Divnogorsk icon). She ordered the icon to be taken out and a prayer service to be performed before her. The wonder-working icon was brought to Korotoyak, and after a diligent common prayer before the holy icon cholera stopped. The town of Ostrogozhsk was also saved from cholera by the Mother of God's intervention. The inhabitants of Korotoyak and Ostrogozhsk were also saved from cholera in 1847 and 1848 by a miraculous intercession of the Mother of God, which took place after a procession with the holy icon around these towns.
According to a legend, the celebration of the wonder-working icon on February 5 was established by the original monastery founders – Xenophontos and Joasaphos.
Translated by The Catalogue of Good Deeds
Source: https://azbyka.ru/days/ikona-divnogorskaja-sicilijskaja