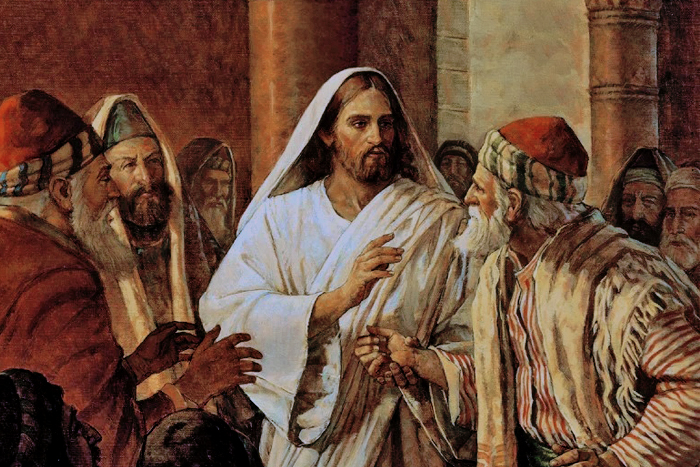 Mark 12:13-17
1 Peter 2:21-3:9
The Pharisees once asked the Lord Jesus another tempting question, Is it lawful to give tribute to Caesar, or not? Shall we give, or shall we not give? Eventually, Jesus answering said unto them, Render to Caesar the things that are Caesar's, and to God the things that are God's. It is quite difficult to know what belongs to whom in some cases. It is as difficult as separating what is necessary for the soul and what is necessary for the body, because they are so united in this life.
In this case everything is obvious: there are the "image and superscription" of the Caesar on the coin. But what if there is an image of the Lord Jesus Christ on the coin? Or, say, the image of St. George the Victory-Bearer? Would these coins instantly belong to God, and hence no longer to be given back to the person who minted them?
Well, who owns the precious liturgical vessel with the image of the Lord Jesus Christ? What should we do if a God-hating ruler commands: I demand that you give me everything of value, including liturgical items, on pain of death. Would we say: no, we refuse to give you our liturgical items? Then we would engage in a physical struggle. Of course, we would be defeated and executed, as Caesar had warned us about. What would we accept death for: for Christ, or for our gold?
We Christians should know our place in the world. We must always be ready to be persecuted, and first of all, to be robbed of all that is valuable — if only as a provocation. Will we renounce Christ when we yield to power and give up what they consider to be of value? When we look at a precious chalice, we are amazed at its beauty and the skill of its creators. Our feelings are quite different, though, when we look at the Eucharistic vessels of St. Sergius, made of wood, which nobody needs but us.
When they ripped icons off of their precious covers, didn't the icons shine in their original beauty because of that? When they removed icons, declaring them to be of "artistic value", was it with less reverence that a Christian kissed a simple paper icon with sacred faces on it?
So much for suffering for gold and valuables. Jesus Christ also suffered for us, leaving us an example, that ye should follow his steps. The apostle says, Not rendering evil for evil, or railing for railing: but contrariwise blessing; knowing that ye are thereunto called, that ye should inherit a blessing. What does a person feel when they cling to a precious object and do not give it away? The same as the robber.
In order that we may not get lost, the Word of God constantly reminds us of what is in the sight of God of great price. For example, in today's case: Ye wives, let it not be that outward adorning of plaiting the hair, and of wearing of gold, or of putting on of apparel; But let it be the hidden man of the heart, in that which is not corruptible, even the ornament of a meek and quiet spirit, which is in the sight of God of great price. Which vessels are we to honor? Likewise, ye husbands, dwell with them according to knowledge, giving honor unto the wife, as unto the weaker vessel, and as being heirs together of the grace of life; that your prayers be not hindered.
Naturally, everything related to our faith, to the Divine Liturgy, is precious for us; everything is highly revered and does not tolerate disrespect. However, the Christians of old gave up their souls specifically for Christ and not for anything that is tangentially related to Him. We should not repeat the mistakes of the past, when the God-hating authority provokes us again by seizing our valuables and pulling out our souls with them, due to our clinging to them and our being unable to distinguish the things that are God's from those that are Caesar's.
Translated by The Catalogue of Good Deeds
Source: https://azbyka.ru/otechnik/Vyacheslav_Reznikov/propovedi-na-kazhdyj-den/40_1