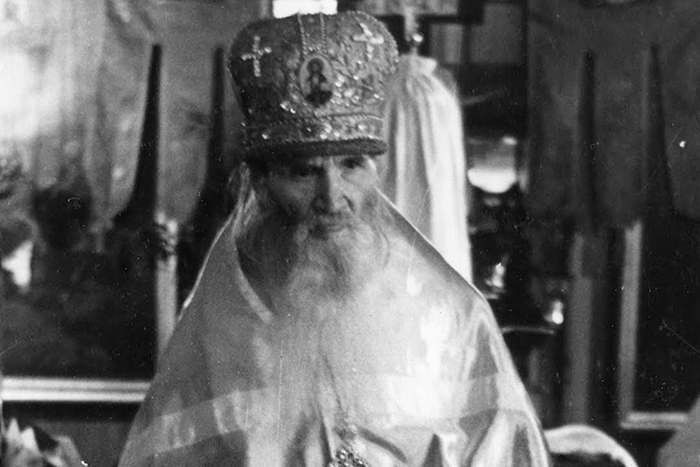 Saint Sebastian began his monastic journey in the Optina Pustyn. He was a cell attendant of Elder Joseph, who came to be his great spiritual mentor. When St. Joseph died, he became a cell attendant of St. Nectarius. Upon Optina's shutdown and Elder Nectarius's death, St. Sebastian served in a number of parish churches. His way of the cross began in 1933 when he was subjected to years of exile, concentration camps, persecutions, and oppression. When he was released from prison in 1939, his spiritual children bought him a house in Karaganda, where Saint Sebastian settled. Gradually, a community of the elder's spiritual children moved to that area. When the authorities permitted to open a church in the village in 1955, St. Sebastian became its rector.
The small village was visited not only by numerous lay pilgrims, but also by clergy and bishops. Metropolitan Joseph of Alma-Ata and Kazakhstan, who himself had spent twenty years in camps and exile, said, "Father Sebastian planted a vineyard and watered it with his tears."
"There is a profound divide between us monks and the world. The world will never understand our lives and we will never understand theirs. If the monks knew in advance how many temptations and sorrows awaited them on the narrow but life-saving path, no one would go to the monastery. Likewise, if the world knew about the future benefits for the monks, everyone would go to the monastery."
Father Sebastian used to say the following about prayer: "You can pray in any place, at any time: while you stand, sit, lie, while you are at work or on the road. But it is a sin to talk in church." He harshly rebuked those who were talking in church during worship, especially monks.
He reminded his spiritual children time and again that they had to make the sign of the cross silently when getting on the bus, on the plane, in the car, and so on, even if anyone else laughed at them. Others can be saved from imminent danger for the sake of one, two, or three believers which was shown to be true on a number of occasions.
"Tolerate each other's failures and imperfections, for therein lies salvation. Fire is not extinguished by fire, but by water. Likewise, evil is vanquished only by love."
"Teaching others is like throwing stones from a bell tower. Doing things yourself is like dragging stones onto a bell tower."
"You should find faults with yourself, not with other people or things that you have not managed to deal with properly. This is the same way a child deals with fire or a sword: he burns himself and cuts himself."
Sometimes he would say to those who complained of being sick, "One illness will go away, the other will come in its place." "We need to be sick sometimes or we won't be saved. Diseases are gifts from above!" He also said: "Thank God when you are sick." Sometimes, he would say to those who were complaining of their illnesses, "What else do you expect to do to be saved? There is no other way than that." "No one will inherit both kingdoms at once. Whoever lives here for the pleasure of his own flesh and disregards his soul shall be denied the Kingdom of Heaven."
He didn't recommend to go to resorts or vacation destinations, "Use this money at home; have rest and relax at home and go to God's church more frequently."
He repeatedly said, "For your failure to fast without a valid excuse, there will come a time when you fall ill. In that case, you will have to fast against your will. The Lord will allow it to happen for your sins."
He often begged and warned people not to go shopping at the market, retail stores, etc. on holidays to avoid God's punishment. He taught his listeners to respect church feasts, and not to exchange them for anything worldly and spiritually harmful. "It is only in church that a person's soul is renewed and he is relieved of his sorrows and illnesses."
Elder Sebastian was distressed at the sight of those who, having lost their loved one, became desperate and hysterical by the coffin of the deceased. He would call them unbelievers. "For a man who has no faith, it is hard to die because he leaves his family and possessions behind. It is hard for unbelievers to lose a loved one whom they relied on for all their earthly happiness. They do not understand God's providence. On the contrary, among the believers it is typical for relatives to weep for the departed but they do so reservedly and with moderation. Their sorrow is diluted with prayer and hope for God's assistance. A believer dies quietly as though he falls asleep, and when he dies, the last kiss of his Guardian Angel is imprinted on his face."
Father Sebastian often replied to some people who complained about disturbances from people, demons, passions, etc., "You can conjecture that peace will come when they sing "Rest in peace with the saints…" at your funeral. Until then, do not seek peace till you die. A man is born not to rest, but to work and to persevere for the sake of the future bliss. We are strangers, aliens, and visitors here. Travelers have no rest in a foreign country where other people live. They march steadily towards their home country, i. e., the House of God, the Kingdom of Heaven. If we slow down in this place of sorrow, in the world of pleasures, the evening (i. e., the end of our days) will come imperceptibly and our soul will be found unprepared and without good deeds, and there will be no time left to do any good. Death is inexorable! No wealthy man, no money lover, no hero, no king, no warrior can bribe off death, and none of them can take any of their possessions with them. The man was born naked and departs from this world naked. Only his faith, his good deeds, his charity can make it with him into the afterlife. No one else can help him: neither friends nor relatives."