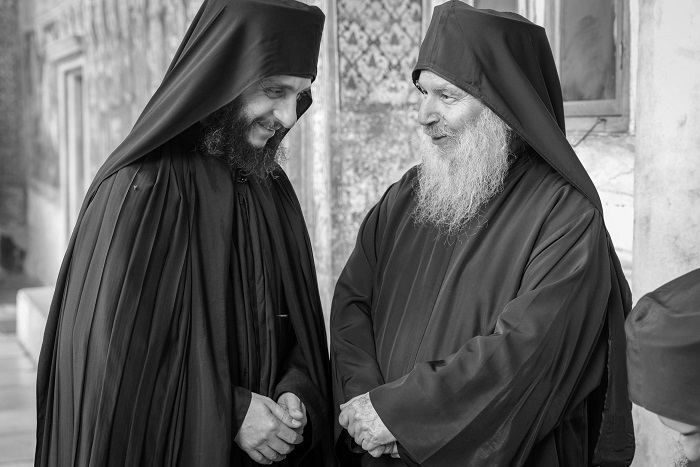 The seventh Beatitude is: Blessed are the peacemakers: for they shall be called the children of God (Matthew 5:9).
What does it mean? "Those who want to be blessed should not only be friendly and not cause disagreement, but also stop any disagreement between others and try to reconcile those who are in conflict with each other as much as they can. The peacemakers are promised the graceful name of the children of God as a reward, and undoubtedly a degree of bliss worthy of this name" (Catechism). But the work of the peacemaker is not effortless either. Indeed, how difficult it is, for example, to rebuild a broken friendship, to reunite enemies, to quench their mutual hatred and spite! In this case, the peacemaker will need to demonstrate a passionate love for his neighbors, as well as self-sacrifice, wit, and skill. Do you possess all these qualities? If not, let us learn how to act as peacemakers from God's saints.
Some hermit monk came to one of the sketes for a while. An elderly skete dweller who had a vacant cell invited him to live in it. The monk traveler settled in it. Many people started visiting him; some brought him everything he needed, while others were looking for conversations with him. The owner of the cell became jealous and started to grumble. "I have lived here for so long," he said, "and no one has ever come to me, and this man has just moved in, and everyone is desperate to see him." Then he told his disciple, "Go tell him to get out of the cell: I need it for myself." The disciple went, but instead of saying what he had been told to say, he announced, "My elder sent me to ask about your health." The monk took it for the truth and responded, "Tell your elder to pray for me: I am not quite well." The novice went back to his elder and lied to him, too, "The monk said he had found another cell and is going to leave." After a few days, the guest did not leave. The old landlord sent the young apprentice again to say that if the tenant didn't leave soon, he would come and kick him out with a rod. The disciple used a trick again. "My elder," he said to the traveler, "heard that you were very ill and sent me to visit you." The monk replied, "Tell your father that I feel good now thanks to his prayers." The disciple returned to his mentor and used the trick again. "The monk," he said, "announced to me that he would definitely be gone in a week." A week later, the guest did not leave. So the old landlord took his rod and went to kick him out. The disciple stopped the elder for a minute. "Wait a bit, Father," he said, "I'll run and see if there's anyone else in there, or else there might be a temptation." Meanwhile, he ran to the guest and said, "My elder is on his way to invite you to his house and offer you hospitality." Hearing this, the traveling elder went out to meet the boy's master, bowed to him from afar, and exclaimed, "I do not deserve your visiting me, I will come to you without calling." It was only then that the old master understood his disciple's prudent stratagem, pacified his soul, threw the rod away, and hurried to greet his guest, whom he had been very angry with a few minutes before. He greeted him and invited him to his house, and began to talk to him like a friend. When the latter left, he asked the disciple, "Did you tell him anything I told you?" The disciple answered, "No." The elder was happy and realized that his anger at the stranger was instigated by the devil; so, he fell to his disciple's feet and said to him, "No, I am not your teacher anymore. You are not my disciple. You are now my teacher, and I shall be your disciple."
What a wonderful example to follow, and how unfortunate it is that we hardly ever see people like the old monk's wise disciple! What do we see now? Everyone wants to pull each other's leg, to make one person fight with the other, and to inflate a misunderstanding between neighbors into irreconcilable hostility and hatred. We hear words of one friend passed on to the other friend, with so much gloat and malice. The fire keeps on growing and growing, and all these things result in squabbles, frustrations, family disputes, and the like. Is this the kind of conduct that the followers of Christ the Savior are supposed to have? Did He teach us so? Peace I leave with you, my peace I give unto you, He said (John 14:27). By this shall all men know that ye are my disciples, if ye have love one to another (John 13:35). Do we have peace and love among us? Alas, they are as scarce as hen's teeth. Let's come to our senses, brethren, and let's always remember that all of us are children of the same Heavenly Father and consequently our life here is a school of love; that love for our neighbors is the foundation of the Christian law; and that the Christian society should belong to its realm. May this love reign in our midst, and may it be known to everyone that we are the disciples of our Savior, not merely in word but in deed, too. Amen.
Translated by The Catalogue of Good Deeds