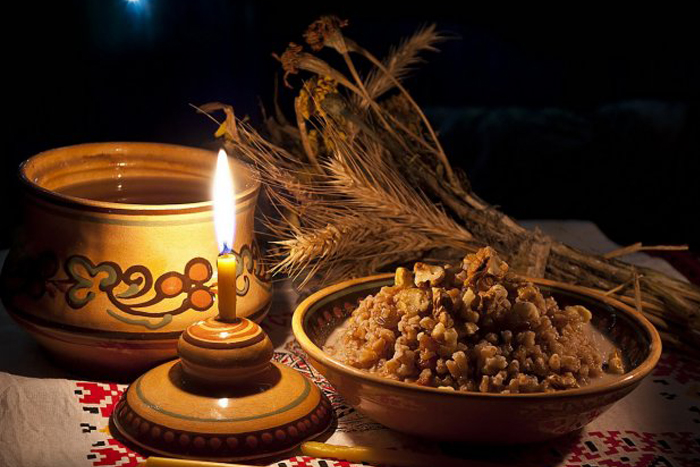 Matthew 6:14-21
Romans 13:11-14:4
Prayer is to be addressed to God. Giving alms and fasting are also commanded by God. Therefore, when thou fastest, anoint thine head, and wash thy face; That thou appear not unto men to fast, but unto thy Father which is in secret: and thy Father, which seeth in secret, shall reward thee openly.
Yet, how to fast in secret, if the 69th Apostolic Canon states, "But whosoever – be he a bishop or a presbyter, or a deacon, or a subdeacon, or a reader, or a singer – does not fast for forty days before the Easter, or on Wednesday, or on Friday, save for the obstacle of bodily weakness, he must be defrocked. As for the lay man, he must be excommunicated?"
In fact, bodily weakness is different for everyone. Everyone chooses the extent to which he or she is going to fast, based on his or her conscience. No one but you knows where your weakness ends and your desire begins. A bishop once asked the Elders John and Barsanuphius, "I eat once a day during the fasting days, and I eat only bread and water. Am I doing it right"? They replied, "Check it out with yourself: if it does not prevent you from performing your duties, and if you are not overcome by vanity, then your fasting is right."
If you fast more strictly than others, you must keep it a secret. But even with the strictest and most secret fast, even those who don't eat at all, must take care not to judge him that eateth, so as not to lose all their labor. Not to mention that the one who eateth – the person who hasn't yet had enough courage to introduce fasting into his or her life – must not despise him that eateth not. Do not invent any "scientific" excuses and do not consider yourself above the food laws. Then you'll be able to at least hope to move forward somehow.
Well, if we are gathered around the same table, then it would be best to avoid talking about who eats what and who doesn't, and whether, for example, there are non-lenten ingredients in the bread on the table.
Fasting, as well as any Christian practice, requires a free, creative approach, inspired by love for God and for one's neighbor. For example, the laws of Lent permit wine on Saturdays and Sundays of the Great Lent. Now here is a person at the table with us who absolutely can't drink a single drop of wine. Well, what should we do?
If he doesn't drink, it's his problem. Why should we not drink wine because of him? That's not how love works. Love speaks through the mouth of the Apostle Paul: it is better neither to eat flesh, nor to drink wine, nor any thing whereby thy brother stumbleth, or is offended, or is made weak (Romans 14:21).
Today, we have heard about the things without which no feat will be possible, and without which even prayer will not be accepted. For if ye forgive men their trespasses, your heavenly Father will also forgive you: But if ye forgive not men their trespasses, neither will your Father forgive your trespasses. Tonight, just before the start of the Lent, we have the rite of forgiveness in our churches. It is always very solemn and graceful. We go to church to ask everyone to forgive us, people we know and those whom we don't know at all, those who did nothing wrong to us and those to whom we did nothing wrong. Meanwhile, everyone has one single person whom they have really caused serious harm. We will not ask them to forgive us, though! Immediately, all the solemn, beautiful and touching stuff will turn into a mere spectacle. We will start the Lenten season of salvation with lies.
Lastly, the Lord says, Lay not up for yourselves treasures upon earth, where moth and rust doth corrupt, and where thieves break through and steal: But lay up for yourselves treasures in heaven, where neither moth nor rust doth corrupt, and where thieves do not break through nor steal. Human praise, surprise and respect, is also a treasure collected on earth, which can be lost in an instant. Just stumble in anything small, and all your great glory will collapse. People, though they are surprised by someone else's godliness and seem to respect it, like it even more when a godly man falls because it relieves them of the moral obligation to work and imitate him.
Translated by The Catalogue of Good Deeds
Source: https://azbyka.ru/otechnik/Vyacheslav_Reznikov/propovedi-na-kazhdyj-den/43_5