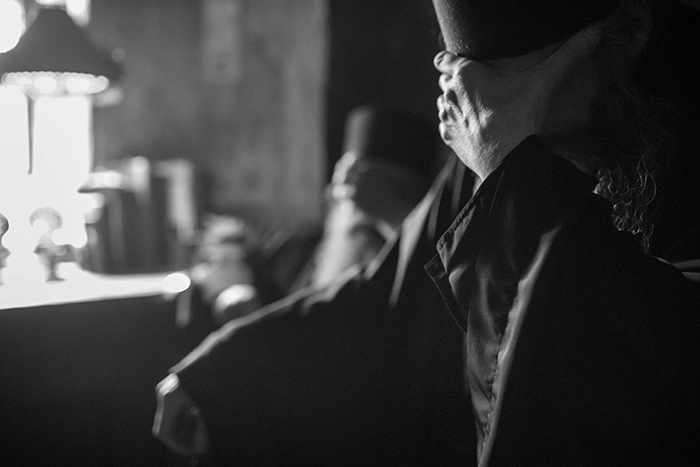 Once when Geronda and I were outside with our prayer-ropes and he was telling me about prayer and his experiences of looking after monks in their old age, I could smell lilies and roses, even though we only had holly-oak trees there. I was sniffing intently, and he said to me, "Why are you doing that?"
"Geronda, I smell lilies and roses."
"Why don't you go over there to my door?" So I went over to his door and smelled his cell. That heavenly fragrance was so strong that it stuck to my beard and my clothes. Then he explained to me, "It is from prayer. Don't you understand? The name of Christ is fragrance."
I could sense the scent of his prayer pervading everything around him. It affected not only my bodily senses but also my entire internal self. When my brothers went to Geronda's cell after his vigil to tell him their confessions, they also sensed the same fragrance many times.
When Geronda's prayer culminated, his little cell became a "burning bush." Many times I said to myself, "I wonder what takes place within the soul, within the heart of this holy man?" In order to grasp what was really taking place within the heart of this contemporary saint, we, too, must also get a taste of how it feels when the prayer is continuously being said on its own accord within our heart. We must see and experience through noetic prayer what God is like — what beauty He has, what His divine traits are. We must feel how He mysteriously exists, how He miraculously sustains all creation, how He is present within creation yet beyond it and completely within the heart, how theoria occurs within the nous, how He takes the nous and divinely guides it into His mysteries, and what is revealed to the nous. Geronda lived all these things to a fullness beyond our comprehension.
The power of Geronda's pure prayer affected not just himself but even nature around him. When Geronda was praying, wild birds would come to the windows of his cell and peck on the panes. One would think that this was the activity of the devil to hinder him from prayer. But, in fact, the wild birds were attracted by Geronda's prayer!