We may have heard the opinion that the dark powers influence people only in relation to the evil eye or maleficium. Hardly anyone pays attention to the very tangible impact that demons have on us human beings outside of the magic realm. Therefore, we have to seek proper understanding of the nature of demons and the ways that they use to attack people.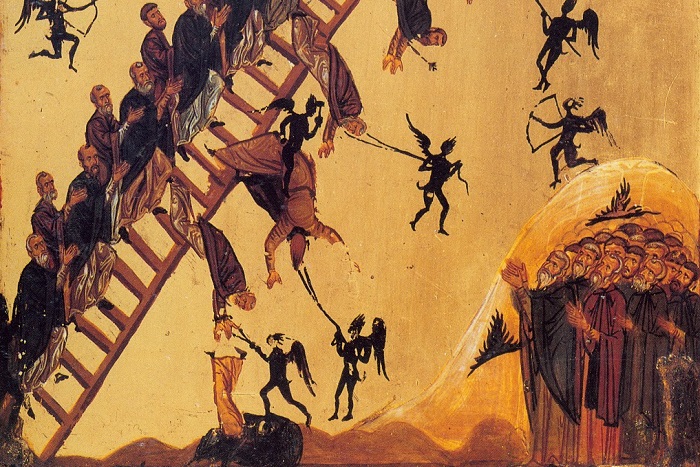 Who are demons?
They are personal sentient and incorporeal beings who separated themselves from God and built their own special world that is hostile to all good. Deprived of the spiritual Heaven, they reside in the air (cf. Ephesians 2: 2) and turn their evil gaze primarily on the world of humans.
They possess some kind of power in this world because Man – the Crown of God's creation – ceded his throne as the king of the world to the wily seducer. Therefore, it is clear that evil powers are capable of doing some harm. The Book of Tobit, which is part of the Holy Scripture, mentions a demon named Asmodeus, who killed seven husbands of Sarah daughter of Raguel, one by one (cf. Tobit 3: 8). The Book of Job contains a story about fire, which the devil ordered to fall from above and burn Job's sheep and shepherds (cf. Job 1: 16). The dark powers also brought about a hurricane while all Job's children had a dinner together, which ruined the house and all of them died (cf. Job 1: 18–19). In fact, there is one thing worth pointing out in this story: it was God who allowed all the disasters that befell Job and his family to happen in order to test the faith of that righteous man (cf. Job 1: 6–12).
We cannot emphasize it more. Although demons' destructive capabilities can be incredibly strong, they are subject to God and can act only when God allows them to. We know from the Gospel that demons had to ask the Savior's permission even to enter a herd of pigs (cf. Matthew 8: 31). As Saint John Chrysostom pointed out,
"Demons are afraid even to touch pigs without his permission… Everybody knows that demons hate us more than inarticulate animals. Consequently, if they didn't spare the pigs but drove all of them into the abyss at once, they would surely do the same to people possessed by them, whom they dragged and pulled around the deserts, if not for God's Providence that bridles and constrains them even as the torture they produce is unbearably cruel."
It means that the genuine foundation of our spiritual life should be fear of God rather than fear of the fallen angels. We must be afraid of separating ourselves from him because of our sins, which may make us more susceptible to direct impact of fallen angels.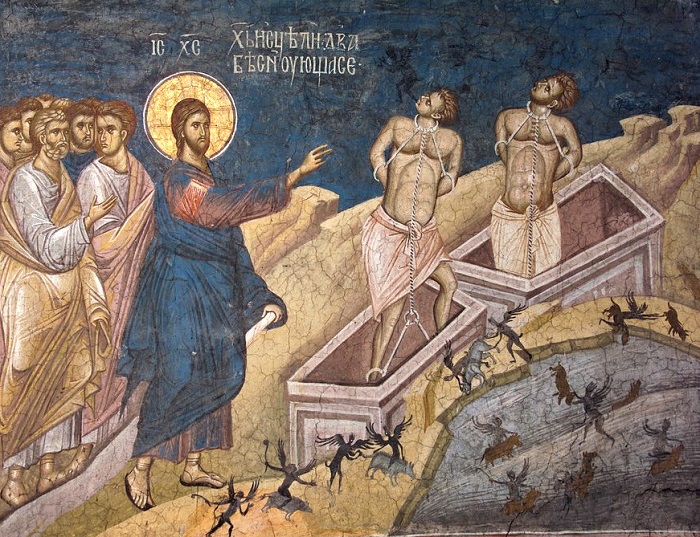 The world of fallen spirits is invisible to us but it can prove that it exists. Moreover, its visible manifestation often happens in circumstances when one expects it the least; for instance, in thoughts, mental states, or desires that arise seemingly out of nowhere. The life of Holy Martyr Juliana contains the following episode: a demon appeared to her under the guise of a good angel while she was praying, and attempted to talk her into offering a sacrifice to demons. The Lord strengthened Saint Juliana and she managed to defeat the demon's temptations. The demon boasted,
"I am the same demon who convinced Eve to trespass God's commandment and draw perdition on herself and the rest of the human race. It was me who instigated Cain to murder Abel his brother. It was me who taught Nebuchadnezzar to erect the gold statue on the plain of Dura. It was me who lured the Israelites to worship idols. It was me who drove Solomon, the wise king, insane by arousing his lust for women. It was me who advised Herod to kill all infants in Bethlehem and Judas to betray his Teacher and hang himself. It was me who provoked the Jews to stone Stephen and Nero to crucify Peter upside down and to behead Paul. I have seduced  and led into trouble quite a few people."
Evil spirits can contaminate our hearts with ideas, which we may mistake for our own. The ideas they would like us to accept are those that lead us to sin and prevent us from turning to God. The gloomy demons attempt to tamper with our will by provoking salacious desires and muffling the voice of conscience, by getting us to enjoy only earthly pleasures. After we taste them to excess and start feeling the emptiness of godless life, it is them who becloud our souls with despair.
How naïve are those who believe that demons interact with people only in the shape of horrifying ghosts or through the most extreme forms of devil possession. They influence people in a whole lot of various ways, some of which don't appear frightening at all. For instance, the truly dreadful things that they do is that they forestall one's turning to God and prevent one from living in accordance with the Gospel commandments. When any one heareth the word of the kingdom, and understandeth it not, then cometh the wicked one, and catcheth away that which was sown in his heart. (Matthew 13: 19). That was how the Lord described the condition of those people who heard the Good News but didn't pay attention to it. One doesn't even realize that the word of Truth that he heard but didn't put into action was in fact stolen by the evil one. Apostle Paul says that the god of this world (that is, the devil) hath blinded the minds of them which believe not, lest the light of the glorious gospel of Christ, who is the image of God, should shine unto them (2 Cor. 4:4).
This is evident from their inability to see and perceive the Truth of spiritual life and their preference of dead treasures of the visible world.
Demons are like skillful psychologists who look at what we are more prone to and use this knowledge to make their assault more and more effective. The Lord says, Watch and pray, that ye enter not into temptation (Matthew 26:41). You cannot identify the devil's tricks without vigilance and a constant connection with God.
Let's put it this way: demons work with each person on an individual basis, tailoring their methods to each person's weaknesses and passions. They lure some people with bodily delights, some with thirst for honor and glory, and trick others into thinking of themselves as very pious. According to Abba Evagrius, "some of the filthy demons tempt the human side of man, whereas others seek to manipulate his animal side. The former come and plant vainglory, or pride, or envy, or faultfinding, that are alien to all the inarticulate ones; the latter come and arouse anger or lust that are out of the limits of nature: they are the passions that we share with animals and carry under our human nature (that is, they are under it and are inferior to it)."
Saint Anthony the Great used to teach that demons begin tempting every Christian who succeeds in spiritual living through wily thoughts first. If the ascetic happens to be unaffected by them, they attack him using imaginary chimeras. Then they take the mask of prophets so as to make the ascetic believe them as though they tell the truth.
"That is why when demons come to you at night and volunteer to foretell the future, or say that they are Angels, don't be fooled by them because they lie. If they praise you for your ascetic feats and exalt you, do not listen to them and do not get closer to them; instead, you should seal yourself and your house with the sign of the cross and pray."
If fallen angels see a person who is eager to excel and advance, they are happy to help him to discover all his 'hidden abilities', so as to impress and capture the hearts of other people. If one comes to a magician to get rid of the perceived consequences of an evil eye, they can easily set him free from the troubles that they caused, just to show that magic and occult practices are really good for people.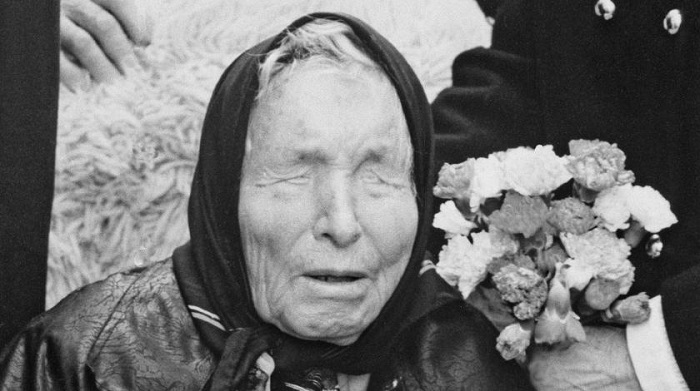 Baba Vanga (1911-1996), a famous Bulgarian clairvoyant, is a vivid example of this delusion. Like many other people, Vanga received her unique abilities after a trauma. When the 12-year-old Vanga was returning to her home village together with her cousins, a horrible tornado lifted her up and threw her in a nearby field. She was covered with sand and dust, including her eyes. She couldn't open her eyes because of pain, and soon she went blind. Some time later, she discovered her new "outstanding" abilities. She was able to tell a person's past in such a detail that only that person, and not even his immediate family, knew. She could diagnose illnesses and predict the future. She believed her abilities to be a gift from God.
Who was it that revealed the hidden secrets to her?
Vanga would describe the higher powers to her niece, Krasimira Stoyanova, as transparent figures of men as though reflected in water. She admitted that she would hear their voices more often than see them. Krasimira Stoyanova wrote several books about her aunt. Here is an excerpt from one of her books,
"I was 16 when Vanga started talking to me in our house in Petrić… but the voice wasn't hers. I had the impression that it wasn't her who was using her lips to talk. The words I heard had nothing in common with what we had been talking about, as if there was a stranger who cut into our dialog. I heard the following, 'We can see you…' and then the voice listed everything I had done on that day. Vanga paused, then sighed and said, "Oh, the powers are gone now," and resumed talking from the point at which she was interrupted. I asked her why she had started to describe my day. She replied that she had simply repeated what she was being dictated. Then she sighed, "Oh, those powers, those little ones that are always near. There are bigger ones that command them. When they decide to use my mouth, I feel bad, and I had to spend the rest of the day recovering."
The fact that Vanga felt bad invariably shows that the powers, which spoke through her, were evil spirits who are able to reveal things that are inaccessible by rational inquiry. Krasimira Stoyanova provides ample details on how Vanga interacted with the supernatural world. Generally, the practices she described are typical of psychics and known for centuries. "Sometimes we couldn't understand why our aunt went pale and suddenly felt bad; why she would unexpectedly start speaking in a voice, which astonished us with its might, unusual pitch, or used words and expressions that we had never heard from Vanga before." "She suddenly began speaking to me in a strange voice. I had goose bumps when I heard that voice."
Of course, this kind of demonic seduction is extraordinary. As a rule, people stumble at much more trivial things, e. g., improving their living conditions while disregarding their immortal souls or putting themselves in the center of their own lives while ignoring sorrows and suffering of others completely. The devil's aim is to sow hatred, self-justification, and make people trust God less. Excessive anxiety is one of the enemy's most favorite tricks. He feels great when he gets an individual to concoct false explanations for certain circumstances of that person's life or to attribute illnesses and failures to magic rather than God's Plan.
Nevertheless, there is a fact that everyone should know. Your soul is damaged most of all by implacable hostility towards other people. It is this hostility that makes you suspect magic interventions from your enemies. Typically, people suspect their distant relatives, neighbors, or colleagues. That suspicion paves the way for an anxiously occult worldview, which combines personal grievances with resentment, pushing Christianity away from our daily lives and replacing it with conspiracy ideas and the search of magical defense against the enemy's attacks.
That is what Elder Paisius of Mount Athos has to say about it,
"Clairvoyants, psychics, and the like do a lot of harm! For one, they extract money out of people's pockets. Moreover, they break up families. For example, a person comes to a 'clairvoyant' and tells him about his problems. 'See,' the clairvoyant responds, 'a relative of yours, who is a tall dark woman, has put an evil eye on you.' The person tries to recall the relative who looks like the one described by the clairvoyant. Most likely, there is someone in his family who matches the vague description, albeit slightly. 'Ahh,' the person exclaims, 'That's who cast the spell on me!' He begins to hate that woman. The poor woman has no clue as to the reason for his hatred. Sometimes, she even does something good to that person but he is outraged and doesn't want to see her. Then he goes back to the sorcerer, and the latter suggests, 'Well, I can neutralize the evil eye, but it will cost you money.' 'Hmm,' the misguided person thinks, 'if he was able to find out who was responsible for my troubles, then he'll be able to neutralize it. I think it's worth my money.' He pays the clairvoyant. See what the devil does? He creates traps. A good person – even if he knows for sure who is at fault – will never tell the victim, 'That's who is to blame.' Instead, he would try to help the victim. 'Listen,' he would say, 'stop looking for the person who is at fault. Go to church, confess, and don't be afraid.' That is how a good person will help both sides. The person who wronged his relative or neighbor will see the latter's good attitude and repent."
It is amazing if you think about it: the real attack of the enemy isn't the malediction or the evil eye: it is the attribution of your failure to magic. With regard to all kinds of temptations that fallen angels use, here is a quote from the Holy Scripture, which sums it all up, Be sober, be vigilant; because your adversary the devil, as a roaring lion, walketh about, seeking whom he may devour: Whom resist stedfast in the faith, knowing that the same afflictions are accomplished in your brethren that are in the world. But the God of all grace, who hath called us unto his eternal glory by Christ Jesus, after that ye have suffered a while, make you perfect, stablish, strengthen, settle you. To him be glory and dominion for ever and ever. Amen. (1 Peter 5: 8–11).
Translated by The Catalog of Good Deeds