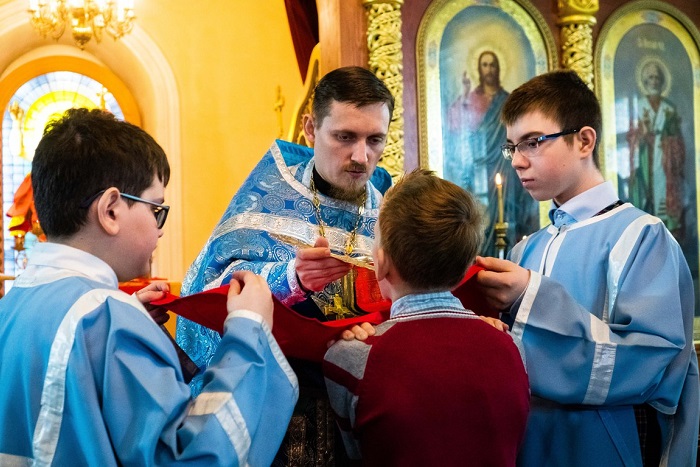 Unlike the All-Night Vigil, which includes certain prayers that are meant for sitting during them (e.g. kathismata and sessional hymns; the word 'kathisma' literally means a reading during which one may sit), the Divine Liturgy does not contain such elements. It underscores the importance of the Liturgy and its parts.
At the same time, literal following of church regulations must not block the essence of prayer out of our view. A prayer is a conversation with God. Conversation must first of all be sincere and voluntary. St. Philaret (Drozdov), Metropolitan of Moscow, said, "Better sit and think about God than stand and think about aching legs."
Therefore, if we feel uncomfortable and tired and realize that it prevents us from focusing on prayer, we should sit down for a while and be attentive to the words of church chants rather than stand and be thinking of when that service is going to end. We should bear in mind that God doesn't need us standing upright; what He does need is our hearts filled with faith and love of our Creator.
On the other hand, it shouldn't cool down our zeal. Although we know that we can pray to God in any position, we should not look for a vacant pew as soon as we enter the church. Prayer is our conversation with the Ruler and Creator of the World, and not with our friends or colleagues. When we meet a big boss, we don't sit down immediately: instead, we stand upright in front of that person. It is natural that if we stand to show respect to the powerful of this world, then God deserves even more respect, doesn't He?
Translated by The Catalog of Good Deeds