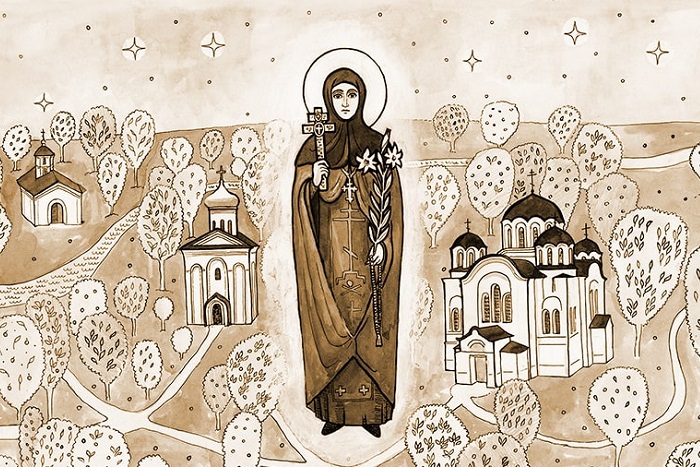 Many people in Belarus and abroad know about St Euphrosyne (whose name means joy in Greek). Of course, everyone has heard of the Cross of Saint Euphrosyne, too.
Let us recall 8 interesting facts of her life and ask for her prayerful intercession for us sinners on her commemoration day.
1. The future saint was named Predslava prior to taking the vows. She hailed from a prince's house. She was young, smart, and pretty… In spite of that, the young maiden didn't hesitate to reject brilliant prospects that she was entitled to as a member of the ruling family, and devote her life to God.
2. St Euphrosyne's parents wanted to marry her to a foreign royalty and opposed her becoming a nun. Nevertheless, the future saint made up her mind to become a nun when she was… twelve years old!
3. Saint Euphrosyne led an ascetic life. She read the Holy Scripture a lot, prayed, fasted, and even wore chains. She spent her free time copying manuscripts, which she then sold and gave the proceeds away to the destitute.
4. Elijah, bishop of Polotsk, allowed Euphrosyne to stay in a tent near the Cathedral in honour of Saint Sophia. That was how Saint Euphrosyne imitated the maidens of the past who lived near the Temple of Solomon in Jerusalem (the Most Holy Theotokos being one of them).
5. The Lord sent his Angel to the holy nun in a dream and blessed her to establish a convent. There was a settlement called Seltso near Polotsk. There was a wooden church in honour of the Saviour there. It was this place that the Angel showed in a dream to both Euphrosyne and the ruling bishop. The bishop decided to send St Euphrosyne to that place immediately and forbade anyone to interfere with her.
6. When the convent was built under St Euphrosyne's supervision, her sister Gradislava and her relative Zvenislava followed her example. They were tonsured and renamed Eudoxia and Eupraxia, respectively. Later, two daughters of Vyacheslav, Euphrosyne's brother, named Cyrinia and Olga, joined the convent and were renamed Agatha and Euthymia.
7. Saint Euphrosyne of Polotsk decided to build a stone church in her convent. A lot of miracles occurred during the construction. Thus, foreman John heard a voice calling him to work multiple times. When it turned out that there were too few bricks to finish the construction, St Euphrosyne prayed and they appeared in the furnace miraculously…
Holy Transfiguration Cathedral, a gem of Old Russian architecture, was constructed in 1161. St Euphrosyne also founded the Theotokos Monastery and built a stone church in honour of the Most Holy Mother of God on its grounds.
8. The saint spent her life doing good and serving God. When she felt that her earthly life was about to end, she undertook a pilgrimage to the Holy Land with her nephew David and her sister Eupraxia. The saint's heartfelt desire to repose in the Lord in the Holy Land came true. She passed away in a convent in Jerusalem on 24th of May, 1173, upon taking communion. Her last words were, "O Lord, receive my spirit in Thy holy city of Jerusalem and let me enter Thy Heavenly Jerusalem…"
By Pavel Davydov
Illustrated by Irina Savritskaya