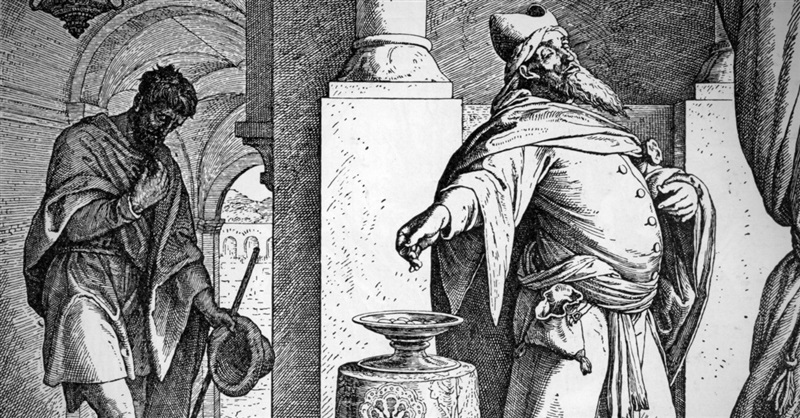 Question: Why don't we observe the Wednesday and Friday fast during the week of the Publican and the Pharisee? Thank you! Respectfully, Olga.
Answer: The parable of the publican and the Pharisee gives an image of the spiritual truth that God resisteth the proud, but giveth grace unto the humble (Js. 4:6). The Pharisees were representatives of the social-religious trend in Judea during the second century B.C. Their distinguishing characteristic was an intense zeal for observing the Law of Moses. Religious life requires that a person be attentive to himself, that he have moral sensitivity, humility, and pure intentions. If he doesn't have these, a hardness of heart gradually creeps in on him. Then a pseudo-spirituality inevitably comes. The result is spiritual death. If instead of humility there is self-opinion and pride, instead of sacrificial love there is spiritual egoism, then it is not hard for the devil to take over such a person and make him an accomplice in his evil deeds. People who are unbelieving or spiritually inattentive do not even know or guess how often they do just what the enemy of our salvation wants them to do.
Phariseeism is not a vocation or a membership in some kind of religious organization. Phariseeism is a state of the soul. It begins with self-opinion and self-aggrandizement. Just as soon as a person's attention to himself and strictness with himself relaxes, the first shoots of a dangerous plant appear, the fruits of which can kill the soul. Death comes as a result of poisoning with the poison of pride.
The main moral characteristic of a Pharisee is self-love and egoism, which directs all the movements of his soul. We rarely think about how much egoism and therefore, phariseeism we have in ourselves. Our insensitivity to our surroundings, our constant coldness, the lack of a constant readiness to sacrifice our time, energy, and convenience for the sake of others shows how far we are from the repentant publican, who with a contrite heart pronounced only five words, but departed justified.
By cancelling the Wednesday and Friday fast during the week of the Publican and the Pharisee, the holy Church desires to keep us from pharisaical self-complacency, when the formal observation of Church rules (fasting, prayer rule, and church attendance) becomes the goal of spiritual life. The holy fathers teach that all this must be fulfilled, but it must be seen as a means for acquiring spiritual fruits.
The Pharisees considered themselves to be wise and knowing. But the wisdom that is from above is first pure, then peaceable, gentle, and easy to be intreated, full of mercy and good fruits, without partiality, and without hypocrisy. And the fruit of righteousness is sown in peace of them that make peace (Js. 3:17-18)