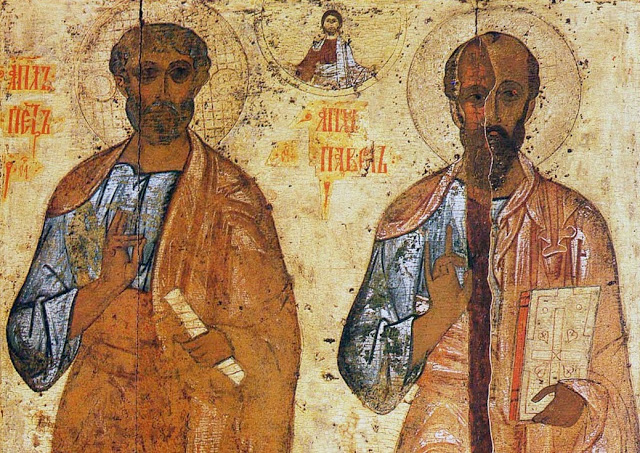 (Ref. Romans 8:36-37)
The Holy and Supreme Apostles Peter and Paul had a full of dangers, adventures, sorrows and persecutions life in Christ. On this path, they faced many misfortunes; they were beaten up and imprisoned many times. More than once Apostle Paul was in the dungeons of various cities all over the Roman Empire. In spite of that he was constantly taking care of the churches he had established and to which he sent his famous letters. But still, their difficult but blessed apostolic ministry, full of grace and love, brought them a lot of joy, too.
However, as Apostle Paul writes in his second letter to Timothy, "For I am already being poured out as a drink offering, and the time of my departure is at hand" (2 timothy 4:6), the apostles reached the moment of their martyrdom. Our Lord Jesus Christ blessed them with the martyrdom crown on the same year, the same day and in the same city – Rome.
At that time, Apostle Peter was the head of the Christian community in Rome, while Paul was imprisoned in Rome for the second time. The death of the supreme apostles is not described in the Holy Scripture. The story of Apostle Luke ends at Apostle Paul's first coming to Rome. But there is still some knowledge of what was going on at that time, preserved by the Roman community of Christians, who strived to keep the memory of their martyrs.
According to the information that came to our time, most likely Apostles Peter and Paul suffered in the year 67 AD in Rome, during the last years of the reign of cruel emperor Nero who began the persecutions of Christians all over the empire.
The story tells us that perhaps the apostles met each other on the day of their death. Apostle Paul was a Roman citizen and according to the Roman rule, Romans could not be executed inside the city walls for it was considered a sacred place. That is why the apostle was being brought to the place of his executions outside the city. It seems that somewhere on that way the meeting of Apostles Peter and Paul occurred. Apostle Peter decided to escape from Rome by the demand of Roman Christians, who wanted to save their teacher's life, and met his brother on the apostolic ministry on his way from the city.
In Church iconography, there is an icon of the meeting of Apostles Peter and Paul, on which they are depicted hugging each other: "All the brethren greet you. Greet one another with a holy kiss" (1 Corinthians 16:20). We do not know how that event happened, neither we know what the holy apostles were talking about. Probably, that meeting was predestined for Apostle Peter, who might need spiritual strengthening before his martyrdom.
There is also another story about Apostle Peter. According to it, when the apostle was leaving Rome, he saw Lord Jesus Christ Himself, Who answered the well known question of Apostle Peter, "Where are you going, Lord?" with the following words: "I am going to Rome to be crucified again". Those words put Peter to shame and he came back to Rome to be crucified for the Name of Christ. We do not know whether that happened for real or it is just a pious story explaining why Peter decided to came back for his execution. However, we can assume that the words of Paul influenced Peter, and the Lord Himself was talking through Paul.
Apostles Peter and Paul hugging each other
So, what did Paul said to Peter, when they hugged each other for the last time? "Now also Christ will be magnified in my body, whether by life or by death. For to me, to live is Christ, and to die is gain" (Philippians 1:20-21)? Or maybe he said, "God forbid that I should boast except in the cross of our Lord Jesus Christ, by whom the world has been crucified to me, and I to the world" (Galatians 6:14)? Could Apostle Paul remind Apostle Peter about the Lord's words: "For whoever is ashamed of Me and My words, of him the Son of Man will be ashamed when He comes in His own glory, and in His Father's, and of the holy angels" (Luke 9:26) or "He who does not take his cross and follow after Me is not worthy of Me. He who finds his life will lose it, and he who loses his life for My sake will find it" (Matthew 10:38-39)? Apostle Paul could also refer to the words of Prophet Isaiah: "He is despised and rejected by men, a Man of sorrows and acquainted with grief. And we hid, as it were, our faces from Him; He was despised, and we did not esteem Him. Surely He has borne our griefs and carried our sorrows; yet we esteemed Him stricken, smitten by God, and afflicted. But He was wounded for our transgressions, He was bruised for our iniquities; the chastisement for our peace was upon Him, and by His stripes we are healed" (Isaiah 53:3-5).
So, the Church story did not keep the exact words of Apostle Paul, which he addressed to his brother in Christ before his martyrly death. It is unknown whether Apostle Peter met Christ heading to Rome or he met Christ in his living word from the mouth of Apostle Paul.
The crucifixion of Apostle Peter
We do not know about these things. But what we really know is that something happened to Apostle Peter on his way from Rome – something that made him come back and undergo a severe execution for calling Jesus from Nazareth the Messiah and God, Who had become a true human for us people and our salvation. Crucifixion was that execution – the execution that was foretold for the apostle by God Himself: "Most assuredly, I say to you, when you were younger, you girded yourself and walked where you wished; but when you are old, you will stretch out your hands, and another will gird you and carry you where you do not wish" (John 21:18). Apostle Peter returned to the city, was captured and crucified. Since he did not think he was worthy to die in the same way as his Heavenly Teacher died, Peter asked to crucify himself with his head down, which was done. What concerns Apostle Paul, it is known that he was beheaded with a sword. The day we commemorate them is the day when the main apostles of Christ's Church gave their lives for Him.
This is how great and holy Apostles Peter and Paul, who spread the Church all over the Roman Empire, preached Crucified Christ for all the peoples, who helped those who were seeking for the truth and supported those who believed, ended their earthly life. Apostles Peter and Paul are the pillars of the One and Holy Apostolic Church, who will support until the end of times with their own examples, their pious lives and prayers all the people believing in the Father, the Son and the Holy Spirit.
The beheading of Apostle Paul
What St. John Chrysostom says in his works: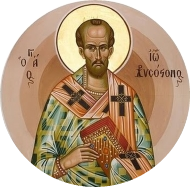 I behold heaven and earth in contest today, for this present feast of the memory of the apostles, with the heavenly powers preciously praising their pained voice of teaching, through which was made known to the world the mystery, as Paul cries out: "So that through the church the manifold wisdom of God might now be made known to the rulers and authorities in the heavenly places. (Ephesians 3:10)", while men on earth rush to rightly praise and show honor to the chiefs, through whom they have entered into salvation. For how was Peter great? How was Paul equal? Through their works and words they conquered all creation in the heavens and upon earth. For though the clay of their bodies was covered with wounds, they were found greater than the angels. What, therefore, shall I say towards those teachers of the creation above and below? I will not find a proper word to honor those who honored our people, who passed through the whole earth and sea, and uprooted the roots of sins, and sowed the seeds of piety in the hearts of disobedient men.
Peter, the teacher of the apostles; Paul, who is known to the world, and who partakes with the powers above. Peter, the bridle of the ungrateful Judeans; Paul, the entreaty for the nations. And I see the surpassing wisdom of the Master, for Peter was chosen from among fishermen, while Paul from the maker of tents, and He did this for our benefit. For he drowned the glory of the Judeans. Because of this, to the fisherman, the Lord said: "Go to the shore, and cast out your hook, and the first fish you find, open its mouth, and you will find a coin." By sea, I take it to mean the lawless judgment of the Judeans. By hook, the crafted word of preaching. By fish, He symbolizes the law. Regarding the opening of its mouth, He speaks of its explanation. To find a coin in it, He means to spiritually examine it. While Paul was used as a tent-maker for the nations, that they who were naked, through the law and grace, might be clothed with the red covering that was dyed in the water and blood of the Master. Therefore, the Master cries to him: "Go forth, therefore, for I send you to the far away nations."