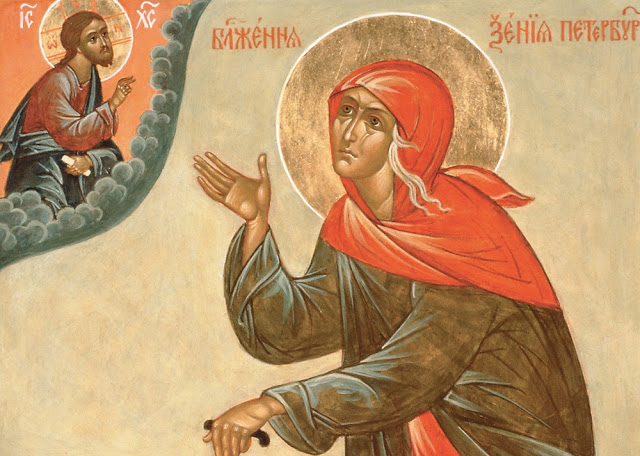 She was born about 1730, and as a young woman married an army colonel named Andrei, a handsome and dashing man fond of worldly living. When she was twenty-six years old, her husband died suddenly after drinking with his friends, leaving Xenia a childless widow. Soon afterward, she gave away all her possessions and disappeared from St Petersburg for eight years; it is believed that she spent the time in a hermitage, or even a monastery, learning the ways of the spiritual life. When she returned to St Petersburg, she appeared to have lost her reason: she dressed in her husband's army overcoat, and would only answer to his name. She lived without a home, wandering the streets of the city, mocked and abused by many. She accepted alms from charitable people, but immediately gave them away to the poor: her only food came from meals that she sometimes accepted from those she knew. At night she withdrew to a field outside the city where she knelt in prayer until morning.
Slowly, the people of the city noticed signs of a holiness that underlay her seemingly deranged life: she showed a gift of prophecy, and her very presence almost always proved to be a blessing. The Synaxarion says "The blessing of God seemed to accompany her wherever she went: when she entered a shop the day's takings would be noticeably greater; when a cabman gave her a lift he would get plenty of custom; when she embraced a sick child it would soon get better. So compassion, before long, gave way to veneration, and people generally came toregard her as the true guardian angel of the city."
Forty-five years after her husband's death, St Xenia reposed in peace at the age of seventy-one, sometime around 1800. Her tomb immediately became a place of pilgrimage: so many people took soil from the gravesite as a blessing that new soil had to be supplied regularly; finally a stone slab was placed over the grave, but this too was gradually chipped away by the faithful. Miracles, healings and appearances of St Xenia occur to this day, to those who visit her tomb or who simply ask her intercessions. Her prayers are invoked especially for help in finding employment, a home, or a spouse (all of which she renounced in her own life). A pious custom is to offer a Panachida / Trisagion Service for the repose of her husband Andrei, for whom she prayed fervently throughout her life.
Saint Xenia was first officially glorified by the Russian Orthodox Church outside Russia in 1978; then by the Moscow Patriarchate in 1988.