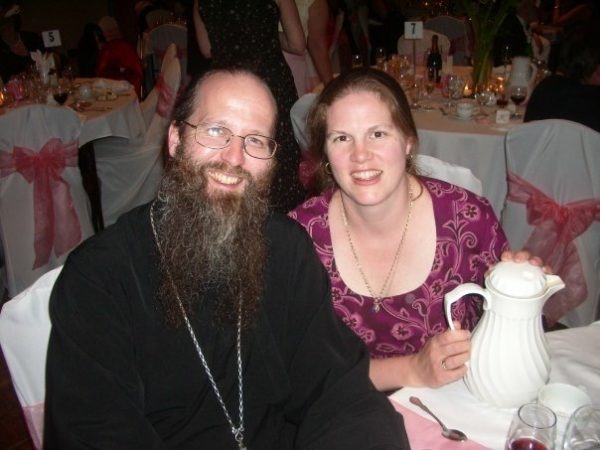 Reviewers on the Facebook page of St. George's Russian Orthodox Church in Cincinnati, OH describe the atmosphere of this parish as "friendly and welcoming," "welcoming to all people," "bringing the community together" and the Rector Fr. Daniel Marshall as "kind, merciful, and caring." Since Fr. Daniel is a married man with three kids, it is probably fair to say that at least some of the credit for his work and his efforts should go to his supportive wife. Today, Matushka Anya Marshall speaks of the expectations and the realities, the everyday struggles and the joys of the wife of a parish priest.
On her mother's side, Matushka Anya Marshall is a third generation Russian-American. Her grandfather was born in Blagoveshensk and as a one-year-old was carried over the frozen river Amur by his mother Along with many others, she was escaping from Soviet soldiers shooting at the people running away. After twelve years in Harbin, the family went to San Francisco to join his father. For a few years he had lived and worked all over the West coast of the US doing all kinds of manual jobs earning money to bring his family from China. Matushka's grandmother was also born in Harbin and immigrated to San Francisco with her family when she was three. When her grandparents got married, they decided not to teach their children Russian, "because it was not a wonderful thing to be a Russian in the US after WWII." Yet, though their mother spoke no Russian and their father was of Irish descent, both Matushka and her brother [Fr. Gregory Joyce, Rector of the St. Vladimir Russian Orthodox Church, in Ann Arbor, MI – Ed.] studied Russian in college. Matushka Anya also lived in Russia for two years after college teaching English and perfecting her Russian.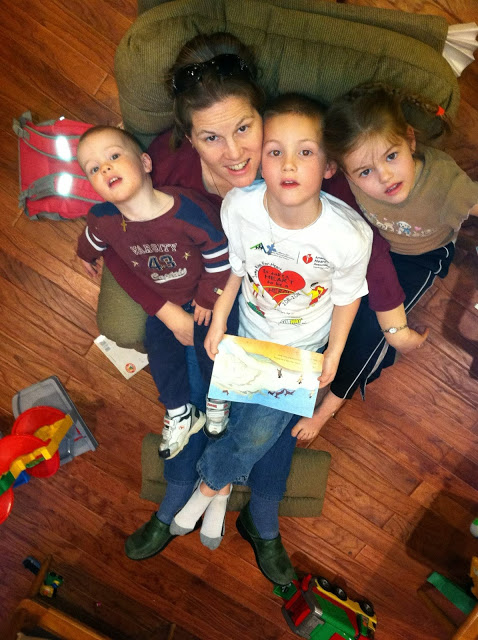 How did you meet Father Daniel?
We were set up. Some friends thought we might like each other. But they didn't tell me I was going to be meeting someone, so when I saw him, I immediately understood what was happening. And I was not happy that they'd done this to me. [Laughing] They'd just thrown me into this situation where I was supposed to be meeting someone and I was not prepared. So, I was not very friendly and after several two to three word exchanges he just gave up on talking to me. Yet, somehow the next day, when we saw each other again and started talking, and once we started talking to each other, it all moved fairly quickly.
Did you know he wanted to become a priest?
It's very funny, one of our parishioners actually asked me this just this Sunday. I said, "Yes, he was a seminarian [in Holy Trinity Seminary in Jordanville, NY – Ed.], I knew he wanted to be a priest." And he said, "Did that make you want to marry him more?" I said, "NO, that actually made me want to marry him LESS."
A few weeks after we started dating we were having a conversation at a party on Bright Friday, and he says to me because he must already have been getting serious, "You know, what do you think about being a Matushka?" And I said, "NO WAY! That is the last thing that I want to do!" The reason being, because less than a week before, on Holy Saturday, my nephew was born. Now, my brother's a priest. He served all of Holy Week and after the baby was born on Holy Saturday, he said something along the lines of, "Oh, yay! We have a son! See you after Liturgy on Bright Monday!" What are you going to do? The only priest in his parish, it's Pascha, he had to go. So, becoming a Matushka was definitely not one of my plans for my life.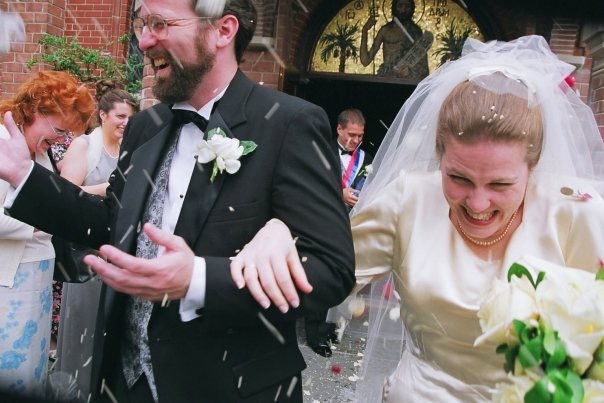 Your brother is a priest. How well did you understand what a priest's life was like before your husband got ordained to the priesthood?
Not really that well. He lived in a different city, and, when I was single, I visited him and his family fairly often, probably two or three times a year, for a weekend or something like that. So, I did have some idea. But I didn't live right there, I didn't participate in helping them with their kids when they were busy. I was just a fly-in fly-out auntie. 
Did you have your own idea of what a Matushka is, of what she should do?
I guess I must have. You see the Matushkas in parishes you attend. I attended the same church for seven years [St. John the Baptist Russian Orthodox church in Washington, D.C. – Ed.] and over that time I kind of got to see what a Matushka did. Both what she did standing in church, in the church hall, and elsewhere. So, in that way I probably did have some thoughts about what they do, about what their life is like.
But at the same time, you don't really understand because you're just a parishioner. I think if you don't grow up with a priest as a father, you're just a parishioner. You see what you see when you're present, but then there's all those things that no one knows about.
Also, a Matushka's job and her life evolve over time. When you're a Matushka with young children, you are, hopefully, able to just be a mother to your children and not have a lot of other expectations and responsibilities in the parish. But as your children get older, if you have the ability and the desire, there's a lot more that you can do.
I never saw (at least in the parish I lived in before I got married) a Matushka doing things she wished she wasn't doing. If that was ever the case, she didn't show it.
Did you have a particular image of the life of a priest?
I don't think I ever thought about it that much. I knew that a priest gives a lot of his time, a lot of his energy to the parish, but what that would really mean to me, to our family, I don't think I really understood in the beginning. It's something you learn as you go. I'm sure it's different from parish to parish, from priest to priest. Whether you're the only priest in a parish, the first priest, the second priest, the third priest. But, no matter what, you give a lot of your time to others. And sometimes your family doesn't get your time when they really would like to have it.
Was it easy for you to reconcile to this or is it something you have struggle with?
I think there have definitely been times when I've struggled with that – probably, when I get overwhelmed. It's not unusual by the end of Great Lent to be exhausted, to feel like I've spent the last six weeks being a single parent, so there can be moments when it just becomes overwhelming.
But I don't know if I've even reconciled with it. It's part of being a clergy family. It's what you signed up for. When my husband got ordained, I had to agree to it, I had to tell the Bishop. "Yes, I am for this. I will stand behind him. I will support him."
The Bishop doesn't ask you to agree, because it's going to be an easy road. He wants to know you are willing to do this. They [priests] are busy. They have church services. They meet with people. People need their time, need their advice. And, thank God, you have them, when you need their advice too. You may have a spiritual father beyond your husband, but at the same time, he's going to give you spiritual advice when you need it as well. Being in the thick, being a Matushka, you definitely need spiritual advice. And there are a lot of attacks, a lot of temptations.
I guess, one of the most eye-opening things of being a Matushka is seeing temptations for what they are. Before my husband was a priest, even from the time we got married, I started having temptations, feeling the attacks. After he became a priest, I started to get better and better at recognizing them.
There was one time, several years ago, he went to church for a panikhida or a moleben in the evening, and he wasn't coming home. The kids were fighting and things were
really unsettled in the house. It got really late and I started to worry. When Fr. Daniel finally got home, he told me about what had happened. He and our starosta [parish warden] were really worried about one woman who was struggling to keep her life together. They were looking for her all over the city. In the end, they managed to find her and got her the help she needed. So, when I told him about how horrible my evening was, he says to me, "You know how Fr. Seraphim [Abbot of the Holy Cross Monastery in West Virginia – Ed.] always says, 'When there is good work going on, the demons attack…'" And so, the husband is doing good work and the demons attack his family. Ever since then, when the kids have moments like that and he's not at home I understand what's happening.
What happened after Fr. Daniel's ordination to the priesthood?
We had one year in Jordanville with Fr. Daniel finishing his studies and getting experience serving as a deacon. The September after graduation he was ordained a priest. He served his 40 days again and soon thereafter we moved to our first parish [Holy Virgin Protection in Goshen, IN]. It was a lovely old parish. There were some struggles, some challenges there. The people hadn't had a truly regular priest for many years. It was a matter of getting people who never had Saturday evening services or regular Sunday services used to having services every weekend. But it was a great place to start.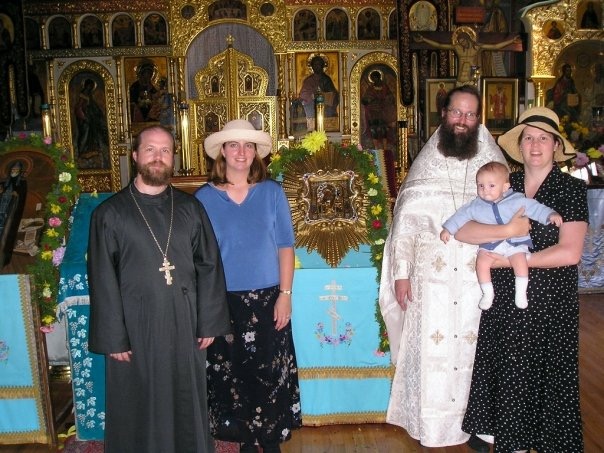 Why did you decide to move to Cincinnati?
The main thing that made us move to Cincinnati was that they needed someone to come here and lead the building of the new church of St. George. Fr. Paul Bassett [St. George's previous Rector] was ailing and needed help.
The other thing was that we run a publishing company, St. Innocent Press. When we lived in Indiana it was our main source of income. The church paid, but not a whole lot, though more and more as the time went, as we gathered more parishioners. Still it was not a living wage, so it got to the point where it was going to be difficult to support ourselves there. This opportunity came up, the church needed to be built, and they were willing to pay a much better wage. That was a great opportunity, but for several years it took all of Fr. Daniel's time and energy to make it happen.
Yet another reason is that there are a lot of kids in the parish. I can't think of Sunday when we've had less than thirty children go to Communion. It's really nice, it's one of the great things for us having moved down here from our old church. We didn't have many kids coming to church every Sunday. So, for our kids this is wonderful.
Can you say a few words about your parish here?
Our parish averages about a hundred and twenty people every Sunday. In summer, it drops down to about a hundred on average. It is pretty typical for summer to be lighter. We probably have a couple hundred families in the area.  There is a core group of people who come every week, another core group who probably come two-three times a month (and of course plenty of people who come once a month) and another huge group who come occasionally.
Most of the Russians are from the new wave of Russian immigration, but we do have some from the old emigration as well.  There is also a large number of converts. There are some who were married and converted, but there are people who become interested as well. Since we've been here, we've had a number of single people convert. I can think of one couple for sure who joined the church together.
Are the services all in Church Slavonic or do you have some English in your parish?
We do about fifty-fifty Slavonic and English. Sometimes, if there are no Russian-speakers present, we might do a service totally in English. Vigil can be more than fifty-fifty, because the crowd is not as large. You can usually see and understand who's there and what the preference would be with those people.
We have some weekday services, not necessarily every week. Big feasts definitely, minor feasts – some. A lot depends on who really is available and wants to help with the services. We have a good choir, we have a number of people who can conduct, but they only have so much time during the week throughout the year to do services. It's very unlikely there'd be more than one weekday service. That's of course different throughout Great Lent.
Does Fr. Daniel have regular talks with people or does he meet up with people one on one?
During the school year, he holds weekly talks after lunch for the children who attend Sunday school. He also does a lot of one on one. Whenever possible he tries to schedule most of his meetings during one day of the week, so he's at church all day one day. But that, of course, is not always possible. There are plenty of people who would like to talk to him. There are people that he meets with regularly, who have a set time and day. There are plenty of people who want to talk to him about various things: people having trouble in their marriage who want to meet up with him either separately or together. Older parishioners, who have things to talk to him about. There's a lot of that. Then there's a lot of émigré Russians who either were never baptized and would like to be, or were baptized but were not catechised in any way, never had confession or communion. There's a lot of work with them.
Do you help out with anything in the parish?
I run the parish bookstore. When we moved from our old small church to our new bigger church I offered to take it over and was happily handed the job. I really enjoy it. It doesn't take a huge amount of my time. Once a month or so I'll spend three or four hours taking stock, organizing and cleaning, figuring out what we need to order. And the rest of the time it's just really taking care of the bookstore on Sundays after Liturgy. It can be a struggle finding other people to help out.
I participate in the meals – we have lunch every Sunday after liturgy and we have a team system. There are four women on my team and maybe once every six to eight weeks we make lunch. I send out an email saying it's our turn to make lunch asking what they want to make. Then everyone can say what they can make and I try to fill in the holes, rather than saying, "This is what I choose to make and you can work around me." These are the two main things I do in church.
Before I got married, I loved singing and was a regular in the choir, but when we arrived in our first parish, I had a 10-month old and was pregnant. I sang Vespers because I was the only person familiar with that service, but could not participate in singing the Liturgy. The service was too long for the baby. When our second child was born, I needed to spend my forty days at home with the baby. Then everyone realized that I could no longer sing Vespers with two little ones. Others in the parish volunteered to take over and that was when I stopped regularly singing in church.
I still enjoy singing here and there. When we have a summer weekday Liturgy and there are only a few people singing, I might join them. Otherwise, I think it's good for me to be in the congregation as well. Sometimes, part of me worries, if I was always up in the choir, there would be a lot of people who didn't actually know who I was. Not that's it's important to me to be known as Matushka, but for them it's important to know who Matushka is. "I see her talking to people. I see her struggling with her child in church, like I struggle with my child in church." In that way, I think it's good for me to be down in the congregation.
On the whole, I try not to get too involved in too many of the things that are going on, because there are a lot of people who could do those things and ideally should be doing a lot of things. Because if you start doing too many things as a Matushka people start thinking they should just let you do it. They'll do that with anybody, not just with a Matushka. If somebody cleans the church, it's, "Great! Somebody cleans the church, now I don't have to do that!" Somebody cuts the grass, "Great! Now I don't have to do that!"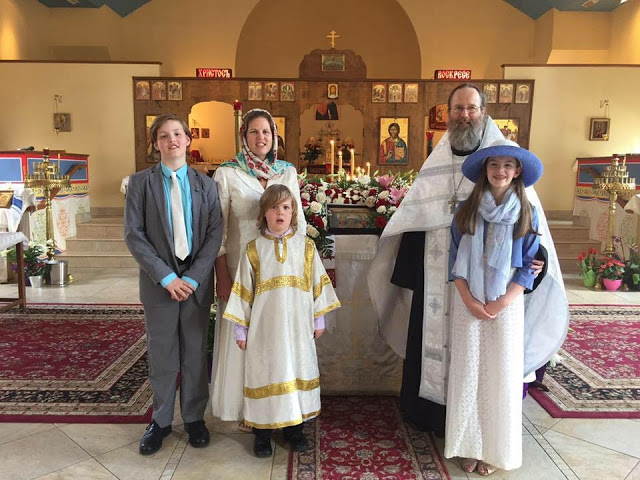 Do your kids want to go to church or do you have to encourage them?
As the older kids Alla [Alexandra, eleven] and Yasha [James, twelve and a half] have gotten older, I think they've pretty much gotten to the point where they want to go church, especially because of the choir. They both sing in the choir. They are valued members of the choir and they love being there. They come to church, venerate the icons, and head straight upstairs. Leo [the youngest, seven and a half] still complains, as the other children did at his age.
Normally, we try to go at least three out of four Saturday nights for Vespers. I don't usually stay past Vespers unless it's a big feast. Mostly because Leo gets tired in the evening and has trouble staying longer.  He does love khlebtsy [blessed bread] and will do his best to get to stay for anointing and khlebtsy for a feast. And so, we'll go and be on time and stay till the Six Psalms. But then on Sunday morning he sometimes tries to convince me that its' not Sunday and we've already been to church on Sunday. But he knows it's not negotiable. Even though he'll say those things, he'll usually give in and get ready for church with my assistance without making us late or really dragging his feet. He would sometimes rather be doing something else, but he does enjoy serving in the altar at times and loves Holy Communion!
Is there anything you would like your parishioners to know about your daily life?
The main thing is that a lot of people don't realize that when they are only asking for an hour of the priest's time a couple of times a year, it may seem to them there's no problem with the priest having plenty of time for his family. But there's sometimes a great struggle for him to say, "This is my day off. This is the day I'm spending with my family." And so, in that way, it may not seem to individual people that priests spend that much time doing their job. But in reality, it all really adds up to a lot of time between the church services that they serve and then all of the extra services for individuals, the meetings they have with parishioners, the counselling sessions, the weddings, the phone calls, the emails, etc. etc. etc. There is a real struggle to find time to spend with your family… I remember in our first year of living in Cincinnati, when we were building the church, I actually had to tell Fr. Daniel that he needed to add time with his family to his calendar.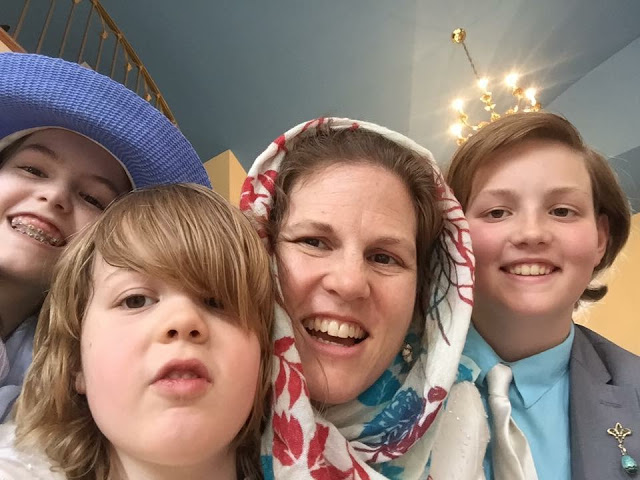 What is the hardest thing about being a Matushka?
As a Matushka, I really struggle with how I might offend people. Sometimes you know you've offended somebody and when that happens you can try to fix it, ask for forgiveness, try to find out how you can do something different. Still, there are plenty of times when it seems you have offended somebody, but you're not really sure how. They won't tell you, and yet their body language or something else makes you feel like you probably have. There have been situations when I've gone up to people asking for forgiveness, and they say, "Don't worry, you haven't offended me," and you wonder if it's really true, or they're just saying that…
Another thing that I find sometimes difficult… It's really hard to ever get away on a weekend. If we do want to get away, there's only a couple of Sundays a year when my husbands won't be in his home parish, and where we would be somewhere together. The rest of the time, when we want to go somewhere, during the school year, the kids are in school and we can't just go in the middle of the week, so we have to go without him …
Also, people outside of church (kids' friends, coaches of teams) being totally clueless about the fact that we are not available on Saturday nights and Sunday mornings, we just can't do it… People just don't understand it… Those are some of the harder things…
And what would be the best thing about being a Matushka?
I think the best thing is knowing there's somebody at the altar praying for you every time there is a Liturgy.