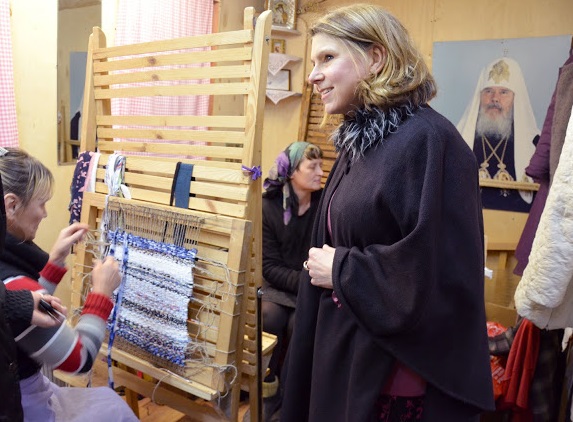 On November 24, Ms. Fiona Gibb, British Ambassador to Belarus, and Mr. Ian Fox, Deputy Head of Mission, visited the women's rehabilitation center founded by St. Elisabeth Convent and located near the village of Nialidavičy in the Minsk region.
Nun Varvara (Atrasevitch), the head sister at the center, as well as the residents and the workers of the Convent, greeted the honored guests.
Social rehabilitation is one of the directions of our Convent's ministry. Ms. Fiona Gibb was especially interested in the help we offer to women who find themselves in difficult life situations. She also learned about the everyday life of the residents.
During the excursion, the honored guests visited the workshops and the church in honor of St. Sergius of Radonezh, which is being built on the territory of the rehabilitation center. Nun Varvara told the guests about the idea of building a unique complex, which will combine a rest home and a complex for orphaned children and mothers deprived of parental rights. Nun Varvara hopes that, "The experience of communication between three generations of people, the help of the specialists and, of course, prayer will foster the reunification of families."