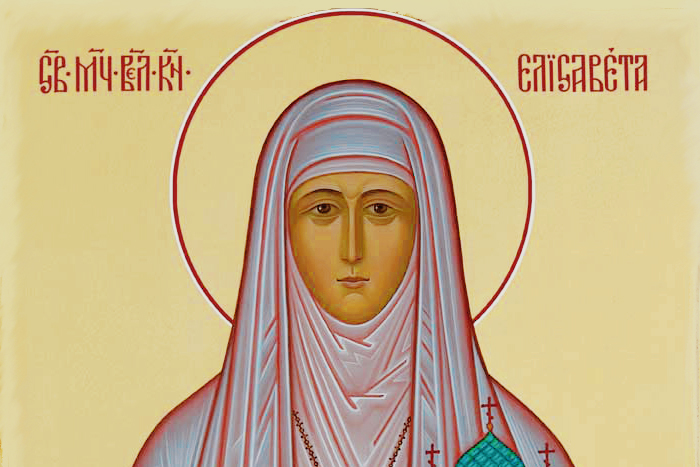 Feast day of the Convent
July 18 is a special day for the residents and the parishioners of St Elisabeth Convent. This was the day of martyrdom of the heavenly patroness of our Convent. We all know that during this night in July, on the uncovering of the relics of St Sergius of Radonezh feast, the Grand Princess Elisabeth together with Nun Barbara and other prisoners were thrown into a pit in the vicinity of Alapayevsk. That was where she passed away and went to the Lord. They say that the Cherubic song could be heard from the pit. Angelic hosts joined in singing this song in the places invisible to a human eye where nothing can deprive the soul of eternal joy. Here is a fragment from the book "The Path of Love":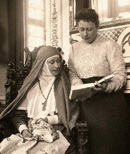 The Grand Duchess Elisabeth was arrested on the third day of Easter in 1918, on the Holy and Bright Tuesday. Nuns Barbara and Ekaterina were allowed to come with her. They were brought to a Siberian town called Alapayevsk on May 20th 1918. Here is one of the letters she wrote to the sisters of her community while on the way to exile:
"May the Lord Bless.
May the Resurrection of Christ comfort and strengthen you. At 6 O'clock we passed Rostov and in the evening  – The Trinity Lavra of St.Sergious. My dearest, may Saints Sergious, Dimitry and Efrosinia of Polotsk keep us all safe. The trip is going well. There is snow everywhere. I cannot forget yesterday because of all the precious and kind faces I had seen. Lord, there is so much suffering in them, oh, how the heart aches. 
With every minute, you became more and more precious to me. How can I leave you my children, how can I comfort you, how can I strengthen you? Remember everything I have told you. You will always be my children but also my obedient students. Unite and become one soul: everything for God – and say the words of John Chrysostom: "Glory to God for everything"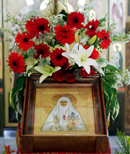 I will live hoping that I will soon be with you again and to find all of you together. Read together, the works of the Apostles along with the Holy Gospel. The head sisters – unite your sisters. Ask Patriarch Tikhon to take the young ones under his wing. Allow him to stay in my middle room. My bedroom – for confession and the large room for receptions. If there will be no delays we should arrive on the fifth day. Ekaterina will return very soon to you and will tell you how we have settled in.
Your ever loving mother in Christ, Matushka"