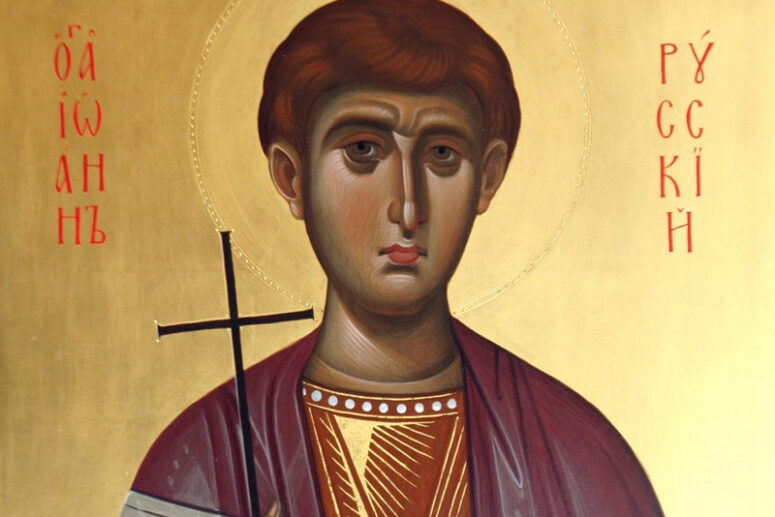 Saint John the Russian is an unusual saint. He did not allow sharing his relics, with the only exception made for the Russian monastery of St Pantaleon on Mount Athos after numerous requests from its brethren. He was glorified by the Greeks, spent most of his ascetic life in Turkey, but is known as St John the Russian, (and not Cappadocian or Euboean).
St John's story is also unusual in the sense that he was the first saint canonized in the atheist Soviet Union. This happened at a meeting of the Holy Synod on July 19, 1962, where Metropolitan Nikodim (Rotov) petitioned for his canonization by the Russian Orthodox Church, following the churches of Constantinople and Greece.
The proposal was approved, and Metropolitan Nikodim wrote a polyeleos service to St John, also approved by the Synod in 1967. The Russian translation of the prayer canon to St John appeared 13 years later, followed by the full service, translated in 1983 and based on the early 20th century Athonite manuscripts. Finally, all this was included in the liturgical Menaion Reader.
A Saint in Camouflage
Lepcince is the name of a village in south-east Serbia, not far from the town Vranje. Next to it there is the female Orthodox monastery of St Pantaleon. Pilgrims visiting this mountain monastery are always surprised to see this unique icon depicting a saint wearing the Yugoslav army uniform with a two-headed Serbian eagle. Admittedly, soldiers in modern military uniforms are rarely seen on icons anywhere in the world.
The pilgrims' surprise becomes even greater when they recognize St John the Russian on the icon. It turns out that the icon was painted by the sisters of the Lepcince St Pantaleon Monastery after they learned about the following miracle.
Two people that came to the church of St John the Russian in Euboea at different times and did not know each other spoke about having the same dream. They saw Saint John the Russian taking off his robe and putting on a military uniform, saying "I am going to Serbia to help our Serb brothers, since Orthodoxy is persecuted there."
They say that dreams cannot be trusted. And yet there are many stories of saints appearing to people in a dream before granting their miraculous help. In this case the dream also came true: the bombing of Yugoslavia stopped just on the day of St John's glorification. The Kumanovo Agreement was signed on June 9, 1999.
Translated by The Catalogue of Good Deeds
Source texts: 
http://rusioann.ru/chudesa-i-pomoshch-svyatogo-ioanna-russkogo/