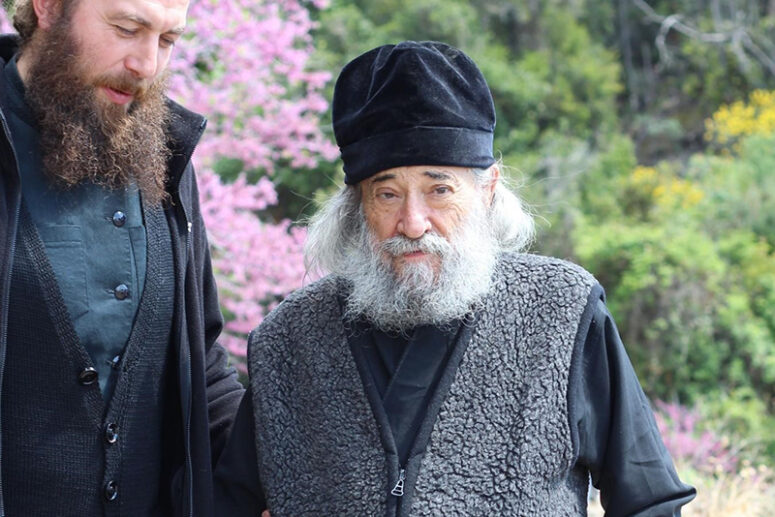 Less than three years ago, Elder Gregory (Zumis), Hegumen of Docheiariou Monastery on Mount Athos, departed to God. We have published stories about the elder before, including the accounts of the artisans from the mosaics workshop of Saint Elisabeth Convent. Elder Gregory has become famous throughout the world following the release in 2019 of the heart-warming film "Where are you, Adam?" However, a multitude of stories has yet to be told. In this piece, we hear from the monastics of Docheiariou Monastery. They talk about Elder Gregory, fool-for-Christ, as a precious gem of the monastery's life.
As the elder used to say, "the best hideout on Mount Athos is the monastery. Someone who chooses to settle in a solitary cave or cell is at risk of becoming famous too quickly. He will soon become the subject of rumours about a schema monk and recluse who keeps no communication with the world, and people will start flocking to him." Not only did he say this, but he also practised what he said. By the end of his life, he had acquired a large following for his wisdom and sainthood, and scores of visitors and followers were coming to see him.
Hard work and dedication
From his very first years at Docheiariou Monastery, he led the life of an ascetic full of deprivations, sorrows and hard physical work. He spent more time holding a sweep groom of heather twigs and a shovel than an abbot's rod. Metropolitan Maxim of Stavropol, leader of the Patriarchal Exarchate was a known lover of cleanliness. So when he came to visit the elder, he admitted, "Your cleaning is perfect. I have been trying hard to find a single unswept corner, and I have not found any."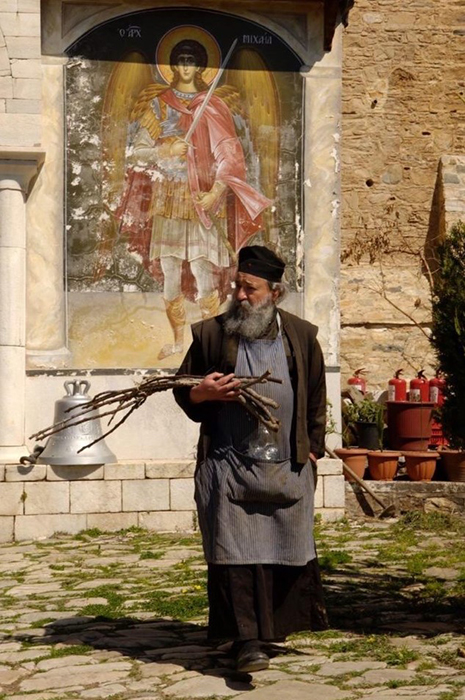 The elder spared no effort to maintain the monastery and built new sketes and cells around it. He was also demanding of the visitors, never letting them slacken off in their obediences and labour. One of the visitors remembers, "In the evening, Elder Gregory assigned some obediences for us to complete the morning. A visitor who felt unwell at night approached the elder in the morning asking him to cancel his assignment because of his poor health. But the elder replied, "My goal is not to take care of your body, but to save your soul. Go do your work now."
Archbishop Iona (Cherepanov), a frequent visitor to Docheiariou Monastery, shares this story, "Elder Gregory was unique. He suffered from a severe form of diabetes and always gave himself injections. He continued to mix concrete and carry rocks until the last years of his life when he was in great pain. When he was too to work or even stand, he would go to the garden, lie down on the ground and pull out the weeds in this position.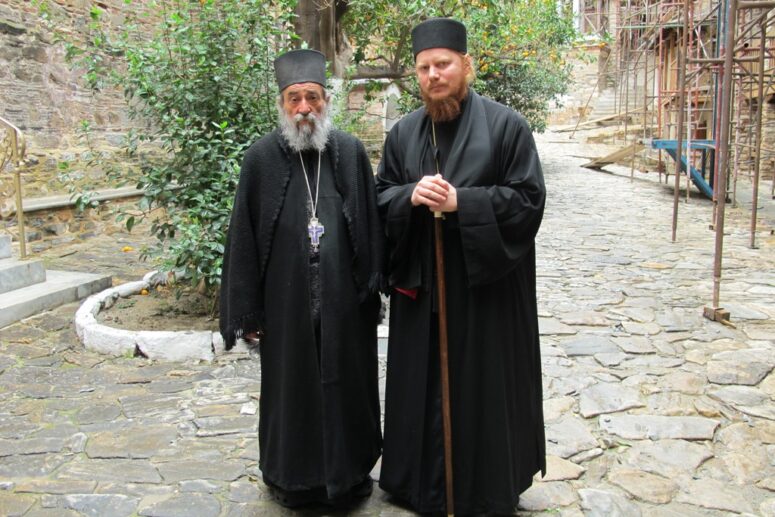 Sometimes, he would put two sticks at his door crosswise. That meant that he was in such a poor state that he could not stand up. Yet as soon as he felt better and strong enough, off he went to pray and be of service to God and the people.
From the beginning, the elder had planted numerous fruit trees and date palms to remind his brethren about the deserts of Egypt and Libya, the cradles of monasticisms. The date palms have withered since his departure. It is as if he had taken away with him that hard-to-reach ideal of monasticism.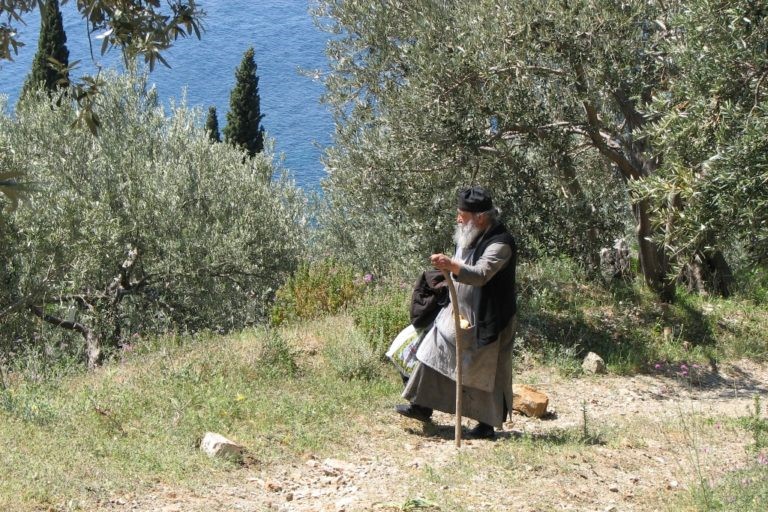 Get rid of your mobile!
As the elder was talking to some visitors, a priest took out a camera and made a photo of him. Elder Gregory gave him a sad look, said something in Greek, shook his head and left. The people were confused. "What happened?" they wondered. Then they heard the translation of his words. "Sir, you will not reach His kingdom this way!" The elder was convinced that using a camera was not incompatible with being a priest. He said that it was no business of a priest to impress others by some visible effect.
He also believed that no monk should use a mobile phone. The elder recalled seeing many monks on Mount Athos using mobile phones. When he did, he told them with his distinctive humour, "Monks should not hold a mobile, but a string of beads in their hands, and use them for incessant prayer. Many saints on icons are shown with beads. Suppose some of today's monks will have become saints through their great ascetic exploits. Now how will they appear on the icons? With their mobiles?"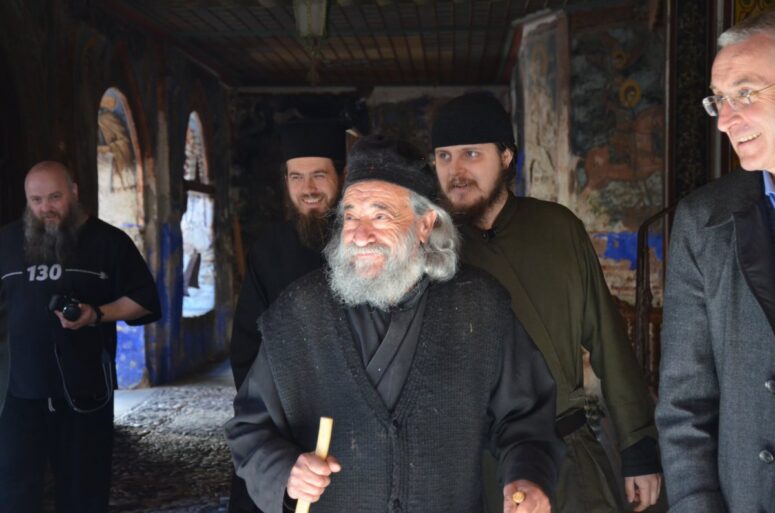 Speaking about the effects of widespread mobile phone use, the elder predicted that by 2020 a new generation with a completely different world-view, fully dominated by computers. They will slaves to their phones. "It will be a terrible world, where prayer will be very difficult," said the elder.
Hegumen Cyprian (Yaschenko) shared this story about the elder's far-sightedness. We came to the sea, and someone called me on the phone. I picked up. The elder came up to me, saw me talking and said: "Throw your phone into the sea. Do what I said, or I will not talk to you again. I was about to dispose of my phone when it occurred to me that I had not copied all my contacts. So I asked him, "Can I wait until tomorrow?" He waved his hand, permissively. "As you wish," he responded. We left Mount Athos the next day. We arrived at the airport, and I felt my pockets for my phone. I looked for it everywhere, and could not find it. I remembered that I was charging it in my cell the night before and forgot it there. The elder's prophecy came true. He had agreed that I get rid of it the next day, and I forgot it in my cell.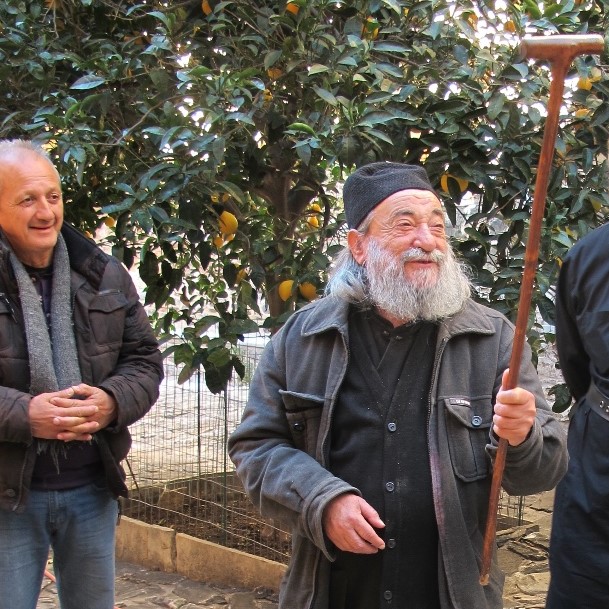 Bishop Iona shared this story about the elder's far-sightedness. It happened to his friend, an artist, a disciple of Father Gregory, who was on his way to monasticism. All of a sudden, he had a temptation. As he was drawing, he started to recall episodes from his past life. Some moments later, his former girlfriend called with whom she parted when he began his journey to God. That call gave the artist the urge to pack his things, return to his woman and face the consequences. No sooner had he got up and opened his suitcase than a fixed-line phone rang. He picked up and heard the elder speaking at the other end. "Going somewhere? Lock your door, put the key under your pillow and go to bed." The artist stayed.
"If you want to resurrect with Christ, first lay your passions to rest"!
Making progress to the Kingdom of God
Elder Gregory always preferred poverty to richness. He always wore his old inconspicuous clothing and did not stand out among the other monks. "Humility and non-acquisitiveness are the surest ways to the Kingdom of Heaven," he used to say.
The Russian screenplay writer Ilya Avramenko was impressed by the elder's humility, which he found admirable. He remembers, "When we arrived at the monastery for the first time and entered its territory, we were met by a person in worn-out clothes surrounded by a hundred or so cats and two small dogs. As we approached him, he said to us, 'The brothers are coming. They will show you around.' He certainly was not puffing himself up. It was not until we sat down at the table that we saw at its head that same monk, Hegumen Gregory, in his working attire."
At the end of his life, the elder said to the monks of Docheiariou Monastery: "I am leaving you the monastery just as poor as I took it. My idea of monasticism does not combine well with business and financial operations. Still, I have procured some lampads and silver vessels. You can sell them when in dire straits to live through the hard times."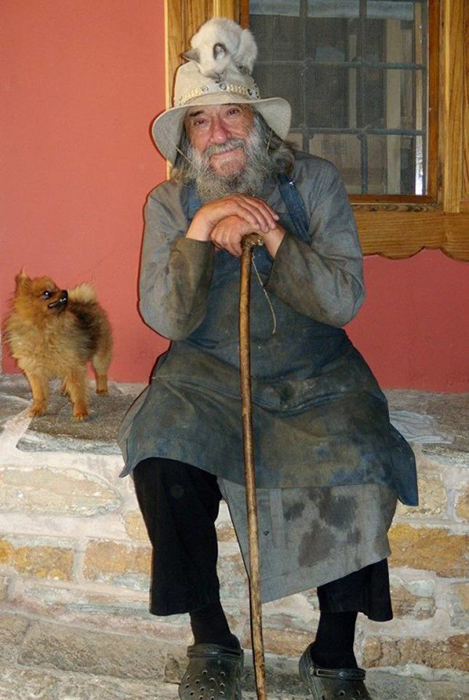 Whatever difficulties he encountered, he never despaired. He was always smiling and in good spirit, despite the difficulty of his cross, or the pains of his illnesses and sorrows. He always repeated, "Despair not. Our ultimate exploit is to defeat the world and the flesh. Through the prayers of the Holy Theotokos and the saints, God will not allow is more sorrows than we can bear. Fear not! Have faith! Lay your hopes in your prayers before the Holy Theotokos and the saints."
"Do not stop coming to church. test and challenge yourselves and accept into you the Body of Christ. That way, you will not betray Him. Instead, you will continue to repeat, like the robber, 'Jesus, remember me when you come into your kingdom.'" He instructed his brethren to pray for him as if he were the biblical robber. We heed to him, but we still trust that with his peaceful departure, this saintly elder will enter the kingdom of heaven like the robber from the gospel and is praying to God for the salvation of our souls.