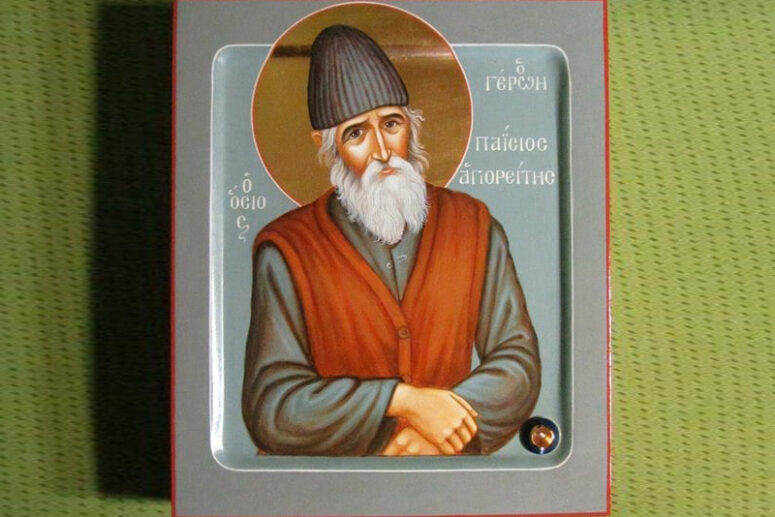 Haircuts
A young man came to Elder Paisios of the Holy Mount. He was wearing his hair in a long ponytail.
The elder asked him:
"What do you do, young man?"
"I am a student."
"How many exams do you have left?"
"Eight," he replied.
"If you want to do well in them, – said the elder jokingly, – let me give you a haircut."
The elder found a pair of scissors in his cell and cut the young man's hair.
The young man took it for a blessing and told his friends to come to the elder for their blessing.
"I gave a lot of haircuts this way," laughed the elder.
"But elder, what do you do with the hair," somebody asked.
"I gather it in a bag and fit on the bald," the elder said, smilingly.
Taking surplus for granted
Elder Paisios recalls: "In the cell of Saint Episteme in Sinai, where I used to live, there was very little water.  Not far from the cell, water was dripping slowly through a crevice in a rock. I fitted a small vessel, and I could collect up to three litres of water each day. When I came for the water, I put under the crevice an iron tin and read the Akathist to the Holy Theotokos while it was filling up. I put some water on my head – just the forehead, as one doctor had recommended, took some water to drink, and filled a small jar for the mice and birds that were living in my cell. I also used the water from the cave to wash my clothes and for other such needs. What great joy I felt to have this small amount of water, and how grateful I was to have it! I praised the Lord for the water that I had. Later, when I came to the Holy Mount and settled for a short time in the Iberian Skete, I forgot about the scarcity – water was abundant there, for the skete stood on the sunny side. The water was overflowing from a tank that stood nearby. I revelled in the abundance. I washed my hair and feet in it and soon forgot about my life in Sinai. There, I used to cry with gratefulness for the drops of water that I could have, while here in the skete, I forgot all about it because of the surplus. So I left my cell and settled further away, where a tiny water tank stood some eighty metres down the lane.  How confused and how oblivious can we all become in abundance!
Tomatoes
Elder Paisios recalls: "I planted in my garden a few tomato plants. I watered them every day at first but eventually began to do so only when their leaves were turning yellow. My tomatoes had a hard time without the water and had to reach deep into the soil to get it. Eventually, the little tomatoes appeared on them. But if I had been watering them all the time, they would have grown tall, but their roots would not have reached very deep."
Translated by The Catalogue of Good Deeds
Source: Рearls of wisdom in simple words. Orthodox Calendar, 2017. — Minsk: Saint Elisabeth Convent, 2016.
https://obitel-minsk.ru/chitat/den-za-dnyom/2021/postrigi