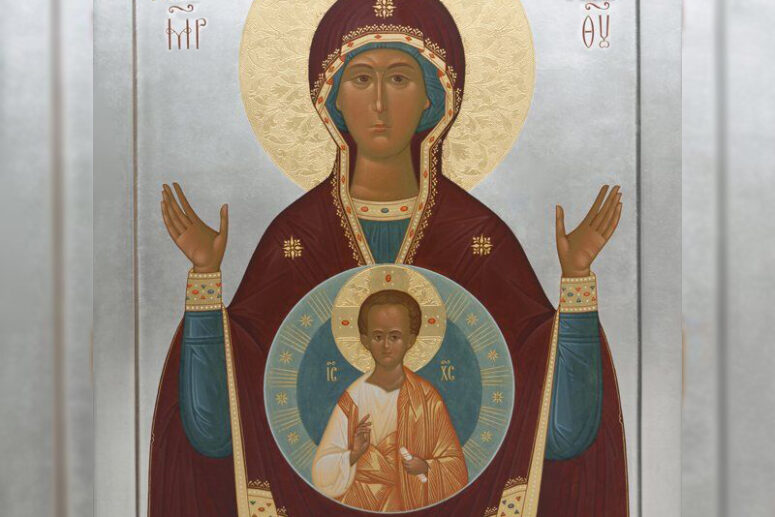 Dmitry Trofimov, head of the Tsargrad creative workshops answers.
The image of the Blessed Virgin with Her hands raised in prayer and the Divine Infant on her bosom dates back to the 4th century. The icon is an illustration of Isaiah's prophecy "…The Lord Himself will give you a sign: behold, the Virgin in her womb will conceive and bear a Son, and shall call His name Immanuel" (Isaiah 7:14). Looking at this image of the One who carried Christ in Her womb, we come closer to understanding the mysterious dogma of the incarnation of God.
Until the 12th century (and in some churches even later) the icon was called "Our Lady of the Incarnation." The second name of "The Sign", or in the historical spelling, "The Sign of the Most Pure Lady" – appeared namely in Russia under rather tragic circumstances. In the XII century, during civil strife, the Suzdal army laid siege to Veliky Novgorod. Seized with fear and hoping for the help of the Mother of God, the Novgorodians went in procession with the icon. An enemy arrow hit the face of the Most Pure One, and the image turned to the besieged. Tears began to flow from the eyes of the Mother of God as the sign that together with the people She was praying for the protection of Veliky Novgorod. The miracle inspired the city's defenders, and under the patronage of divine power, they defeated the enemies, who at that point became blinded with terror and began confronting one another. Such was the miraculous sign of the Mother of God, in memory of which Archbishop John established a celebration.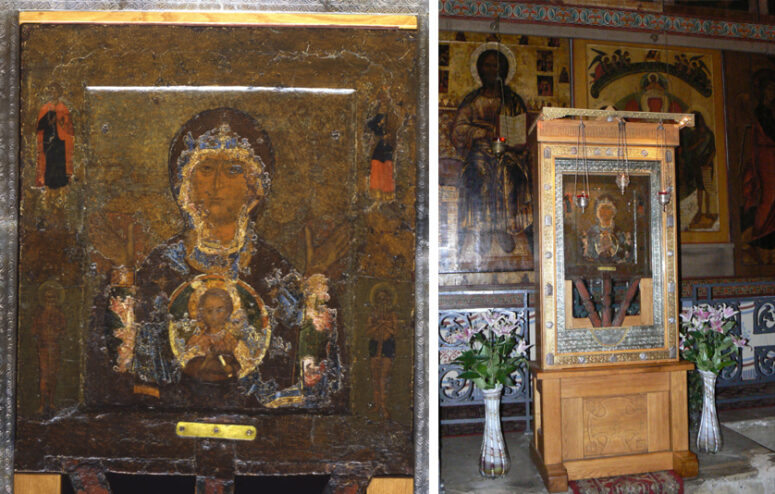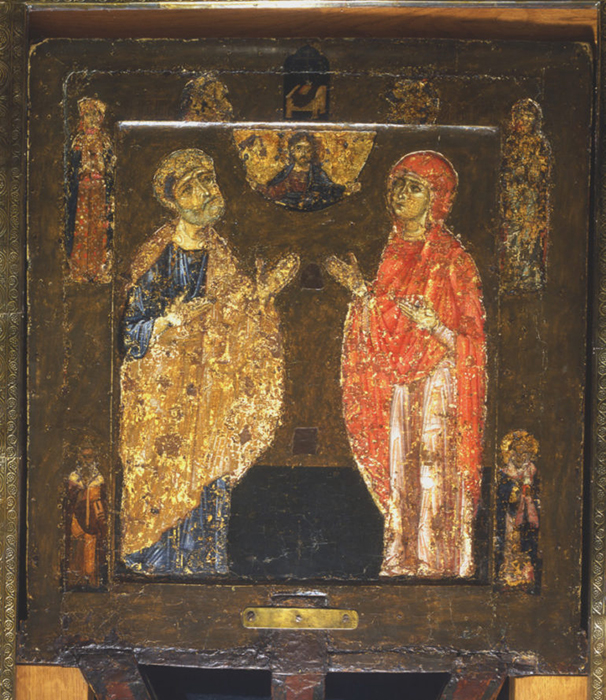 This image of the Sign is now in the St Sophia Cathedral of Veliky Novgorod. The icon was so revered that the numerous copies of it that were made also became miraculous: the Kursk, Abalatskaya, Verkhnetagilskaya images of the Mother of God and others.
The symbolic image of the Sign of the Most Holy Theotokos is placed in the centre of the prophetic row on the iconostasis, since the Old Testament prophets spoke of the coming of the Messiah. We also often see this image of The Mother of God with the Savior Emmanuel placed in the conch, that is, on the vault of the altar apse. There it appears "hovering" above the altar table, the most sacred place in the temple, where the sacrament of the Eucharist is celebrated.
Translated by The Catalogue of Good Deeds
Source: https://foma.ru/pochemu-ikona-bogorodicy-nazyvaetsja-znamenie.html