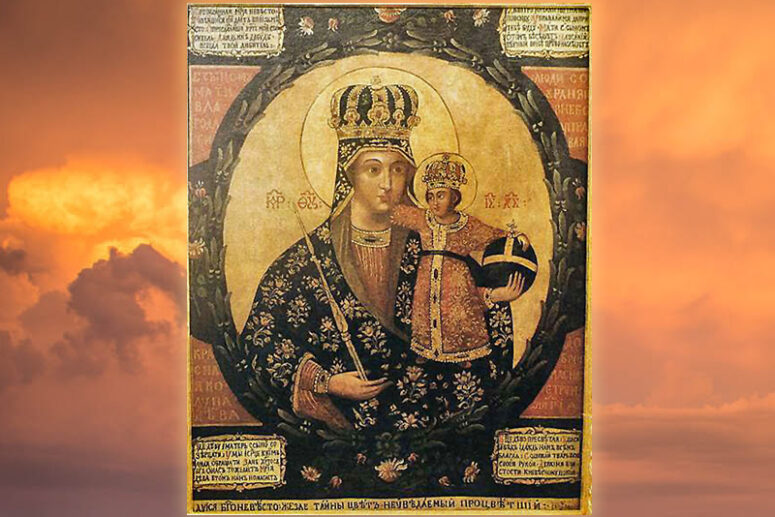 Feast Day: 16 October
History of the Icon
This miraculous image is from the Narovchat Troitse-Scanov Monastery of the Penza diocese. The monastery was famous for its two-kilometer-deep caves, which were longer than the famous caves of the Kiev-Pechersk Lavra. The icon kept in the monastery indicated that it was painted in 1765 by the monk Euthymius of the Spaso-Chelnsky monastery in the city of Trubchevsk, Oryol province (now the Bryansk region). It is believed that the icon was donated by someone to the Monastery.
The first mention of the icon dates back to the end of the 18th century. At that time a cholera outbreak began in Narovchat and its neighboring villages. Panic-stricken people came to the monks asking for help. Soon the entire local population led by the clergy walked through Narovchat with a procession carrying the icon of the Mother of God and expelling the terrible disease for a long time. Since then, the icon has been revered among the people as miraculous. Pilgrims began coming to venerate it asking for healing, while the monks also stayed in good health.
After the Bolsheviks came to power, the monastery building was given over to a poultry farm. The caves were blown up. Only 600 meters were left of the two-kilometer dungeon. The icon was taken to the local history museum, where the image was used as a table and a stand for flower pots. Some time after, the icon found itself in the backroom of the museum, where it waited in the wings until the year 1994.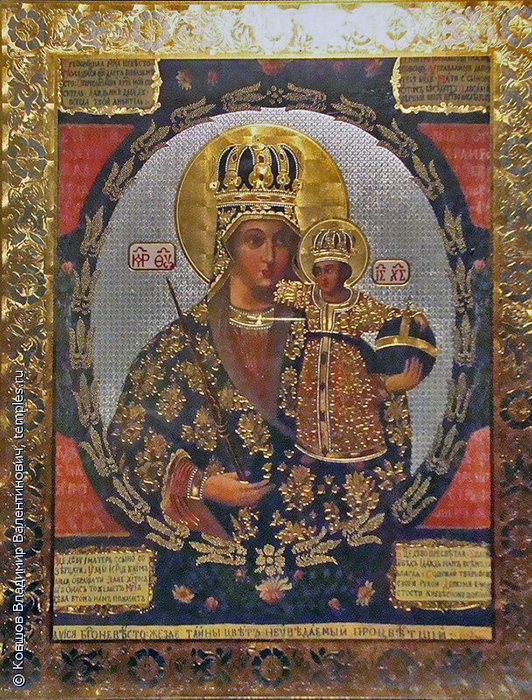 That was the year when the ministers of the newly revived monastery (which by that time had become a convent) found in the documents a mention of the Trubchevskaya icon of the Mother of God. However, the inscription "Lost" was placed in 1975 opposite the line "Trubchevskaya Icon of the Mother of God" of the museum's valuables inventory.   Through the efforts of Vladimir Afanasyevich Polyakov, a local historian and journalist, at that time also editor of the "Narovchat News" newspaper, this icon was found in the museum's storerooms. It was "excavated" from under a pile of junk by Margarita Afinogenova, head of the museum.
Only the eyes of the Savior and the face of the Mother of God were visible on the icon. The rest was covered in dark green mold. After such "storage" the icon had to be taken to the Trinity-Sergius Lavra for restoration. But despite that, the holy image did not lose its miraculous power. There is a known case when a woman, sick with tuberculosis, came to the monastery from Saransk. She prayed in front of the Trubchevskaya icon of the Mother of God and, leaving home, took with her oil from the lamp in front of the miraculous icon. At home, she anointed herself with that oil with a prayer and soon received complete healing. A month later, she again came to the Narovchatsky monastery to give praise to the holy icon.
Translated by The Catalogue of Good Deeds
Source: https://azbyka.ru/days/ikona-trubchevskaja