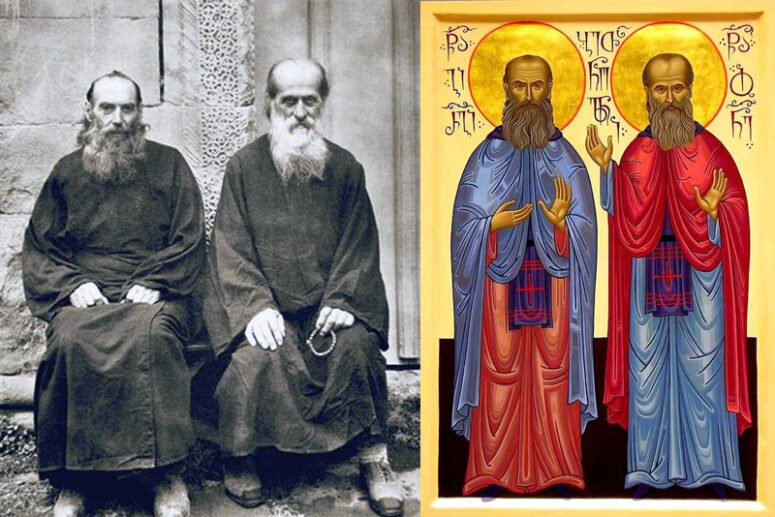 Commemorated on: September 21
LEGEND
The life of these Venerable Archimandrites is connected with the Betania Monastery in Georgia, which has existed since the time of Queen Tamar and bears the name of Bethany, a geographic area near Jerusalem. The Venerable John (Maisuradze) was born in South Ossetia and settled in the ancient Betania monastery while still a teenager. After that he lived for several years on Holy Mount Athos, but later he returned to Georgia, already as a hieromonk. In the 1920s, Venerable John became the rector of Betania monastery. In 1921, only two monks remained in the monastery. One day two armed Chekists* came to the monastery and announced to the monks that they were immediately summoned to Tbilisi. On their way, the Chekists shot the monks. Father John miraculously survived although the bullet went through his chest. The nuns of the neighboring monastery nursed him to health. Father John returned to Betania and never left the monastery again.
In 1924, monk George (Mkheidze) joined the monastery. He came from an impoverished princely family. In his youth the venerable felt a vocation to monasticism and left his studies at a military school in St. Petersburg. For some time he led a hermit's life. Venerable George became famous for the gift of mercy and voluntary poverty. If he met a beggar, he would take off his clothes and give it even if it happened to be his last, in which case he dressed in sackcloth. Before coming to Betania, Father George lived in Khirsa monastery, which closed in 1924. George's two brothers were communists, one of them – Peter – was Lavrentiy Beria*'s deputy. In an attempt to turn the young monk away from a chaste life, the brothers once locked George in a room with a dissolute woman, but he stood in the corner facing the wall and read prayers. Both of Venerable George's brothers died in 1938. The younger brother Ivan shot himself, and Peter was executed by shooting together with his wife.
For many years of the communist persecutions, thanks to the Monks John and George, Betania remained a monastic abode. Both venerable fathers lived within the walls of the monastery until their very death. Officially, they were listed as "guardians of the architectural monument," and the monastery was considered inactive. However, the icons were still hanging on the church's walls, the oil lamps continued to burn, the divine services with processions were held as well as baptisms and church weddings. Venerable John reposed in 1957. Venerable George outlived him by five years. He spent them already in the Great Schema that he received with the name John. Both elders are buried in Betania monastery.
Translated by The Catalogue of Good Deeds
Source: http://www.grad-petrov.ru
 *Chekist – employee of Cheka (Russian ЧК) transliterated Russian acronym for All-Russian Extraordinary Commission for Combating Counter-Revolution, Profiteering and Corruption
** Lavrentiy Beria – a Georgian Bolshevik and Soviet politician