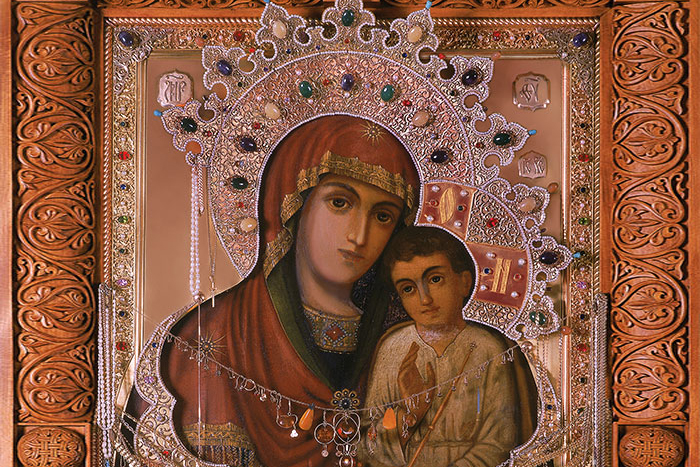 During the reign of John the Terrible in 1563, a native of Voronichi, a suburb of Pskov, a fifteen-year-old shepherd Timothy saw a Tenderness icon of the Mother of God, the same icon that was then in the Voronichi parish church of St. George, appear in the air in a marvelous glow one evening near the Lugovitsa River. A voice from the icon announced that the grace of God would shine on this mountain in six years.
The icon of the Virgin Mary the Hodegetria appeared to the same young man on Sinichya Hill in 1569. Timothy made himself a shelter, and spent forty days fasting and praying at that place. A wondrous voice from the icon commanded the clergy and the people to come to the Sinichya Hill with the Tenderness icon on the Friday following the Sunday of All Saints. When the procession undertaken at the behest of the Mother of God reached the mountain and a moleben began, suddenly, during the reading of the Gospel, a light shone, the air was filled with fragrance and everyone saw the icon of Hodegetria on a pine tree. Both holy icons, Hodegetria and Tenderness, were placed in the Church of the Holy Great Martyr George. Many miraculous signs and healings came from them, which were reported to John IV. By his decree, a chapel was erected on Sinichya Hill, which has since been called the Holy Hill, to which the miraculous icons were transferred. Before long, however, on the feast of the Protection of the Holy Theotokos, when there was a religious procession with icons to the Holy Hill, the chapel suddenly caught fire at night. The fire destroyed everything inside the chapel, but the icons remained unscathed.
A stone church in honor of the Dormition of the Blessed Virgin Mary was erected on the sacred site, the altar of which was located on the site of the appearance of the Hodegetria icon. Both glorious icons were placed in the lower tier of the iconostasis: Hodegetria (the side-altar in honor of which was arranged in 1770) on the right side, and Tenderness (which received its own side-altar in 1776) on the left side.
Svyatogorsk Dormition Monastery was founded on the Holy Hill in the same year 1569.
The holy icons used to be brought to the Trinity Cathedral of Pskov every year on the first Friday of St. Peter's Fast, and the subsequent Sunday they were carried around the inside of the city walls.
The celebration in honor of the Tenderness icon is held on March 19 and on the 9th Friday after Easter, while the celebration of Hodegetria is held on July 30 and the day of the Protection of the Most Holy Mother of God.
Translated by The Catalogue of Good Deeds
Source: https://days.pravoslavie.ru/Life/life4253.htm