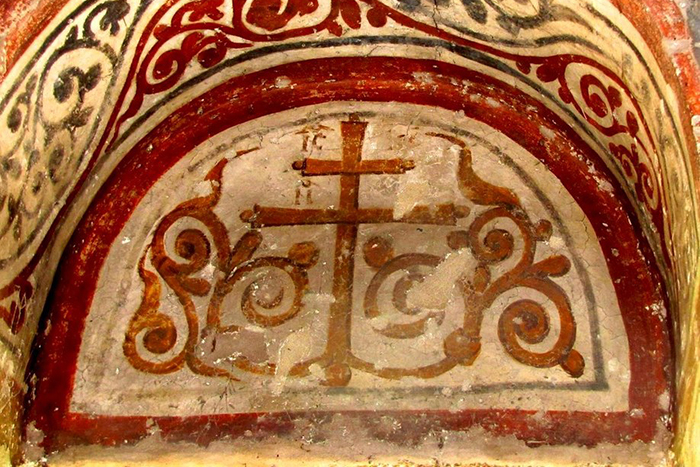 At church, we can often see the image of the Cross of the Lord without the figure of the crucified Christ. The tree comes to life before our eyes: the sprigs of a vine with leaves and even bunches curl from the foundation. Such iconography is poetically called the Flourished Cross. It has been known since antiquity.
The Flourished Crosses are often found in Byzantine and Old Russian art, in the Balkans, in Armenia and Georgia. They were drawn on the walls of the catacombs, carved on stone sarcophagi and altar barriers, they decorated temple doors with them as well. Perhaps the earliest image of the Flourished Cross in Russia is located in Veliky Novgorod, in the hallmarks of the copper Korsun Gates of St. Sophia Cathedral. According to researchers, these gates were brought from Byzantium in the 9th century. If you visit Serbian churches, then at the entrance you will find the Flourished Cross painted in red on a white background, standing on an eminence – Calvary.
We call the Cross of the Lord the Life-Giving. The image of the Cross with magnificent sprigs clearly indicates eternal life. We find in this composition the biblical Tree of Life, which humanity in the person of Adam and Eve lost, but regained with the advent of Christ. The doctrine of the Holy Fathers that the Paradise Tree is a prototype of the Cross is artistically reflected here: "The Tree of life planted by God in paradise was a prototype of this true Cross," wrote St. John of Damascus.
Looking at the Flourished Cross, we recall another Old Testament prototype – the rod of the high priest Aaron, who "… put forth buds, produced blossoms, and bore ripe almonds." The vine also means the sacrament of the Eucharist. The Flourished Cross resembles in silhouette, and therefore includes another Christian symbol of salvation – the anchor.
The image of the Flourished Cross is very decorative, and therefore it is found not only in church decoration, but in church sewing, book miniature. Elegant floral motifs are often used in the closest to us – body and most noticeable – overhead crosses.
Source: https://foma.ru/chto-oznachaet-izobrazhenie-kresta-s-vetvyami.html