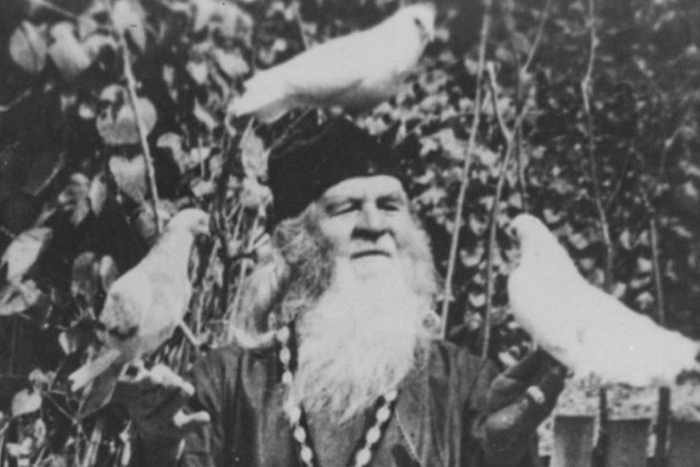 ,, Life isn't just a walk through the park'' people often say this proverb. One person has everything from one's childhood another person has to endure all sorrows during his life; someone thinks only about wealth for oneself the other one takes care off it for everybody such people dedicated their entire life to God and their neighbors are spoken about by wise Solomon: ,,But the path of the just is like the shining sun, that shines ever brighter unto the perfect day ( Proverbs 4:18)''. These words express the way of life of Saint Amphilohius – a great wonderworker of Pochaev very well. Due to him a lot of people realized the essence of their earthly existence and the ways of salvations. Aged man Joseph (Saint Amphilouhius) had wisdom, humility, strong love of God, gift of healing with himself during his difficult life's way.
The soul of any person who contacts with him when he was alive and after his death praying to him senses some new feeling of moral, spiritual and corporal clearance and of course God's faith. Saint Amphilochius was showing people human failings as his own in to order to teach them to live according to the words of Paisiy of Afon, to live like bees; aspire to the fragrant flowers, take honey there bring it to people. Having choosing the way of soul's salvation – a monastic life, having realized all treasures of God's wisdom and providence he could perform miracles; exorcise, heal and bring back to life. Such persons are always regarded as something strange by wordy persons. They just can't understand and explain it. Saint Amphilochius tried to avoid human glory by every possible ways. But some facts of his mortal life can be described.
Every reader of Saint Amphilochius of Pochaev's biography will notice the difference in one's spiritual life and life of this saint. Reader'll sense one's spiritual imperfection. We'd like more such saints to be and our children, grandchildren to live in accordance with God's commandments.
The Superior of the Holy Dormition Pochaev Lavra the Most Reverend Volodymyr, Archbishop of Pochaev.
James was born into pious family with many children in the 27th of November in 1887 in the Volyn area; in the village of Malaya Ilovitsa. He spent his childhood in the countryside with marvelous Ukrainian nature. All his family lived in atmosphere of piece and piety. Children respected the older people and helped them about the house.
His father Varnava who had ten children had to work hard. He was a good craftsman. He also was an experienced bone-setter. A lot of ill people were taken to him and James often helped him to take care of them.
James's mother Ann was a pious woman, loving God's churches and prayer. She didn't forget about it in the field and liked priests very much, considering them saint people. When Joseph was a hegumen he often said,, I believe that my mother in the Heaven! It's a pity. She's dead. She would be glad to see me as a priest''.
From early childhood James was taught only kind and holy things by his parents' who did everything with the prayer.
In 1912 he was taken away to the Tsar's army for serving. During the First World War he served in Lutsk and then in Tomsk, where he was a medical attendant at the hospital. Then he was in front where his best friends perished. After that he was taken away to the captivity.
Enemy took him to the Alps, where James was working on the farm for the three years. Performing all jobs industrious with Christian submission he deserved his host's trust and love. He intended to marry him off his daughter. Missing his native land the young man escaped in 1919. Due to good men he returned home.
James was a handsome young man and had a nice voice. Following the customs of olden time he was going to get married to one kind and pretty girl. However the providence of God wasn't the same. Having talked to the local priest he changed his mind. Having seen the world and having gone through his military trials James has realized that life is an incessant battle between devil and God and its place is person's heart according to Dostoyevsky. Person couldn't win it without humility, piety and penitential tears.
Having chosen the narrow way of salvation-a monastic life he came to the Lavra in 1925.As a young monk he bore his obedience with love and humility. He made sledges, wheels and he also sang.
Standing at his superior's grave James has realized the transience and vanity of our mortal life. Death is inevitable. It seemed to young man that he had just been awakened. He wanted to clear his soul at once. The death of his superior made such deep impression on him that over here near his tomb people heard his confession.
He was tonsured a monk one year later. His new name was monk Joseph. At first he was hierodeacon, then hieromonk. Father Joseph carried out obedience of an assistant of steward, a caretaker of the Footprint of Mother of God, gardener, chorister etc. Then he became hegumen and brothers' confessor.
Bearing his obedience he healed people and was famous for his gift of bone-setter .Patients came to him round-the-clock. By the blessing of Superior James settled in the house near the cemetery's gates, where he lived together with monk Irinarkh for twenty years. A lot of fruit trees, which can be seen now were planted by him. Numerous patients were brought to him. As he healed free. People hurried to him, they gave him fruits in order to thank him. He spent all days and nights praying and avoiding human glory. Having dedicating his entire life to God and his neighbors, Saint Amphilochius gained a strong faith and love. Gog gifted him with the grace of prophesy and the performing of miracles. He healed, exorcised, gave hearing to the deaf, sight to the blind and consoled the mournful. He has helped and comforted so many people by his prayer. He remembered that at the beginning of the Second World War he heard German speech, tread and sounds of weapons. He looked around and saw nobody. But in the evening everything was clear, fascists were in Pochaev. Since that he was known future, present and past. He was gifted with the grace of prophesy.
At the end of the war different members of political parties started visiting him. It seemed to them that Joseph sheltered the criminals and they tried to get rid of him. Once unknown men came with stretcher, tied him and were going to throw down him. However God didn't allow doing it, one of these men became blind, and two other couldn't move their leg and hand. These men began to shout and begged pardon. He blessed them and let them go home. But they came back to talk.
At this time a demon-possessed woman was taken to Saint Amphilochius. She had wild malice and started beating him. But he didn't protect himself, he was sorry about her very much.
Demons hated saint and were angry with him. However humility monk exorcised her. This woman was healed.
At the end of the war a lot of criminals were in the forest. Everyone was afraid of night robbers and murders. Monk's cemetery was aside and everything could happen.
Fourteen armed men has broken in his wretched house and demanded supper. Having supper, uninvited guests told to accompany them. Reaching the gates commander told him about shooting. Saint Amphilochius heard it calmly and asked some time for prayer. Having read prayers he said: ,,I am ready''. When this men were just about to shoot monk Irinarkh screamed out: ,, Whom are you going to kill? Don't you know who he is? He saved so many people. If you need to kill someone, kill me! Let him go''. Then commander said: ,,Go away old man''. Saint Amphilochius went towards the gates waiting for a shot in his back. In this way monk Irinarkh saved his life.
After it monk Joseph returned to the Lavra. People went on harrying to him because here they were healed. He cured even incurable sicknesses. However doctors were against the saint. They demanded to stop him and forbid him to heal people. Because of him they had no patients.
Saint Amphilouchius could exorcise. Demon-possessed people from the whole world came to him. He could see demons in reality and often going though the temple he told them to go away.
He was spending the whole day performing the obedience and with people. Ascetic was praying at night and said: ,,The day is for labor but the night is for prayer'' However he tried to avoid human glory.
,, Once in 1956 it was Friday'' – remembers K., – worshipers helped to pick up apples in the monastic garden and we saw a man lying on the ground. We wondered who it was, who could sleep in the work time. But then we recognized monk Joseph. On Fridays and Wednesdays he didn't eat food and trying to dissemble it, secluding himself for prayer. However having noticed us he pretended to sleep on the ground''.
In the end of 50-s a new wave of churches persecutions began. The temples were closed throughout the country; some of them were only in the west part of Ukraine. Soviet authorities were planning to turn Pochaev into communist village and to turn Lavra into a museum of atheism. Cloister's brothers were offered to leave the Lavra. In 1959 fruit garden, agricultural land, greenhouse, gardener's house and apiary were taken off by local authorities. All shops weren't allowed to sell any goods for the cloister. In such way brothers were left without any provisions. The pilgrims and parishioners weren't allowed to bring products to the Lavra. Authorities expected the monks to leave the cloister. But anyone of brothers wasn't going to leave. Then they decided to make them go away using different pretences. A lot of monks were imprisoned for many years. All monks outstayed their persecutors.
In 1962 Saint Amphilochius went to Brodu. There little girl broke her arm. On returning back he got to know that Holy Trinity Cathedral is taken off. Father Joseph harried to the temple and suddenly snatched out cathedral's keys. He gave them to young Superior and said:,, Keep them and don't give to nobody!'' People also tried to protect church and turned police out. So he protected the Holy Trinity Cathedral through his braveness and courage. However he knew that he would have serious problems. And soon monk Joseph came to the gatekeeper Serafim and told to open the gate, explaining that police vehicle would come. Really a black vehicle appeared at the gates. Policeman demanded to let them go. At this time Saint Amphilochius was in his cell, he knew about his arrest and could remind here. But hegumen Vladislav knocked at the door and read a prayer. Due to his brother's prayer he opened the door. Six men took him, tied him up. He was taken to a psychiatric hospital in Budanov. Here he had his hair cut and they also beat him and tore his clothes off. Without cross and clothes he was taken to the ward full of violent mentally sick persons. They were demon- possessed and said:, Why are you here? It isn't a cloister.'' Doctors gave him some terrible medicines, which made his body swell and skin chapped. Getting known where Joseph was people started writing to the head physician asking him to set him free.
Three months later Saint Amphilochius was told to put clothes on and go to the doctor's room. He sat.
– Can you heal our patients?
– Yes, I can.
– Then cure them.
– All right.
Father Joseph offered him to let him go to the cloister in order to bring the Gospel, cross, celebrant clothes (stole, tigh over sleeves and phelon). In this case he would be able to serve Water-Blessing prayer services. He added all patients would leave the hospital.
– No. Heal them without services.
– It is impossible.
– Why?
He explained that every soldier needs weapon: rifle, grenades and cartridges. Our weapon against the demons is holy cross, the Gospel and holy water.
Father Joseph went to the ward, where he continued enduring all sorrows.
Everyone who knew him didn't cease to fight for his release. They turned to Moscow, believed and waited.
One day he was told to go the doctor. There were two men besides the doctor there. They were from Moscow. He was asked when he had become a monk. They also asked him why he was in the hospital. He explained that in this childhood he knew one aged man, who read Bible and said that one day a big dragon would fight with church. As he see now this – a battle between dragon and church. Having heard such answer one of these men smiled ironically. Father Joseph came back.
But people didn't give up. They wrote and wrote applications for his release from psychiatric hospital. Stalin's daughter got know about this. She managed to release him in order to thank him for her healing previously. After that Father Joseph settled in his nephew's house in native village of Ilovitsa.
Having known where Farther Joseph lived numerous people started coming here. He served Water-Blessing prayers services and healed people. However atheistic authorities prevented from doing this. Their relatives were disaffected by authorities. Father Joseph had nineteen nieces and nephews. Once one of his nephews a tractor driver enticed him into the tractor and took him to the marshes. There he pushed Father Joseph off the vehicle, beat him and threw his unconscious uncle into the cold water, where he had lying for eight hours. It happened in December (1965). He was looked for. At last he was found and it was a miracle he wasn't drowned. Immediately Father Joseph was brought to the Lavra, where that night he became Father Superior having taken vows of great scheme. He was named Amphilochius. Nobody expected him to recover. Due to God he became health but he couldn't stay in Lavra and returned home.
People went to him again. Saint Amphilochius continued to serve Water-Blessing prayers every day. He also invited people to have dinner. Meal was special and miraculous. Some people were healing by having this holy food. Sometimes Father Joseph took his wimple and sat on the bench. People asked to touch them with it. In such way headache, heart, arms, legs, kidneys, liver were cured. The glory of these miracles spread everywhere. So people from the whole world came to him. Very often he was showing people human failings as their own and thus indicates the cause of certain diseases. Trying to avoid a human glory he often behaved like sinner and said:,, You think I'm a saint. I am a sinner. Due to your prayers and faith you are healed''.
Some people and relatives believed him and thought he was a real sinner.
In 1965 Father Joseph moved to his niece Ann's house. Saint has built high pigeon's building and chapel here. They also erected a tabernacle. Some women were obedience here. They cooked, helped him about the house and read Akathists, etc.
Father Joseph could understand people's souls, hearts and intentions and let some devious and demon-possessed people live in his house. He didn't afraid of them. He was going to build house and temple on area which was given him for garden by collective farm. But this construction wasn't allowed by authorities. Saint Amphilochius was very upset and often said:, I'll die but the church will remind''.
Only fifteen years later his death temple was really erected in his native village.
Saint said fast and prayer are only means of healing, very often he advised not to have meal on Wednesdays and Fridays. He healed different sickness and said that one half of patients are cured but another one isn't because it is not useful for soul's salvation.
Demon-possessed people troubled him very much. His relatives asked him not to exorcise them. He said that nowadays children were born proud and impertinent so later became demon-possessed. He made such children beg forgiveness from their parents. He had great love and had time for everyone.
Old novice John visited Father Joseph in the village of Malaya Ilovitsa many times and saw himself the miracles of healing.
,, It's impossible to perform such miracles without acquisition of the blessed of the Holy Spirit''. Any inhabitants of Pochaev and millions people who was cured by him can prove it.
One day after Morning Prayer Father Joseph didn't leave his cell for some time. Then suddenly he came out and greeted everybody with the words of prophet Isaiah:, God is with us…'' Father Joseph began to explain reasons of people's sicknesses. Atheism is the main reason. From childhood people aren't allowed to go the church. And person reminds without Eucharist and Holy Spirit's blessing. That's why a lot of people are mentally sick. He advised to pray in order to be health.
Father Joseph was praying in his cell thought all nights. Demons couldn't stand it and did everything to get rid of saint.
In 1970 one man suddenly burst and asked:, Where is Joseph? In Moscow I was strangled with his smoke. I'll kill him.'' Due to God's help this demon-possessed man was disarmed. He had three knives in his pocket. This man proved to be Muscovite, a pilot. On the way to the village he had no meal and was very weak. His mother asked Father Joseph to pray for her son. And this young man felt saint's prayer in Moscow and being demon- possessed decided to kill Father Joseph. This man ran away and nobody saw him more.
Saint Amphilochius enjoyed nature very much; he planted different beautiful flowers and fruit-trees everywhere he lived. In his native village he left nice garden to remind about him.
In summer of 1970 Father Joseph invited his friend Vasily from Pochaev. Together they went into the forest to listen to the cuckoo. Saint listened it with peculiar attention and said: ,,Here 's the last time I listen to bird's singing ''. And he really died this year.
Being very kind person Father Joseph didn't like bad-tempered people. Because evil isn't inherent to human nature. People become such not without demons that's why they look like them.
Saint Amphilochius said:, Sin like spider's net, malice like wire. Bad-tempered people have killed tsar and now oppress orthodox believers. We are very happy we were born in Orthodoxy. Unfortunately a lot of people don't know about Orthodoxy''.
He disappointed of watching TV programs, which devastate person's soul. After watching programs such person absolutely doesn't want to pray. If they will force themselves to do it; it's not real prayer. Nowadays sorcerers try to improve system of encoding people through TV sets, radios etc.
,, Salvation isn't easy today. People must to work hard, pray and mustn't be blind and deaf.''
Saint Amphilochius loved people, helped them and they always were inspired by his blessing.
One woman asked him how to exquisite such strong love. He replied: ,, God gifts people with grace of love if person has humility''
Monks often visited him and saint told them: ,, Monk's vows aren't the most important things, spiritual life in the accordance of strict monastic rules is the main thing for you''
Father Joseph's words can be added by the words of apostle Paul:,, See then that you walk circumspectly, not fools as wise, redeeming the time, because the days are evil. Therefore do not unwise, but understand what the will of the Lord is''.
1970-s year came. Christmas wasn't far. Feeling that this is his last Christmas Father Joseph tried to organize feast for everyone. At this day festive divine service was conducted and their carols for him and Father Joseph gave them presents.
One priest Peter liked him very much and helped to served Water-Blessing prayer service. Father Joseph liked him too. But time passed. What did saint feel during last days of his mortal life? He often was thoughtful. Saint Amphilochius knew people's thoughts. He understood everything and always was grateful for good and evil.
In summer strange attacks happened with him. He laid the bench like unconscious. One of his novices didn't allow coming up anybody. Having lain for some time, he got up. Then the same attack was in October. Everybody was worried. Someone tried to help Father Joseph but this novice didn't let. For some moment he stopped breathing. She came up to him and suddenly his eyes opened. He kissed her head.
Later people got to know that poison was given to him again. One day Father Joseph didn't begin eating at once. He just was sitting. Due to his gift of prophecy he could see atheist who were planning what to do with his house after his death.
Some days later two men tried to kill Saint Amphilochius with knife. They came at night. Having known about their intention he went to bed in another place. One of them was a young tractor driver who had been captured and then he was allowed to go away. The next day police came but investigation wasn't.
Soon Father Joseph was sitting silently for some time and then explained: ,, In Shumsk the ways of my doing away are being discussed again''.
Saint knew everything and who could perform it. But nobody expected that anyone would be able to do it.
Several times Father Joseph gathered people in the dinning-room and asked to sing prayers of Holy Dormition's divine service. Listening to them he cried.
He died in four months. It happened in January 1971. It snowed heavily.
Everybody in his village said good bye to him. Monk Bohdan read the burial prayers over Saint Amphilochius. Then his coffin was delivered to the Lavra. It was too slippery and vehicle couldn't pass through the gates. So people brought ascetic's coffin on their hands to the temple of the Laudation of the Blessed Virgin Marry. A lot of candles were lit. Photos of saint were given to worshipers.
After late liturgy burial service was begun. It stopped snowing at last and sun appeared on the sky. When people went to kiss their dear father, broken arm of one woman was healed. There were a lot of people.
Deceased monks are usually driven to the cemetery; however coffin of saint was borne by everyone. All wanted to bear him. No one monk wasn't buried such honour as this ascetic was. All wanted to express love of that one who had dedicated his entire life to God and his neighbours. His grave was dug under the apple tree, planted by Father Joseph.
Then it started to snow hard again, the stormy wind was blowing, the sky was black. In such way nature said goodbye this saint man.
Soon after his death one of novices saw father Joseph in her dream. He showed her poison which had caused his death. This poison was added do his food and water. It belonged to one of novices from Kyiv.
His monastic clothes were fragrant.
In 1981 during the serving of requiem in the cemetery one woman from Kyiv began to cry;
– Father left us…
Father Joseph's novice told her:
– Don't afraid to say that you killed him!
– Repent of your sin!
It must be the providence of God that she told people about her sin.
She kneed, washed her face with dirt and screamed out:
– I have poisoned him, poisoned him! I was afraid of people to tell it earlier. Forgive me and you V. forgive me!
Who knows why she did it. She was forty three when she came to Malaya Ilovitsa asking for obedience in the kitchen. Her mother often came here. This woman once said:,, My mother is a sorceress''. ,, Repent!'' – Saint said.
Years pass, time flies. But everyone still remembers saint alive. People remember his voice, his gait, his loving heart and unusually clever and kind eyes… They tell each other about his miracles. Worshipers went to the monk's cemetery earlier and now believers go down to the Caves Church, where his incorruptible relics rest in silver shrine. Here they light candles and tell Saint Amphilochius about all their sorrows and sicknesses. Demon- possessed people also come here. There are a lot of miracles as well in the cemetery as at the shrine of his relics.
All mortal life of this ascetic was self-sacrifice for the sake of God and neighbours. Love is the most important result of Christian's spiritual feat. It's the main rule of heaven and earthly life; it can be only in pious hearts. Love is continuous and reminds with person beyond the grave. It also connects souls of alive and dead. Due to such kind of love Saint Venerable Amphilochius gained great gratitude and homage of everyone.
He is commemorated on 1 January and 12 May.