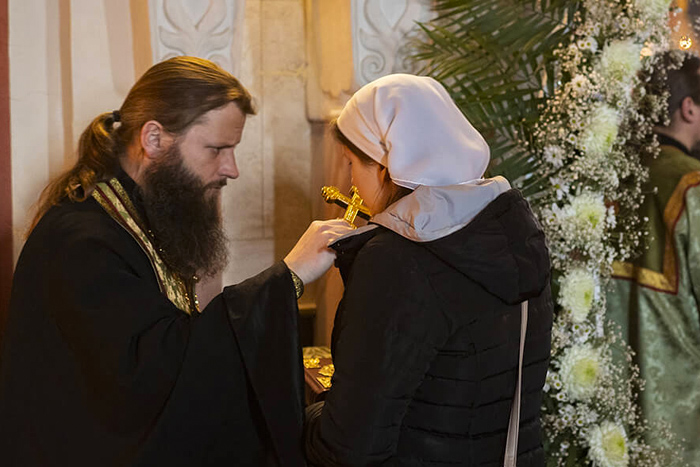 Find the true connection to God.
The Lord says, "My child, I forgive you. If I have told you to forgive others up to seventy times seven, of course I will forgive you much more." Think and say to yourself then: "Okay, Lord. These words comfort me and give me hope. It will support me, and when I hear your promise, I will try to correct myself." Someone may say, "The church allows three marriages." Does it mean that you have to take all the three opportunities? This is permitted because of your own weakness, man, for there are times when one cannot maintain the first marriage because of his or her selfishness, imperfection, hostility, envy, evil or other weaknesses. It's like you're saying, "Neither one nor the other opportunity worked out well. I have the third option now." However, the fact is that you have to fix the first one, to correct yourself, and then you won't need a second marriage. You'll only need the first one.
It is the same with repentance. One person asks me, "Father, will you excuse me again?" "I'll forgive you, my child." "Okay, then I'm free to do the same thing again." So what are you asking me for? Do you want to make sure that the Lord loves you so that you can have the courage to sin again? Then you don't know what you're talking about. You're sleeping.
Another man says to me: "I'm going to my spiritual father, we get along well." The expression 'get along well' has multiple meanings. It all depends on what you mean by that. Of course, we all want a spiritual advisor with whom we can honestly talk and coordinate our moves. That's very good. However, if you mean that he doesn't scold you, he doesn't point you in the right direction, but he allows a lot, then it shouldn't be that way. You understand that, too. Even if priests from all over the world gather and say, for example, that what you are doing is not a sin, you will still be able to tell if it is a sin or not. That's what your heart tells you. It's just that now you've arranged such an alibi for yourself. You can find yourself a handy confessor, but that's not going to help you.
When I talk about the love of God, that's not what I mean. I mean simplicity and sincerity. It is not that you feel that your mentor is intimidating enough to make you shiver, no, but that he can help you grow spiritually. Set your affection on things above, not on things on the earth (Colossians 3:2). We need to be renewed and transformed by the renewal of our minds that ye may prove what is that good, and acceptable, and perfect, will of God (see Romans 12:2). Old things are passed away; behold, all things are become new (2 Corinthians 12:2). We must improve. This is a sign that your relationship with God is right, free, and fruitful.
Feel comfortable, but do not be immobile. Be free and unstrained but keep on fighting. If, for example, you are as angry this year as you were last year, as inclined to use foul language as you used to be last year; if you steal as often as you did it last year – in other words, if you keep doing what you used to do, but still feel at peace in the church – it baffles me. It is impossible to feel a real connection with God and to remain unchanged. You will change automatically. Something will happen, I'm confident of it.
From the book by the Very Rev. Andrew (Conanos) Love Forever.
Translated by The Catalogue of Good Deeds
Source: https://pravlife.org/ru/content/arhim-andrey-konanos-mozhesh-nayti-sebe-udobnogo-duhovnika-no-eto-tebe-ne-pomozhet