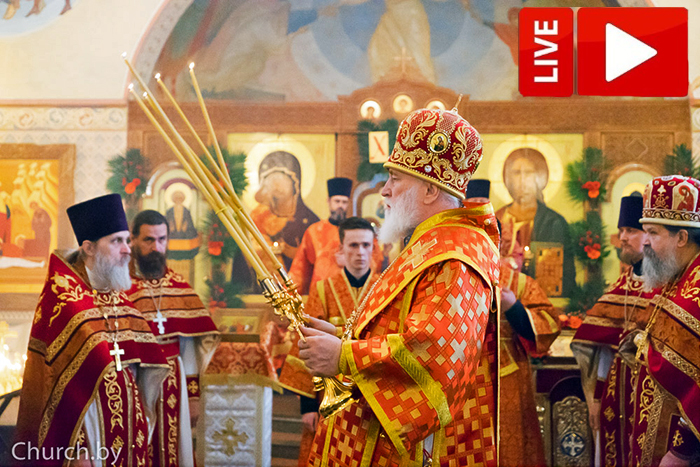 In a situation where believers are forced to stay at home in self-isolation, many churches have launched online broadcasts of services. This experience is completely new for most parishioners, so more and more questions and doubts appear. We collected the most relevant and asked Archpriest Maxim Pervozvansky, clergyman of the Moscow church of the Forty Martyrs of Sebaste in Spasskaya Sloboda, to answer them.
How to watch the broadcast of services in a right way?
It is very important that we do not just watch the broadcast as an interesting movie. This option is, of course, not participating in the service, although it may also be useful to someone: people will hear some sticherons, chants, and perhaps for the first time will see how the Liturgy goes from beginning to end. If your back or legs do not hurt, it is better to pray during online service standing. It's better to watch the Liturgy live, rather than on the taping, because in this case you are mentally and prayerfully present in the church, you see, hear and feel exactly the same things that they see, hear and feel there. Although, if you can tune in, you can watch the taping. The broadcast video, it seems to me, must not be paused, because we cannot pause our life. If necessary, take a break, and then return to prayer again.
How to arrange your prayer space?
I advise you to create a special prayer atmosphere at home: to light a vigil lamp, candles, dress like you used to dress for the church: not shorts and a nightgown, but a sweater or shirt with long sleeves, trousers. I advise women to put on the same scarf that they wear at church, because even such trifles create an appropriate attitude. Put things in order in the room where you are going to pray, because this is also important.
At our place, the TV is in one corner, and the holy corner is in the other, and it is very convenient. You could turn around, watch for a while, and then focus on prayer again. The condition is approximately the same as in the church: we do not look continuously at the priest during the Liturgy, but only "glance" at times. Although some, including members of my family, organize space differently. They light a vigil lamp next to the TV, put an icon, stand in front of the icon and at the same time see a screen on which the service is broadcast. There is no single recipe: everyone creates his own prayer space himself. The main thing is to preserve the effect of presence.
What to do with confession and Communion?
If there is an urgent need for confession and communion, then you can call a priest you know, who, I think, will not refuse you and accept the confession, will give you a Holy Communion at home. But we must understand that this happens only in a special case. If you just really worry about some issue and you would like to consult with a priest, you can contact him by phone.
Is it possible to turn on the service taping in the background to create a special mood?
This approach is not close to me. Engaged in some kind of mechanical work, whether it is cooking or home cleaning, you can listen, for example, to the Psalter. Attention during the service should be primarily focused on prayer, so it is better, as it seems to me, to postpone some things that scatter attention. If you want to listen to something uplifting and useful for the soul, you can turn on classical music or orthodox radio.
Is it really possible to watch services via digital medium?
A television, a computer or a telephone are just rebroadcasting transmitters, communication tools, no more. If the priest calls, even by video connection, for reading the Lord's Prayer together, can't we attach our heart and mind to it? If during the Liturgy, which is broadcast online, we elevate the mind and heart to God, what is wrong with that?
It's important to understand though: such a temporary measure does not replace our real participation in service, because tapings, of course, are surrogate. There is a saying: "Better a small fish than an empty dish". Now, we temporarily do not have the opportunity to go to church, but we can at least attend the Liturgy in this way.
Online services confuse me, but I want to pray. What should I do?
Those who are confused by live broadcasts from churches can worship in a lay rite. All services of the daily service circle contained in the Book of Hours can be performed by lay rite. Only one service cannot be performed in a lay rite – the Liturgy, it is replaced by the service of Typical Psalms. There is another option: you can not watch, but listen to the taping of the Divine Liturgy, while standing in front of the icons at home. Imagine that you are standing at church behind a column and don't see what is happening in front, because this often happens.
Source: https://foma.ru/bogosluzhenie-v-formate-onlajn-kak-molitsja-doma.html