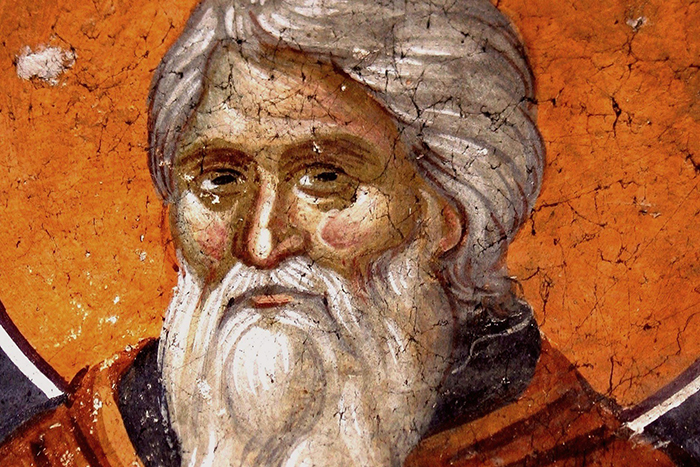 Today we commemorate St. John Climacus. The reason St. John Climacus is so named is because he left us a spiritual guide — the Ladder of ascent from earth to heaven, from the depths of sin to the peaks of God's love and union with Him.
Now, on the first step of this ladder, St. John tells us: It is not because we have not performed miracles, nor because we did not do theology, but because we have not wept for our sins that we will be condemned in the Eternal Judgment…
This is where our salvation begins or the knot of our doom is tied up. We weep for many things: we weep for our losses; we weep at the insults of men; we weep because of sickness; we weep because of the various and varied sorrows that befall us in the course of our lives; and we fail to see that sickness, and sorrow, and suffering, and loss, can all be pure, and can be a link that connects us to God and men.
There is one thing we forget: we forget that there is sin in our lives; we become insensitive to it, we forget it easily, we grieve little about it. Meanwhile, this is the only misfortune that really exists in human life. Everything else can be pure but the sin is dark; sin defiles, sin kills the man, and not only him alone, not even his accomplices in sin — it kills human and divine relations… No matter what sin we commit, the first thing we seek or want is to shut ourselves off from God. We want God to not be aware of it! We wish He didn't notice it, or if He does, we wish He forgets it!
When we say, "If only He forgave it", we often say so not because of the deep and heartbreaking grief that we have cut off the relationship of love and faith and friendship, but because there are things that happen that make us scared, that make our souls shiver, and because we don't want to be ashamed and afraid when we stand before God…
Sin separates us from other humans. We can share our grief, our loss, our misfortune; we can share it with our neighbor; we can receive support from our neighbor; we can receive strength from mutual trust, from the fact that we share with each other this horror of the earth. Regrettably, sin separates us from one another; it separates us from those we would be ashamed of; it separates us from those who were accomplices to our sins, because they are a living and painful reminder to us; and because we know that we will not only be accountable for ourselves, but also for each other in the implacable trial of the truth and love of the Lord.
Thus, sin kills everything in life — and we feel it as death least of all. We weep for everything; we complain of everything; we grieve for everything except for the fact that we are dying alive, that an impervious ring of alienation is gradually being formed around us, separating us from the sinner, from the righteous, and from God, and that this ring cannot be opened even by the love of others, because we are all the more ashamed and frightened, the more loved we are… That is why John Climacus puts the requirement for us to weep for our sins at the very heart of our salvation, our repentance.
Why should we be crying? We know from experience that we can only cry when grief, or joy, or shame, or horror pierces our souls like a spear, that tears burst out of us only when our suffering reaches its limit… Repentance comes before that — and this is where we must begin: we must be horrified that we could have acted like that, that we could have been like that. Then there comes repentance, that is, the decisive and unrelenting change of the soul, which puts us face to face with God, throws us at His feet, teaches us to ask for healing, purification, mercy, and forgiveness — and not just for ourselves, but also for the victims of our sinfulness.
When our awareness becomes so acute and deep that we can no longer stand being alienated from God; when we are conscious of the spiritual crime of killing ourselves and others — only then can the purifying tears flow out of our eyes. As long as we do not know how to weep for our sins, we can say with certainty that we have not yet acknowledged them, that we are not yet awake, that we are still cold, that we are still in sin.
Now, sin kills; it kills our soul, making it inconsiderate and callous; it kills our relationship with God and with men; it kills our conscience and life in others; it kills Christ on the Cross… Last week we worshiped the Cross; in a few days we will contemplate the Lord's Passion — that's what sin does: it kills. It always kills the innocent one, it always chooses the one who does not deserve this suffering, this humiliation, this pain…
Think carefully about your life, about your every sin. Think thoroughly and ruthlessly; and offer God first your regret, and then your sincere, ever-growing repentance, until a stream of tears breaks from your heart and you are able to say, "I repent truly, O Lord!" It is with these tears that we shall wash our sins away. Amen.
Translated by The Catalogue of Good Deeds
Source: https://azbyka.ru/otechnik/Antonij_Surozhskij/propovedi/9_11