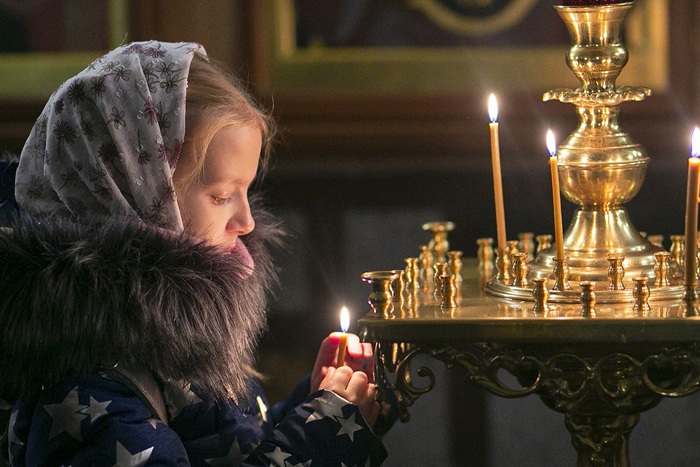 Mark 15:1-18
1 John 4:20-5:21
The apostle John the Theologian writes, If a man say, I love God, and hateth his brother, he is a liar: for he that loveth not his brother whom he hath seen, how can he love God whom he hath not seen? And this commandment have we from him, That he who loveth God love his brother also.
One of the important aspects of active love for someone is praying for them. The Lord commanded us to love even our enemies and to pray for them. How surprised are we then to learn that it is not even for every brother that we are allowed to pray! The apostle writes, If any man see his brother sin a sin which is not unto death, he shall ask, and he shall give him life for them that sin not unto death. There is a sin unto death: I do not say that he shall pray for it.
But what is "sin unto death"? Is there such a sin that the Lord would not forgive a person who repents sincerely? Obviously, a "sin unto death" is a sin of unrepentance, which man stubbornly persists in, not considering it a sin, and sometimes even considering it a virtue or even a duty. How can one pray for such a person?
Let's imagine a few everyday situations. Let's say I work somewhere. I have a boss and I have colleagues. All of a sudden, I find out that one of them is being ousted from work. I go to the boss and I try to find out why it happened. My boss tells me, "You don't know who you're asking for: he was calling me names, and he refuses to do anything, and actually he has found another job already."
Here's another situation. Someone gets fired because they don't want to do their job. I come in and ask, "Don't kick him out. I'll take over what he doesn't want to do." There's a chance for success here. But first you have to figure out whether you can pull this load or not.
Well, here's the third situation. Someone made a mistake, maybe even a big one. He regrets it, though. He doesn't count on himself and asks me, "I'm ashamed to look my boss in the eye. Please talk with him on my behalf. I promise I will never do it again." We go to the boss courageously, and most likely we'll succeed.
It is roughly the same with our prayers for various people. You shouldn't take it upon yourself to pray for someone who doesn't ask you for it. To intercede in the second scenario, we should first recall the Apostle Paul, who, in agony over his fellow countrymen falling away from God, said, For I could wish that myself were accursed from Christ for my brethren, my kinsmen according to the flesh (Romans 9:3). Meanwhile, the third situation is the most common one for us, ordinary people.
Well, how should one pray? Someone once asked the great elder John, who lived in the sixth century, "If someone tells me: pray for me, – what should I do? Should I always pray for him"? The elder replied, "When someone asks you to pray for him, say in your heart, 'God have mercy on us', and that is enough. It is not your business to always pray for him; it is the work of the perfect people who can pray for each other." It is the work of those who really love the one for whom they pray and love so much that they are ready, like the Apostle Paul, to be accursed from Christ for them.
When our audacity is in harmony with our spiritual strength, He listens to us. And if we know that he hear us, whatsoever we ask, we know that we have the petitions that we desired of him — even if we just sigh, "May God have mercy on us". It is us, both of us, not just the other person, as if he needed prayer more than me.
Translated by The Catalogue of Good Deeds
Source: https://azbyka.ru/otechnik/Vyacheslav_Reznikov/propovedi-na-kazhdyj-den/42_4