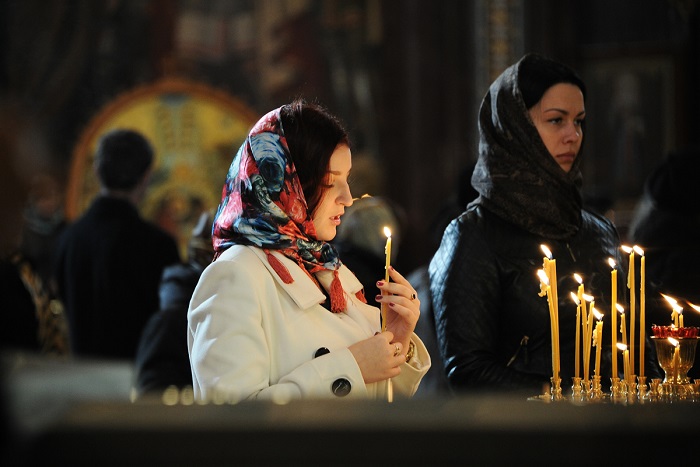 One of the most important prayers in the Orthodox Tradition is the "Jesus Prayer." It is not long or complicated, simply, "Lord Jesus Christ, Son of God, have mercy on me, a sinner." Some make it even shorter: "Lord, Jesus Christ, have mercy one me."
The Jesus Prayer became famous in monasteries through the movement known as "hesychasm", or the way of "stillness." The idea of hesychasm is that it is only when we have stilled our hearts and bodies that we can be fully open to the life-giving presence of God. The body must be stilled from its obsessions, compulsions and addictions and the heart must be stilled of it's wandering here and there looking for something to keep it occupied, entertained and satisfied.
The Jesus Prayer is used as the refrain of a prayerful meditation. Through continued use, practitioners find themselves saying it automatically, much in the same way that we sometimes find a tune running through our minds without our conscious effort. At its highest level, practice of the Jesus Prayer leads to an intimate encounter with God through a vision of what is know as the "Uncreated Light."
The Gospels tell us that, shortly before His Crucifixion, Jesus took the apostles Peter, James and John to the top of Mount Tabor. There, they saw Jesus garments go pure white, and He began to shine with a resplendent light that was almost too much for the to bear. (See Mttw. 17:1-9; Mk.9:2-13; Lk. 9:28-36) This light was a manifestation of Jesus' Divinity. This is the light that vary advanced practitioners of the Jesus Prayer will encounter when saying the prayer.
This sounds very impressive and perhaps even desirable. However, it is not what we experience – or what we do not experience – that matters when say the Jesus Prayer or any other prayer. What really matters is that we pray with an awareness of what our words really mean, and that we try to stay as attentive as possible to the words we are saying while we pray.
The most important part in the Jesus Prayer is the name of our Savior. The Saints teach that the very mention of name of Jesus sends the demons running. Jesus Christ is God speaking for Himself. God is not far off and remote from us. God loves us so much that He came to be one of us, through His only-begotten Son, and He allows us to relate to His Son on a first-name basis, calling Him "Jesus".
Repetition of the name of Jesus Christ, the Son of God, is a very powerful tool in our spiritual life. It allows us to approach God in a very direct manner. We do not simply say, "Somebody, who ever is out there, hear my prayer." We specifically say, "Lord, Jesus Christ, Son of God", hear my prayer. By the way, the name "Jesus" means, "the Lord is salvation."
As we call on the name of Jesus, we call upon Him as "Lord" – "Lord, Jesus Christ…" "Lord" is a title of honor. In times past, someone who was a lord had authority over people under him. To call Jesus our Lord is to put ourselves under His authority. Jesus is the Lord of our lives… we will follow His teachings, do what He wants us to do, base our lives on the way of living that He has showed us. In short, if Jesus is the Lord, Jesus is in charge.
Also important in the Jesus Prayer is the call for God's mercy. Admitting that we are broken, sinful, we pray words found so often in the Gospels, "have mercy on me". No one is "worthy" of God's grace; there are no "necessary requirements" that makes us "entitled" to God's blessings. The blessings we receive from God are solely based on His great and abundant mercy. Divine mercy is the starting point our whole life. If God were not merciful, we wouldn't even exist.
The Jesus Prayer became so important, so loved, that it eventually made it's way into every worship service in a couple of different forms. The best know of these forms is the response, "Lord, have mercy" in our litanies. "Lord, have mercy," is a compact form of the Jesus Prayer.
Whether we are singing it in worship or saying it quietly in personal prayer, the Jesus Prayer is a jewel of our spiritual tradition. I said in an earlier posting that prayers don't necessarily have to be long to be effective. Say the words of the Jesus Prayer, with awareness, attention and a sincere heart – say them often – and we will find God acting in our lives like we never have before.