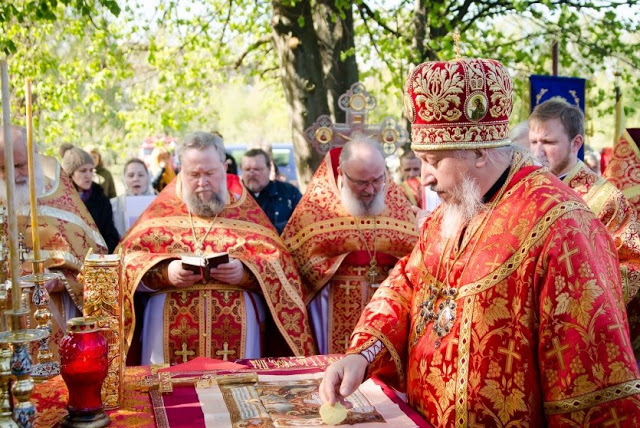 Church traditions require that a Divine Liturgy must be celebrated in a church on a designated and consecrated Holy Table or at least on an antimension (Greek, 'instead of the table') consecrated by an Orthodox bishop.
Antimension is a special cloth with an image of the Lord's Burial. It is placed on top of the Holy Table and is mandatory for celebration of a Liturgy. If, for a certain
reason, the Liturgy has to be celebrated outside of a church, there must at least be a consecrated antimension.
What are the conditions that may necessitate celebrating the Liturgy outside of a church? For instance, if a church cannot contain all the faithful on a great holiday, it is okay to celebrate the Liturgy in the church yard. Aside from that, portable antimensions were also used in the army (and navy!) during military campaigns in the past, provided that nothing would inhibit the proper and orderly celebration of the Sacrament of Eucharist.
Speaking of the present day, there is one question that has to be moved out of our way first: Why do we need to hold a church service outside of the church? If there's no Orthodox Church within reach, it's one thing, but if it happens because a priest just wants it, it's absolutely unacceptable. The Eucharist is the greatest Sacrament of the Orthodox Church, and therefore calls for utmost respect and reverence.
Translated by The Catalog of Good Deeds