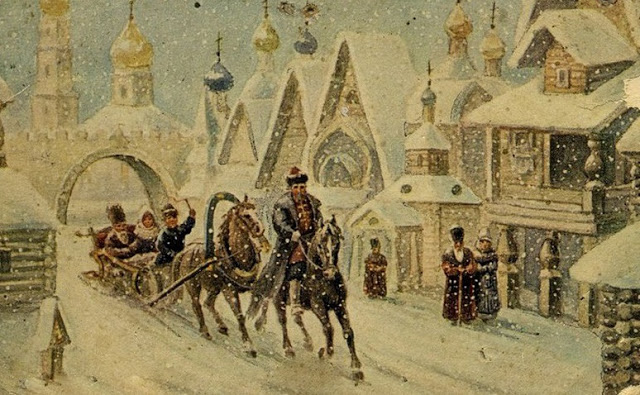 Dear friends! The Catalog of Good Deeds team starts a new series of personal stories devoted to the Feast of the Nativity. Our brothers and sisters are going to share with you some of their brightest Christmas memories from their childhood and explain how that influenced their own perception of this Great Feast.

People in big modern cities begin to get ready for Christmas and the New Year in advance… First twinkling string lights, Christmas trees and other similar attributes appear in late October. People want to make the dull gray fall more colorful and to make the Bright Holiday come faster. 
When I walk past the flashy shop windows, I feel somewhat blue because I recall my childhood…
I used to spend Christmas at my grandparents' home in a tiny hamlet surrounded by a dense and picturesque forest. When I was a child, it looked like a different universe to me, as if a winter-themed postcard suddenly came alive.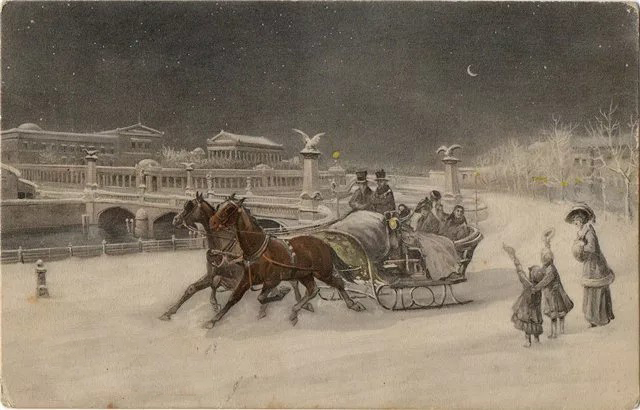 First we went by car until we got to a point on the road where there was too much snow for the car to go any further. Then we got out of the car and continued our trip in a one-horse sleigh… Where a car can't go, this more reliable "means of transportation" will always help. But first we had to feed the "reliable transport" some wheat bread or an apple. Let's go! The jingle bells were ringing so merrily! At last, we got to the snow-covered hamlet. I remember the charming little houses amidst huge piles of snow. Smoke went up from every chimney, and the twinkling stars on a boundless dark sky were our only string of lights.
As soon as we came to the hamlet, a loud alarm of barking dogs went off, gradually spreading to the entire settlement. The hosts had to be aware that guests were near, right? Then there was the time for a happy meeting with the loved ones, hugs, greetings, and gifts.
Strangely enough, unlike the sparkling city, Christmas preparations in the country houses were a long way from ready, even though it was Christmas Eve. I found it hard to understand… The house was swept clean, Christmas dishes were being cooked in the oven… and that was it. Why? It was time for Christmas! What a pity… What about the Christmas tree and the baubles? My eyes started to fill with tears. 
That's when a miracle happened! The door opened, and the smell of spruce tar mixed with cold crisp air filled the room. My granddad brought a huge spruce into the house. My soul was overflowing with excitement!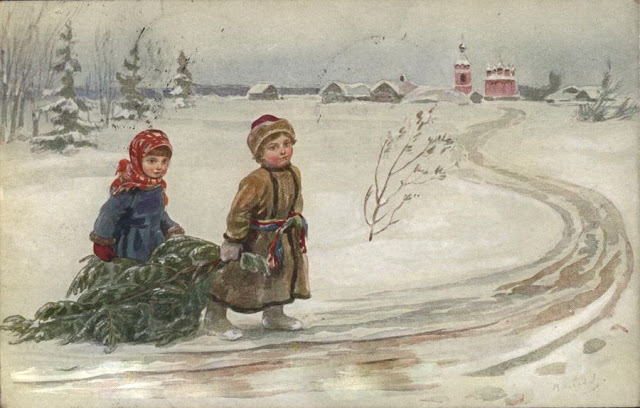 While the male part of the family were busy setting the tree up, my grandmother opened a box of Christmas toys. I'll always remember those toys. They were very old and were stored carefully year after year to be used for decorating the Christmas tree. I have never seen such toys anywhere else: they were animal figurines made of cardboard and painted with silver paint. They were nice and safe to play with while hanging on the branches. My grandmother didn't have Christmas balls. Instead, she would adorn the Christmas tree with small red apples. While they were on an apple tree, they were too hard to bite and not really tasty because they were a winter breed and became ready to eat around Christmas. Last touches of our decoration were heaps of snow made of cotton wool. The Christmas tree had a Christmas star on top. That Christmas tree didn't look like the pretentious Christmas trees back in the city. It was natural and heart-warming. 
The following morning, we all rode in the same sleigh to a Christmas service in a church located 2 miles from my grandparents' house. It was another unbelievable journey! I was wrapped in my granddad's fur-lined leather coat so that I could only stick out my head. I could see amazing winter landscapes, a road in the woods, and the sparkling snow. I could hear the snow squeak under the skids… O Lord, how exhilarating! That's the only thing that I was capable of thinking about.
After the Liturgy, the celebrations began! People greeted each other, sang Christmas carols, and visited each other's houses…
The rural Christmas of my childhood was like a fireworks: first you wait but nothing happens… and then suddenly it explodes and the night sky is immediately lit up with millions of colorful lights, filling you with excitement and joy! These bright memories will always remain in my heart. I would like my little daughter to have memories like these, too.
By Sister Ludmila (Samutina),
a content manager, a member of The Catalog of Good Deeds team

More stories will come! Join our group on Facebook to share your childhood memories about Christmas with others and get a chance to receive one of our handmade gifts.