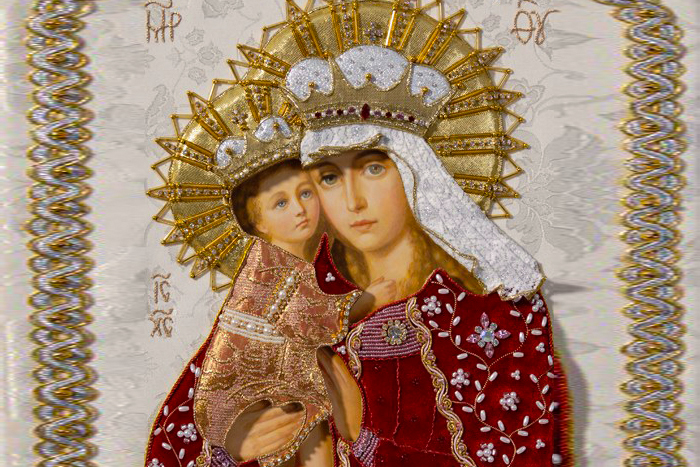 Troparion:
Seek us who are perishing, O Most Holy Virgin, chasten us not according to our sins, but as you are merciful in your love for mankind, have pity, deliver us from hell, sickness and necessity, and save us.
There are several known versions of the miracle-working icon "The Seeker of the Lost" and many miracles when the Mother of God through her icon has helped people on the verge of disasters.
In the middle of 17th Century, in a village near the Kaluga Governorate on the feast day of Theophany, a pious peasant by the name of Thoedot Obukhov was caught in a blizzard while traveling. The horses lost all their strength and stopped near a deep ravine. Obukhov began to lose hope and decided to lie down waiting for the end to come. However, during what he thought were his last moments, he began to pray to the Mother of God for help and promised to make an icon "The Seeker of the Lost" for his parish. His prayer was answered. A men in a nearby village heard a voice saying "Take Him" and walked outside to find the freezing peasant. After Obukhov, recovered, he proceeded to keep his promise and since then the icon he made for the church has granted many healings and miracles.
Another miracle-working icon with the same name is known to be from a village near the Kharkov governorate, which appeared in 1770. It is known for saving the residents of the village from cholera.
In 1835, a church attached to the Moscow Alexandrov Orpahange Institute was consecrated in honor of the icon.
In 1812, the invading French armies vandalized a church in Moscow where a copy of the icon was located. The icon itself broken up into three pieces. Many miracles occurred from this particular icon.