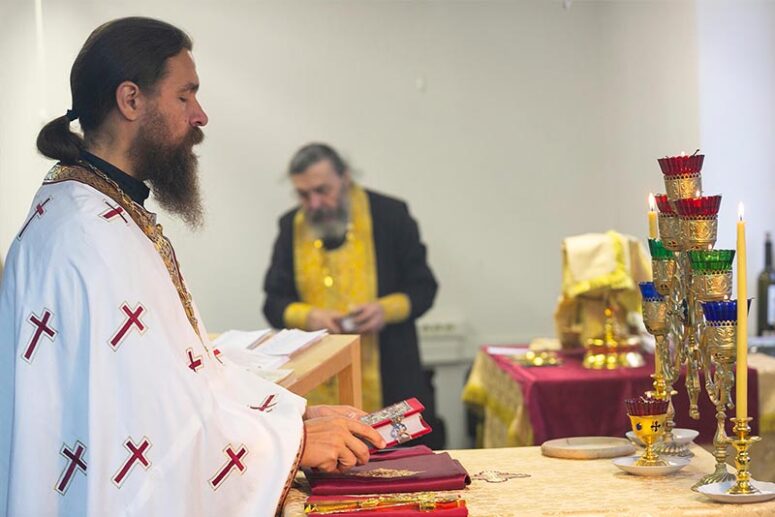 In this article you will find out what steps you have to take to become an Orthodox priest. If you already have an idea of how to become an Orthodox priest, let this article be a kind of memo for you.
1. Obstacles
Let's start with the obstacles to priesthood. These can be both physical, social and spiritual, absolute and non-absolute.
An example of an absolute physical obstacle: you're a woman. Women cannot be ordained as priests in the Orthodox Church. This is against the Holy tradition, so there are no exceptions. 
An example of an absolute spiritual obstacle: you're not baptized. Since you are not a member of the Church, how can you be its priest? Same applies to those candidates who were only recently baptized. 
An example of a non-absolute physical obstacle: young age. In the example given, the canons give a different age norm for becoming a priest. Some say it's 30, others 25. However, an exception can be made by the bishop and a candidate can be ordained before reaching the above age.
An example of a non-absolute spiritual obstacle is 'lack of faith' (defectu fidei). This means that a candidate has only recently been baptized, or has little experience of living the faith, or has not made his whole household Christian. An exception may be made in extreme cases (where there is danger or need for the Church) or in exceptional cases (where a candidate for the priesthood has any other special qualities which make him suitable).
Most social obstacles are more a thing of the past, but some still exist. For example, in the Middle Ages you couldn't be ordained if you were a slave and didn't have your master's permission. In modern times, you cannot be ordained if you have been married twice. 
There are many more obstacles than are listed here. So if you are considering becoming a priest, you should study them all.
2. Prerequisites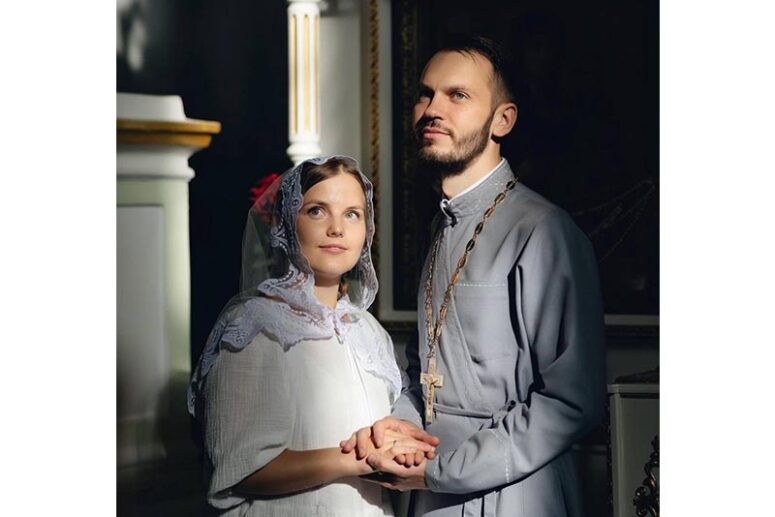 The main requirement is to lead a life that is consistent with that of a priest, even before being ordained to the priesthood. St. Paul explains what qualities must a priest have:  "For this cause left I thee in Crete, that thou shouldest set in order the things that are wanting, and ordain elders (greek presbyteros) in every city, as I had appointed thee: If any be blameless, the husband of one wife, having faithful children not accused of riot or unruly. For a bishop must be blameless, as the steward of God; not selfwilled, not soon angry, not given to wine, no striker, not given to filthy lucre; But a lover of hospitality, a lover of good men, sober, just, holy, temperate; Holding fast the faithful word as he hath been taught, that he may be able by sound doctrine both to exhort and to convince the gainsayers" (Titus 1:5-9).
You will also need to research what a priest cannot do after ordination. The canons of the Church give a long list of things a priest cannot do. For example, going to a bar, gambling, drinking too much, getting divorced, getting into a fight, shedding the blood of a living being, holding public, governmental or military office, breaking the rules of fasting.
3. Altar service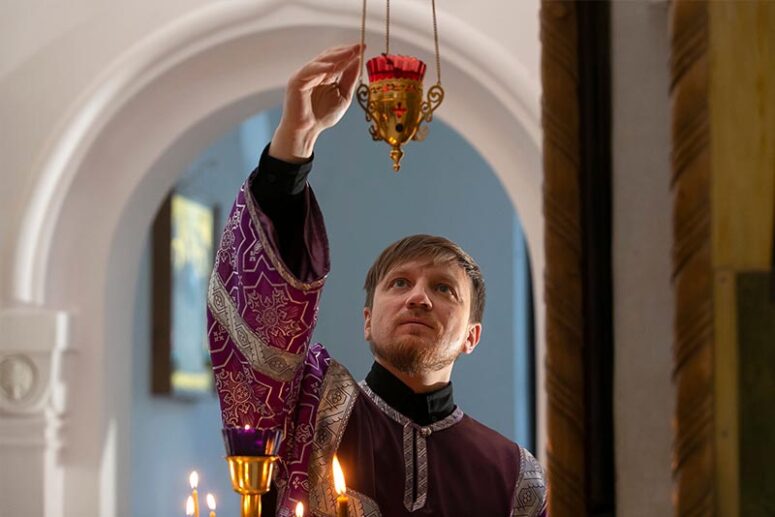 This requirement must be taken seriously. It is easy to get lost in the many liturgical nuances of the Orthodox worship. It takes time to learn, understand and become accustomed to how the service is structured, how the hymns and actions change during the same service at different days of the Church calendar, what a reader/subdeacon/deacon/priest/bishop has to do at each moment of the service, and so on. These things are quite difficult to learn, and they're very easy to forget. So once you've started participating in the service as an altar server, you must never stop. It would also be a good idea to begin helping your priest on occasional services outside of the church building.
If you have absolutely no experience as an altar server, reader or subdeacon, it's unlikely that you will be ordained. 
4. Education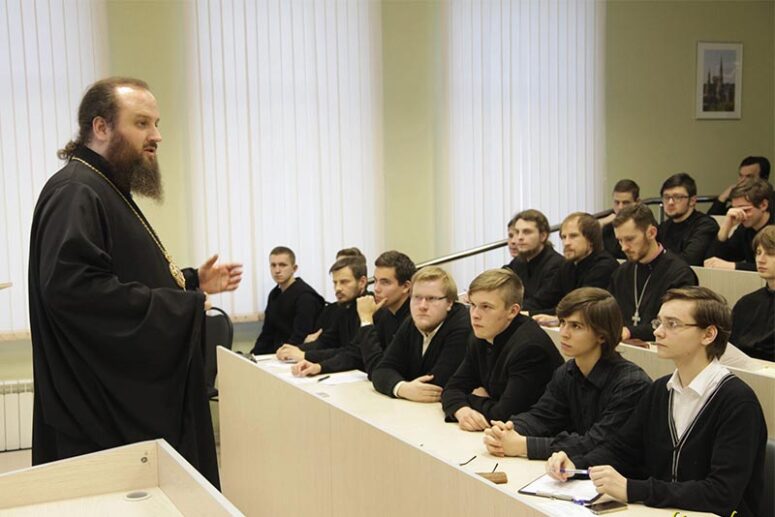 The priesthood isn't just about living a holy life and knowing how to conduct services, it's also about knowing your faith, its history and traditions. Therefore, it is necessary to obtain theological education in an orthodox seminary, academy or theological university.
Different bishops set different goals for clergy candidates. Some may require not only a Bachelor's degree in theology, but also a Master's degree. And in some cases, which are exceptions, no or little theological education will be required. If you have a degree in a theology-related field, such as social sciences, psychology or history, you can try to apply for a Master's degree in theology at some institutions.
5. Know your bishop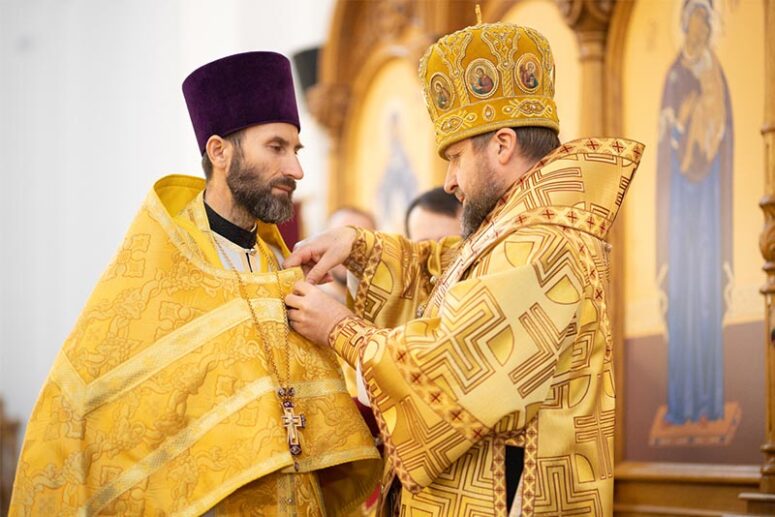 This step is sort of optional, as it can be very difficult to get to know your bishop if he's in charge of a large diocese or even an autocephalous church. In this case, it is better to find a priest who will vouch for you.
It would be good if your bishop knew you well before your ordination. Ideally, you would like to serve as a subdeacon. Getting to know your bishop would build trust and commitment on both sides. It would also make it easier for your bishop to make a decision for or against your ordination. If you're complete strangers, the examination before the ordination can become really long and difficult. 
Unfortunately, conflicts between the ordinary clergy and the ruling clergy do occur from time to time. Getting to know your bishop would also help to prevent these conflicts and to do a 'risk assessment'.
6. Final steps before ordination
Contact your diocese or visit their website. You will need to compile a list of documents such as your birth certificate, baptismal certificate, diplomas and so on. You will also need to write a letter to your bishop asking for ordination and probably complete some other paperwork. Later, you would have an appointment with your bishop to assess your faith and your commitment to serve the Lord. The next stage would be an examination where a special committee of priests and professors would assess your knowledge of theology and liturgical services. You would also have to take part in the sacrament of confession, where your life and background would be examined for suitability for the priesthood. If you have successfully completed these final steps, you will be notified of when and where your ordination will take place.
7. Ordination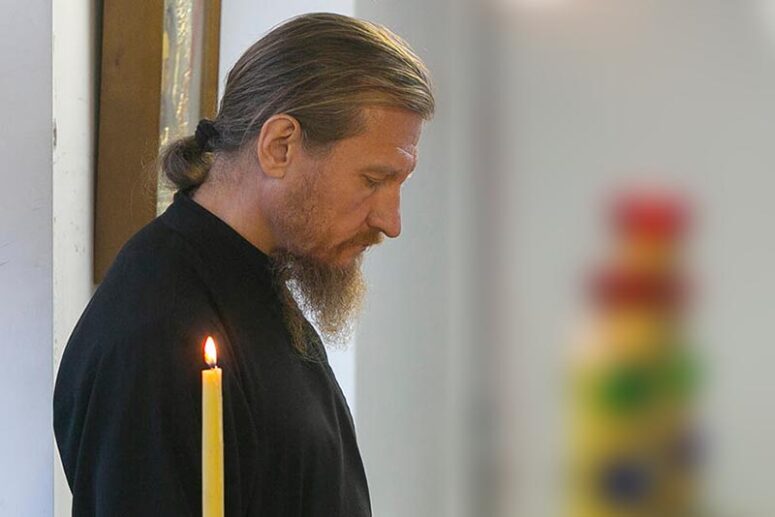 By then you would know much more than anything this article could tell you. But if you don't know what the Orthodox clergy is all about, you should know that there are 3 clergy ranks in the priesthood of the Orthodox Church: deacon, presbyter (priest), bishop. So if you want to be a presbyter, you have to be a deacon prior. Only unmarried/monastic priests can be consecrated as bishops. 
Nowadays, in the Russian Orthodox Church, the diaconate is sometimes seen only as a step towards the higher ranks. Deacons, for example, have mostly liturgical duties, while a Russian Orthodox priest's daily routine would also include pastoral work and care: visiting the sick, spiritual counselling and simply being available wherever needed, 24 hours a day, 7 days a week. Bishops are also responsible for overseeing a diocese, and their day-to-day duties vary according to the needs of their diocese.
Finally, I must say that I really hope that someone reading this article will actually become a member of the Orthodox clergy. God be with you!