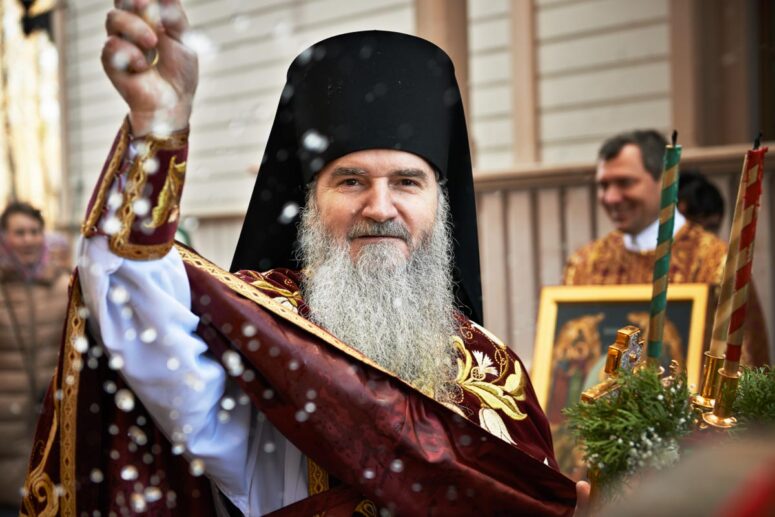 This charismatic man with a southern temperament chose the way of monasticism with the blessing of his honourable grandfather. The wondrous ways of Divine Providence brought him to Valaam. Here, he became a greater Russian than many Russian-born. He brought the light of Christ to the Orthodox people and projected an outstanding example of God's love. He made profound spiritual truths simple and easy to understand. He brought hundreds of people into God's flock. In a tribute to the recently departed Archimandrite Methodius, Hieromonk Prokhor Jovanov, of North Macedonia, said: "Alexander the Great conquered the world with his sword, but Father Methodius won the world over with his love."
The ancestral call to Sainthood
Archimandrite Methodius, in the world Venko Petrov, was born on 16 February 1961 in the village of Banyane in Eastern Macedonia into a family of God-loving Orthodox Christians. His parents spent their entire lives in ceaseless work and were gentle and loving. However, his maternal grandfather, Peter, had the greatest influence on Venko. He had served for seventy years in the village church as a reader and warden. He prayed fervently and had a deep love of God. From a very young age, he took Venko to the Church and had him hold a candle before the priests during Liturgy. "My grandfather loved people very much. He was infinitely sociable. I am convinced that I have inherited some of his love by his prayers," Father Methodius recalled. He would frequently invite 30-40 guests after services for tea.
Already as a child, Father Methodius remembers having a calling to monasticism. He loved reading from the Gospel of John from age 12, and he wanted to please the all-loving God with his love so much that his eyes were full of tears. Several years later, however, his parents moved house and settled in Skopje, where he lived with his brother. Worldly life in the capital of Macedonia, his studies and friendships distracted Venko from the service of God for some time. After graduating from Cyril and Methodius University in Skopje with a degree in civil engineering, young Venko was planning to start a family and settle in Italy. aware of his imminent death, his pious grandfather Peter spoke to his grandson about his purpose in life and gave him his blessing to become a monk. Venko could not disobey. In his grandfather, the world lost a model of devout prayer, and he was called to take his place.
His father blessed Venko's choice, but his mother having consented to it from the beginning, was soon given to sadness. She cried for hours as she pleaded with the Mother of God: "Why have you taken my youngest, most beloved son from me?". Soon, the Mother of God appeared to her in a dream as a pillar rising to Heaven and said to her: "Look, your son is right here, in the palm of my hand. And he is fine!" His mother was reassured. A skilled seamstress, she spent the rest of her life making vestments for the clergy.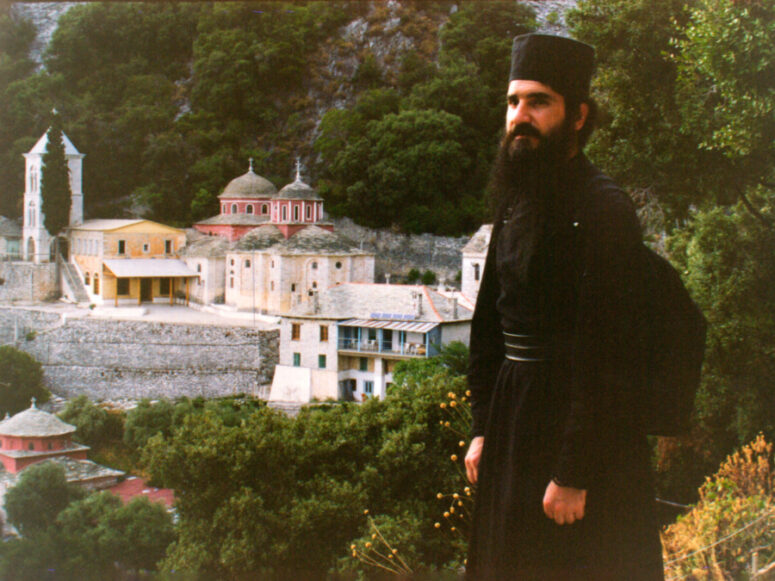 The road to Valaam
As Father Methodius himself remembered, his way to Russia was filled with numerous unexpected occurrences, many of which would not have been in his human power to anticipate. The Lord must have foreseen all of his encounters in advance. He said goodbye to his parents and his home and followed Christ without knowing yet where his journey would take him. At first, he intended to go to Mount Athos and received a blessing from Abbot George of the Gregoriat Monastery in no time through a friend who had travelled to the Holy Mountain. However, he approached the Ministry of Northern Greece three times to obtain a permit to visit the Holy Mountain, but each time, his request was refused. A pious sister delivered his passport, and immediately got it back with the resolution "application denied". As it turned out later, the reason was partly political and was related to the tension between Greece and Macedonia. But all of these events were not coincidences, but elements of the Lord's plan. At that stage, it occurred to the young Venko: "If Mount Athos cannot let me in, then I should go to Russia." Venko had never been there before and did not know a word of Russian, but he had been obsessed with the works of Russian writers, artists and composers from his childhood. He sensed the presence of God in the destiny of the Russian people and felt great sympathy for Russia.
When Venko approached Archimandrite George for his blessing to go to Russia, the Archimandrite asked: "Do you know anyone in Russia?". He replied: "Yes! Father John of Kronstadt and Father Seraphim of Sarov." "You have some good friends," replied Archimandrite George with a smile. "Go for it," he said, giving his blessing.
From Greece, Venko travelled to Bulgaria, also for the first time. In downtown Sofia, he walked into the Church of St. Nicholas and asked the elderly woman at the candle box in English how he could get to Russia. The woman looked at him carefully and wrote on a shred of paper: "Hieromonk Longin, train at 19:20, carriage such-and-such". " The train leaves in twenty minutes. Run!" Immediately, Venko hurried to the railway station, where he noticed a fine young priest surrounded by a crowd of people who had come to see him off. He approached him last and asked the same question: "How can I get to Russia?" The priest looked him over from head to toe and directed him to the Russian Ambassador in Bulgaria, who was standing among the escort.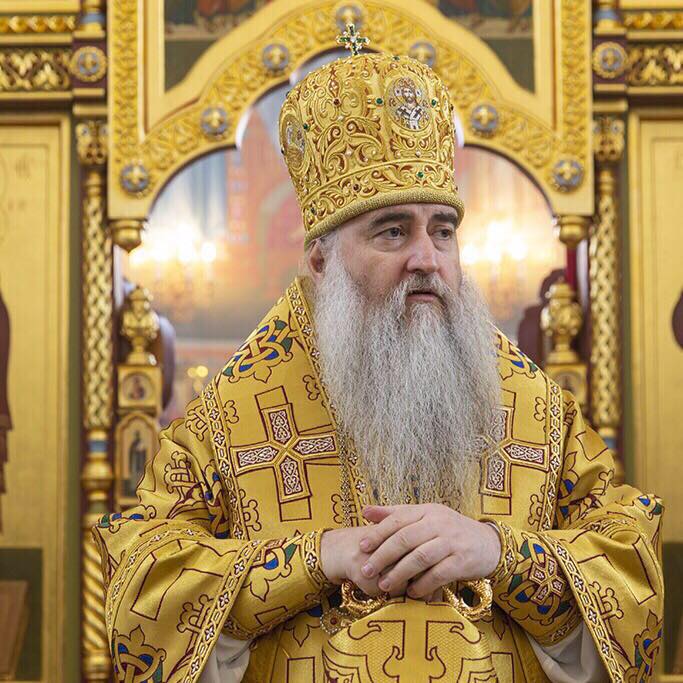 On 21 August, Venko was already in Moscow, where he met again with Hieromonk Longin, now Metropolitan of Simbirsk and Novospassk. He accompanied Venko to the Trinity-Sergius Lavra, where he immediately hurried to seek the blessing of the well-known elder Kirill (Pavlov). At the time, many people wanted to stay in the Lavra, but only one out of forty applicants were given permission. The elder blessed him before he crossed the threshold of his cell.
At the Lavra, Venko befriended its housekeeper, Father Pankratius, who was appointed by Patriarch Alexis II of Russia as the Valaam Monastery abbot six months later. Father Pankraty asked Venko if he would be willing to travel to Valaam, Mount Athos of the North, and offered to keep him company. They asked Elder Kirill to give them his blessing, which he did again, with confidence.
Back then, Venko knew nothing about Valaam. But after his monastic tonsure many years later, the Lord revealed to Father Methodius that his coming to Valaam was no coincidence. He learned about seventy monks from Old Valaam who found refuge from persecution from the Soviet authorities in his native Macedonia. One of them was the schema-monk Pankratius, a famous elder. Father Methodius' parents visited his grave and shared its photograph with their son. Venko also found, to his amazement, that the hieromonk from Valaam died on 6 February 1949, and on that same date, 6 February 1993 he first arrived on the island with Hegumen Pankratius. That also could not be a coincidence, but yet another proof of the deep spiritual connection between him, his homeland and Valaam Island. The Divine Providence was again at work!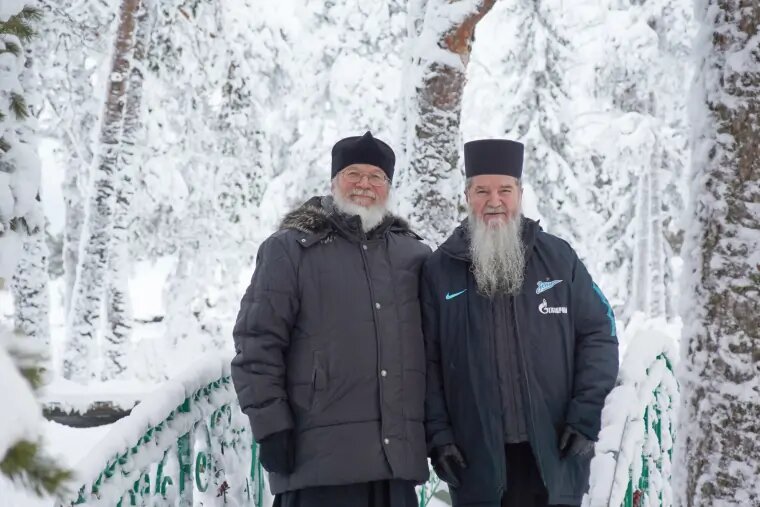 The gift of love and hospitality
A year and a half after his arrival on the island in 1994, Venko was tonsured a monk with the name Methodius, and four days later he was ordained to hierodeacon. That same day two years later, Patriarch Alexis ordained him as hieromonk.
He said his first sermons were in broken Russian and with such a strong accent that no one could understand a word. But he spoke with such feeling that the parishioners bathed in the Holy Spirit at the sight of him speaking.
From his first days on Valaam Island, Father Methodius revealed himself as an industrious, cheerful, loving and compassionate person. He entreated everyone who cared to listen: "To be happy is to be able to fulfil someone's request. But even happier will be someone who is asked for nothing, but who sees that his neighbour is in need by is too shy to request help, and makes the decision to help before being asked. Yet perhaps the happiest of all is someone who builds up a kind, honest, generous attitude to the extent that doing good becomes his life, like breathing."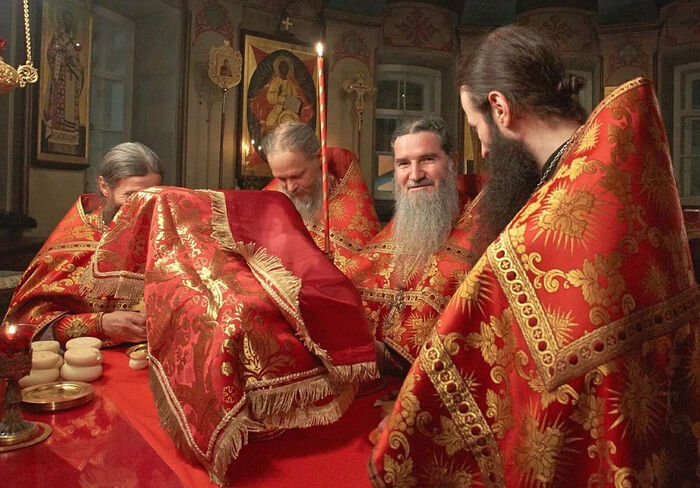 For the first six years, Father Methodius fulfilled the obedience of a sacristan and spent up to fourteen hours a day at the altar. Noticing his unique ability to get along with different people, Hegumen Pancratius made him his assistant for welcoming visitors. Father Methodius devoted almost all of his remaining years of his service at the monastery. Hospitality and love of others were his genuine gifts from God.
He met his visitors in person at the monastery gate. He always smiled as he thanked them for travelling all that way and immediately invited them for a meal. Each meal, which looked more like a feast, was like an Agape supper of the New Testament times that preceded a church service. Father Methodius said wonderful toasts and preached the Gospel before offering to hear the visitors' confessions. There were always many visitors who wanted him as their confessor, drawn to him by his simplicity, subtle sense of humour and his sincere love. He addressed all people in a particularly touching way: the most beloved, the kindest, the most marvellous, the most beautiful, the most God-loving… And he called Lord the most beloved. There was not a trace of acting or pretence in this behaviour, it was his true nature, an expression of his overflowing love. He was incisive as if he could see through a person. Like a surgeon, he could heal a soul from a severe spiritual malady. He also enjoyed treating visitors to small gifts such as candy, prayer beads or small icons.
Many saw him as their close friend, confidante and spiritual father. He had a brilliant memory and could remember someone's name, patronymic and surname after meeting them for the first time. He also asked for their birth date and telephone number and wrote them down in his telephone book. He phoned his every acquaintance once a year on their birthday and asked them about the well-being of their family. Father Methodius had as many as 5000 contacts, including prominent public figures, artists and common people. He spoke with all of them with equal respect and treated them as his dearest person.
Behind his visible gregariousness and ease with which he welcome visitors was a tremendous effort and hard work. According to Nun Gabriela, Father Methodius' assistant, he gave up all of himself to the service of the people, but he was finding it increasingly difficult, especially in the final years of his obedience. He would return to his cell after another meeting with the visitors and say to himself with a sigh, "Will I live until the night is over?" But when another visitor knocked at his door, he pulled all his energy together to greet them with a loving smile and loving heart.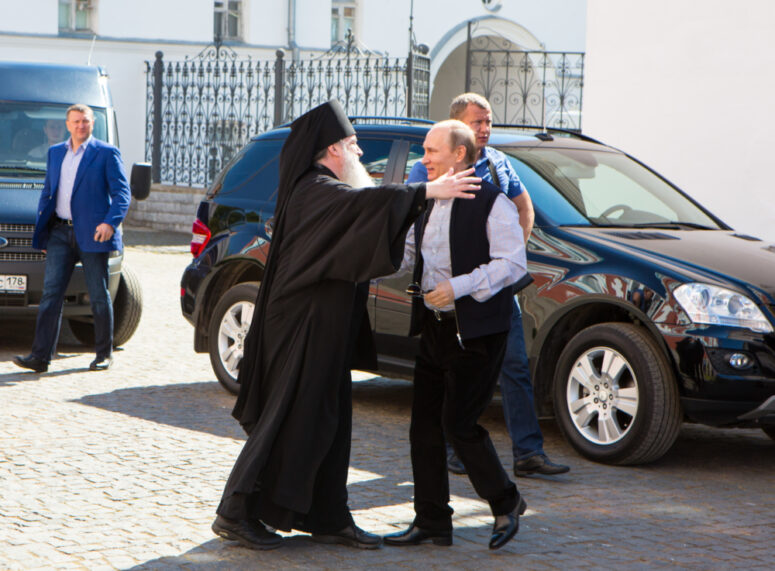 He believed in miracles, and they happened
Father Methodius had an amazing power of faith, and his prayers worked real miracles. Sometimes, when he thought his sins were too grave for him to be worthy of petitioning the Lord, he would pray to the Mother of God, knowing that He would not deny a please from His mother. Father Methodius once received a call from his spiritual daughter Vera Lozovaya, an obstetrician. She asked him to pray for her patient whose baby would not turn in the womb. A short while later, she discovered during surgery that the baby had turned and took the right position. Another of his spiritual children merited pilot Vadim Bazykin had crashed on his plane. Sensing the approach of death, he called his spiritual father. Father Methodius assured him that he would survive and prayed to God that He would heal the legs that the doctors were about to amputate. These examples are only a few of the miracles that occurred by his prayers.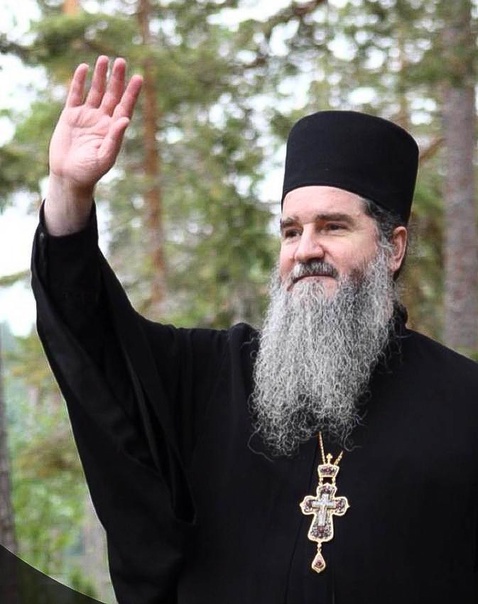 The departure of Father Methodius
Father Methodius spent his years at the monastery in ceaseless labours, sacrificing his health. In his final years, he was frequently ill and was spending much of his time as a recluse. That year, he had had a memorable Bright and Holy Week, during his lifetime, in which he celebrated every liturgy. Later that summer, in 2021, he was diagnosed with coronavirus. As he was leaving for the hospital, he anticipated that he was not coming back to the island and asked his brethren to take care of the monastery. He called Hieromonk Parphenius from the hospital and told him tearfully that he had had a vision of the Mother of God saying to him "Fear not. I will be with you." At first, Father Parphenius did not take these words seriously, attributing them to the poor condition of his friend. A few days later, an icon of the Mother of God was brought to Father Methodius's ward, and it remained with him to his end. To Father Parphenius, this confirmed the truth of the vision and gave him insight into the meaning of Her words. The Theotokos remained with Abbot Methodius to the end. According to Nun Gabriela, Father Methodius had shared with the brethren multiple accounts of the visions of the Theotokos before.
As Father Methodius had predicted, he did not return from the hospital. He surrendered his soul to the Lord on 22 July, at 61 years of age.
The Valaam flock and the entire Russian people mourned his loss. To them, he was a lantern of God's, a man who had led a life of holiness, as confirmed by Patriarch Kirill and many of those who knew him.
One of Father Methodius' spiritual daughters, exclaimed, after being told about his death, "Why is God taking the best people, what for?" But a child standing next to her explained "Do not you understand? There is so much injustice in the world that the Lord needs someone to help Him fix it. So he called Father Methodius".
Archimandrite Methodius never ceases his prayers and continues to concern himself about his most beloved children, offering his intercession in their most difficult times. Despite his departure, he is still alive. He is a monk with infinite love for the Russian people, as he described himself during his lifetime.