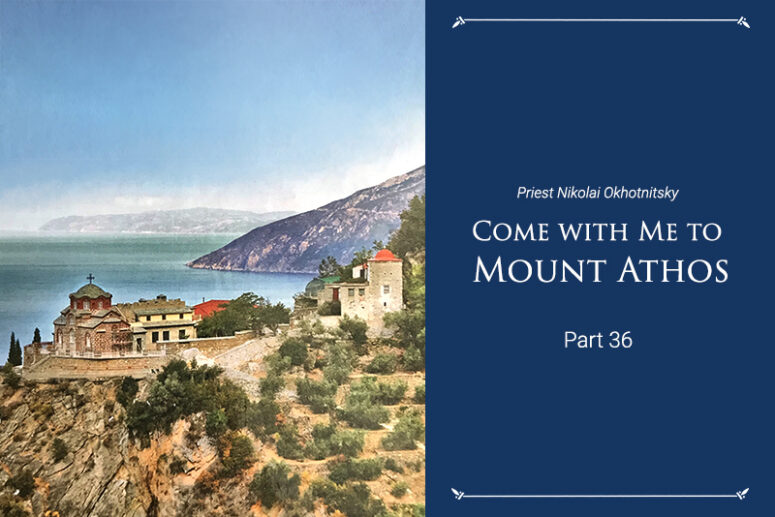 Dafni
Crossing to the southern side of the Athos ridge, our bus began to descend to Dafni pier, the main Athos port, visible far below. While it was turning awkwardly on the highway spiral, like a novice skier, I tried to look out for the path leading from the Xeropotamou to St Panteleimon monastery. Although we were not making any plans anymore, I was still scrolling all sorts of route options in my head, for navigation purposes. I was not sure about what would happen next, but it was already clear that our pilgrimage before leaving for the "mainland" was going to unfold along the southern coast of Athos.
 Suddenly I overheard a conversation between two priests in Russian cassocks, sitting behind me. One of them said that in Dafni they would take the ferry called Saint Anna to the hermitage of the same name, which was a convenient starting point to climb the summit of Athos. Unwittingly 'trying on' these plans, I found that St Anna's skete was a very convenient location to start moving along the coast towards St Panteleimon's Monastery, visiting monasteries and cells along the way. One of the key points of our pilgrimage was being on time for the ship sailing back to Ouranoupoli, because the rest of our schedule was very tightly arranged by the travel agency, and any delay would mean that the plane to the capital of Belarus would have to fly without us. The fact that we were on Mount Athos for the first time and had no experience at all, made such a possibility quite likely, so I decided to take no risks with timing.
 Arriving at the pier, we sat on a wooden bench in the shade of a boathouse. Cyril went to find out the schedule of water transport. He suddenly became worried that if he went further with us, he might be late for his flight to Moscow. Igor went to Janis Cafe and brought some hot pies with feta cheese, known to be a local attraction (definitely give them a try if you're there). Vladimir Georgievich arrived right after Igor with some coffee and cream. Without rushing anywhere, we enjoyed the food, as well as the view of St Panteleimon monastery and the green slopes of Athos. After finishing his coffee, Kirill decided to go to Ouranoupoli on that very day. It was probably a right decision, because any sudden storm, like the one that we had seen near the Iveron Monastery, would get him stuck in Greece, with his young wife waiting for him at home.
 While enjoying the hot drink, I wondered where to go next. There was still time before the ferry. Valera ran into his acquaintance, a novice from the Ukrainian Pochaev monastery named Nicholas. Introducing him to us, Valera disappeared in an icon shop. Nicholas was a thin, athletic man in his thirties, with regular, slightly elongated features and hair pulled back in a ponytail. Valera met him during his trip to an elder while in the Koutloumousiou monastery. As Kirill was heading towards the docked boat, ready for his travel back to Moscow, Nicholas seemed to be joining our group. Since the very beginning of our pilgrimage, there was always someone near us, bringing his own 'flavor' to it. It started with the guys from Ukraine showing us the way to the Milk-giver Icon. Then there was Kirill from Moscow, and then Nicholas spent a day with us before he had to sail to an elder for advice in choosing a monastery to stay in. After Nicholas, there was a young man from St Petersburg named Andrei, and then Father Sergius from the St Elisabeth Convent in Minsk. They all turned out to be very nice and interesting companions.
 – You need to go to Paul's! 
Waking up from a contemplative state, I looked in the direction of that quiet and confident voice, but I did not see the person who had said this. There was a group of Russian-speaking pilgrims with a priest, who had already gone some distance, so I did not understand what exactly they were discussing.
 I called the guys and told them:
 – When the ferry comes, we will sail to the monastery of St Paul. From there we will move along the coast towards St Panteleimon.
 I seemed to have already become "kind of" clear about our near future. Soon Valera approached, who had gone to the icon shop to buy a cross for his wife.
 – Father Nikolai, come help me choose a cross for Anya.
 – Let's go! And besides, today you have to take a special route. Valera didn't seem to have heard the last words.
 I got up and followed him. On the way to the shop and while we were choosing the cross, I kept thinking that Valera certainly needed to go to St Anna's skete, because of the tradition to pray for childbirth before her holy relics.  It was very important for his family at that time. As soon as he paid for the  cross, we went to buy a prayer rope from Father Silouan, an old and amusing Greek monk who had come down the mountain to sell his handicrafts. Arranging a display of all kinds of prayer beads right on the embankment, he was watching the fish, restlessly rushing about near the shore and picking up the crumbs of bread thrown by the beneficent pilgrims. It was a real pleasure to watch Fr Silouan. There was something mischievous and very kind in his appearance. Valera and I began to examine the monastic 'weapons' on display. We opted for a woolen "hundred", and after we paid, Valera finally turned to me for an explanation.
 – You'll go to the Skete of St Anne. –  Informing Valera of the new route, I closely followed his reaction, knowing that a blessing should not run counter to the person's will.
 – And you? – Valera asked.
 – We will go ashore earlier, at St Paul's.
 Seeing the calmness on the face of my companion, I continued:
 – Don't climb the top without a blessing. If a priest directs you there, then go ahead and climb it. Don't forget to bring a few rocks from the top, and then move towards the St Panteleimon monastery. Maybe you will catch up with us. Do not turn off the phone, if anything, we will message you. Are there any objections?
 Instead of the military "no sir!", appropriate in this case, Valera folded his hands and bowed his head for a blessing. He had his own unique way of doing that. In a paradigm of a shepherd, blessing his sheep, Valera with his close-cut head looked like a playful lamb that would not think twice before butting you.
 After a stavros blessing, Valera, as if he had received a special combat mission (I could tell that he liked it), went to tie knots on the ribbons of his backpack. Returning to the edge of the pier I started watching the colorful fish scurrying in the turquoise water and thinking about the Will of God.
Translated by The Catalogue of Good Deeds
Part 1
Part 2
Part 3
Part 4
Part 5
Part 6
Part 7
Part 8
Part 9
Part 10
Part 11
Part 12
Part 13
Part 14
Part 15
Part 16
Part 17
Part 18
Part 19
Part 20
Part 21
Part 22
Part 23
Part 24
Part 25
Part 26
Part 27
Part 28
Part 29
Part 30
Part 31
Part 32
Part 33
Part 34
Part 35
Part 36
Part 37