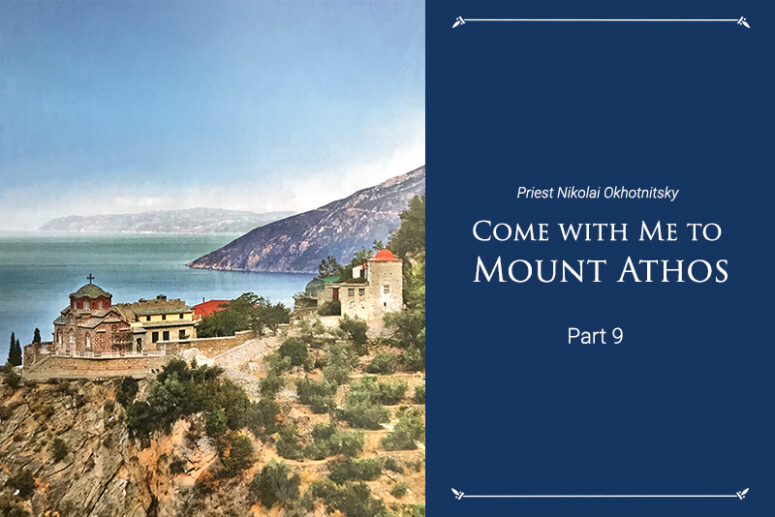 Sea, Urchins and Retsina
We went  to the shore. What looked like sand to us turned out to be fine gravel, but the water was a real miracle!
— Beware the sea urchins! – I warned my friends after I dove in and out. Stepping on a sea urchin just before Mount Athos meant ruining our journey. They (the urchins) stick to the underwater rocks and resemble round balls bristling with sharp needles aimed right at the bathing pilgrim's foot. The fish was right on cue. How beautiful! The clarity of the water was amazing. There were no antique amphorae, but everything else looked better than in the BBC films about the underwater world, probably because I was watching it with my own eyes, and not through the TV screen. Fifty meters from the shore there was a ridge of underwater boulders. If not for the urchins, we would stand on them and wave our hands with joy. We were like children. Igor was a great swimmer, and we soon lost sight of him. After swimming to our heart's content, we stretched on sun loungers under reed umbrellas in the rays of the setting Greek sun. That was not for long. A Greek man from the nearby tavern came running to us and explained that the sun loungers were for his customers only. Oh well, it felt just as good to lie in the sand.
 Finally, Igor returned, just a little short of reaching the Bosphorus, and we went to taste the local cuisine.
 My writer friend had advised me to choose from a variety of cafes the one where we would be invited in Russian. We were stopped by a waiter near a cozy restaurant at the base of the old tower (the starting point of our ferry to Athos tomorrow). He cordially threw his arms to the sides (making it more difficult for us to get around him) and invited us in broken Russian to come in and taste some Greek delights. Showing that we were also very linguistically advanced, we blurted out our entire culinary vocabulary without even opening the menu:
 – Would you bring us some tzatziki, horiatiki, htapodi and, of course, some Retsina! – The water's smile grew even wider, and he rushed to cater to his beloved guests.
 I will now explain what is behind these beautiful terms. Firstly, these are the attractions of Greek cuisine, and secondly, if you are in Greece, be sure to try it! Tzatziki is soft cottage cheese or unsweetened thick yogurt with herbs and garlic. You can eat it straight from the plate with a fork, or you can (as we did) spread a thick layer of it on a slice of toasted bread. Horiatiki is what we call Greek salad, only with the right tomatoes, cucumbers and, most importantly, the right olives. Greek olives are not at all similar to Spanish olives; they are not pickled, but salted with spices. Seeing a mountain of lettuce in front of us, we strongly doubted that we were able to eat it all. Htapodi are grilled octopuses. A description of their deliciousness would take several pages, so let's omit it. Retsina is a kind of dry table wine infused with pine resin. Long story short, if you are there – try it, you will discover Greece from this 'non-spiritual' side.
 The pleasant breeze from the sea, the melodic sound of waves, the good people nearby, the delicious food and the expectation of tomorrow's Athos… We were probably happy at that moment. Note that "Athos" goes after the "meal" in my list – one more evidence of my so-called spirituality. The inner voice was insisting on more retsina, but another voice spoke quietly from the depths of my soul, "That's enough. You are going to Athos tomorrow".
 Having finished our meal, we walked unsteadily on our shopping tour where we bought a map of Athos and some very special walking sticks. It was time to go back to the hotel and get some sleep.
 We read the evening prayers all together and then stayed up for a long time writing messages home. The distance makes you understand how much you cherish your near and dear: my lovely wife, children, and now also my grandson. In the picture on my phone, he looked like a big smiling … watermelon.
Translated by The Catalogue of Good Deeds