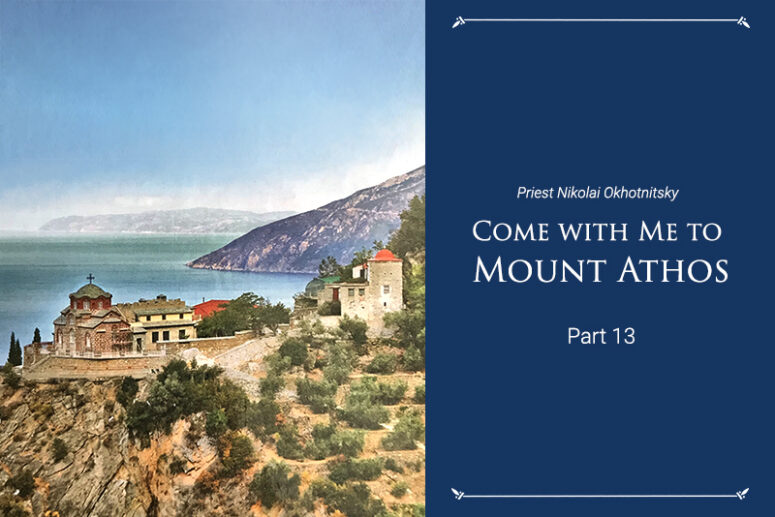 Caryes. The Pilgrimage Begins
The bus was humming strenuously, lifting us higher and higher. We were on Mount Athos! Perhaps the Lord will have mercy and call me to service, arming me with discernment or, better yet, granting me Wisdom. I was on my way to that holy place daringly asking the Savior and His Most Pure Mother to help me renew my spirit and revive my soul. I was like a beggar who had done nothing to make himself worthy of God's help, but I was still begging, "Grant, O Lord!"
 We finally passed the mountain range and saw dense, lush vegetation, a sign of either subtropics or tropics. I wasn't sure if I remembered my geography correctly. The highway spiral went down. I was trying to draw a map of Athos in my imagination to determine my location. Time was passing imperceptibly, apparently, due to the constant flow of new impressions. The bus was full with people who were very different from one another, and yet somehow everyone's eyes looked similar to me.
 It was strange to be recognizing familiar sites in a place that I had never visited. Here is St Andrew's skete! It used to be a Russian skete. Now its beautiful Russian domes are being restored by Greeks. I was hoping that we would have a chance to visit the superb cathedral in honor of the the First-Called Apostle. There are so many places on Athos where you want to visit so much!
 Finally, the bus stopped. All passengers congregated in a small area in front of several shops, a post office and something else. We were in Karyes.  Somewhere here there was the famous icon "Axion Estin" ("It is Truly Meet"). I thought that we must definitely venerate it, as we had a very important business to it.
 When my priestly ministry in a rural parish was only beginning, the first thing that I had to do was to seek and train Sunday School teachers. It is my firm belief that a parish and a community can be built only after a normal Sunday school begins working in it. What do I mean by "normal"? I mean a Sunday school where children work with professionals, following a sensible program adapted to this particular area. I also mean regular classes based on a single common textbook. There is an African saying, "A child can only be raised by an entire village". We can expect a parish to eventually develop into a community only if everything in it serves raising its Sunday school children. As you know, a community  constitutes a part of a healthy Church. But this is a long story that I would like to discuss some other time…
 Once we had an idea to write a children's icon that would be painted with donations collected by children. We wanted the kids to have an icon before which they could pray, realizing that it is their own icon. For two years on Easter, we have held an Easter craft fair with the help of children and their parents. Two years later, we wrote that icon in accordance with all the rules of real Orthodox icon painting and with the blessing of the ruling Bishop. It was written by Pavel Minchenya, who is well-known in certain circles. The icon came out exceptionally bright and beautiful. It was almost an exact copy of the Athonian icon in Karyes, but not quite. First, we did not 'crown' the icon, considering it a Roman tradition. We also decided not to place angels near the face of the Holy Virgin. Finally, Pavel depicted the veil on the head of the Most Pure Lady in white, as a symbol of virginity and purity. Everyone loved the icon in the village. It was greeted in a conciliar manner, and the Archbishop himself consecrated it. We ended up calling it the children's "Axion Estin".
 I brought with me to Athos a pack of printed triptychs with this icon and was going to consecrate them at their Athonite archetype.
 But that was to be done later. We were heading towards Vatopedi, according to our plan that we had agreed to follow.
Translated by The Catalogue of Good Deeds