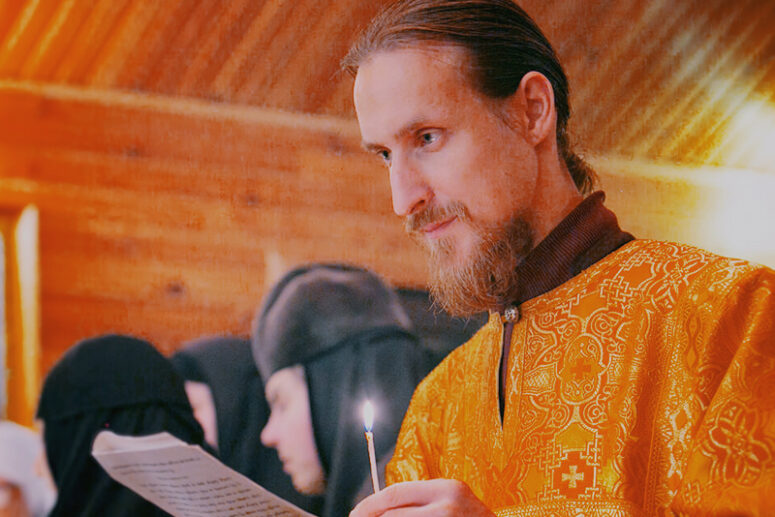 He visited Saint Elisabeth Convent ten years ago, and he already knew then that it was his home. Three years later, he settled in a monastic cell and dedicated his life to the service of God and the people. We Asked Brother Dmitry Akhremkin to talk about his obediences at the Convent and tell us why he thinks it is the best place in the world for him.
My coming to the Convent
From the day of my first communion and churching, I have always felt a need to be at church. The Church of Sts. Peter and Paul was my favourite church. Standing at its side door, I noticed a poster inviting interested candidates to learn icon painting. I thought about it and decided to give it a try. I called, and later that evening I came to the Convent of Saint Elisabeth for the first time. It was in 2010.
I still remember how I felt when I crossed that gate. My inner voice said to me then: "You belong here! You ought to live here." It became absolutely clear to me that I had just found my home. It took me three years to complete the course, and all that time I was working in the world as an architect. I had a good salary which sufficient for all my needs. I had my own house in Minsk, and I was living comfortably there.
Yet the convent promised me something that I could never find in the world – growing in the Lord. A way of seeing things from a different perspective. A place where you can change your life fundamentally just by being there. Temptations seem plentiful, and they are standing in my way. Yet, with hindsight, it becomes evident that they had been sent to you so you can learn and advance. Anything that the Lord allows he gives you for your spiritual growth, or to foster the spiritual advancement of somebody close. I know for sure that there is no other place on earth like this.
After finishing the icon-painting school, I settled in a monastic cell. This happened on the feast day of my guardian angel, Dmitry of Solun.
Architect
At the Convent, they gave me the blessing to practise my profession. I have worked as an architect at the architectural design workshop from my first day here. Its director, Monk Dmitry (Kozyrev), is the Convent's chief architect. He is also the leader of its monastic brotherhood, in honour of the Optina Elders.
It feels as if the saints themselves are coming to our help. For example, the Church of Saint John of Shanghai in its original design was different from the way it appears now. As we were building it, we had to make changes to it on the spot. Sometimes, the builders had not adhered to the design, or we had made a mistake as architects, or some other unexpected development had happened. We all learned the lessons from our errors, and when we finished building, the church looked even more magnificent than in the original design. I think it was a miracle, and I have seen them happen many times.
Visiting hospitals and long term care homes
My ministry at the hospitals and care homes has been one of my main obediences from day one. To me, this was providential, as it was bringing me closer to God.
My obedience at the care home for disabled children began immediately with my coming to the Convent. We were introducing the children to church life and letting them attend the Divine Liturgy. In this way, we planted the seeds of faith in their hearts.
When the children grow up, they go to care homes for adults. We always wanted to keep in touch with our children and be a part of our lives, so our ministry has expanded over time to include multiple institutions for adult patients. As new children are coming to the care homes, we take care of their needs and lead them into the church.
Sometimes, you might hear something from a child that you understand immediately must have come from the Lord. I was seeing a boy named Sasha. Like most children, he would shake some trees and test a few limits, but sometimes he would come to me and say in all seriousness: "You should listen to what others say." Immediately, the truth of his words sunk in. "I should listen," I thought to myself.
Every child needs love and affection. For these children, each visit brings joy and consolation. By spending time with them, we get healing from the Lord – we give love, and we receive a lot more in return. All of us felt this very acutely when we could no longer come to see the children because of the Covid epidemic.
Assistant in worship
I came to like Christian worship very much. It was one of the gifts of God's grace, perhaps, that He had shed so generously on me.
At first, I was helping at the Church of Saint Nectarios of Aegina at the children's care home, and later I was asked to assist at the other churches of the Convent. I first entered the altar of a monastic church on Easter Day. Today, I am spending the greater part of my day there.
In the beginning, my obedience seemed easy, and God's blessing was taking me a long way. It is the same with any other new obedience. God gives you His blessing so you can learn. In the beginning, I could go to bed late and get up early for service the next day. Eventually, the grace subsides, and it is your turn to do all the hard work to keep things going. Things are much harder for me now than they used to be, but I am grinding on.
Teacher at the Sunday school
While the care homes are still out of bounds for us, God gave me another obedience – teaching liturgics at the Sunday school. My obedience at Sunday school has been a great experience. It developed in me a sense of intuition and an ability to sense how to consider age and interest in the teaching of a particular topic. All learning has a purpose, and I know that I will out mine to some good in my later life.
I teach my subject mostly through play. I tell the class that the liturgy is our exciting journey to the Kingdom of God. We are all sailing in the same boat and should do our share of the rowing. The boat is our Church. When you teach through vivid imagery, the student will retain the material for a long time.
Objectives for my spiritual growth
I am happy to be a part of the Brotherhood of Optina Elders. The Lord shows me the possibilities for changing my life. I am thankful to Him for my obediences and learning, and I am honoured to live among so many fine people.
If you ask me about my ultimate goal at the Convent, it is the salvation of the soul. Although it is located in the bustling capital, its pace of life is not too fast for my progress. My present life and circumstances facilitate my salvation, and the Lord gives me a sense of direction.
I am a monastic worker now. What does the Lord have in store for me? How can I best serve Him, and in what way? I am going to find the answers to these questions eventually. Time will show which route to choose and what it would take. Salvation is a long and arduous journey. Yet, the scripture tells us: "With man this is impossible, but with God, all things are possible (Matthew 19: 26).