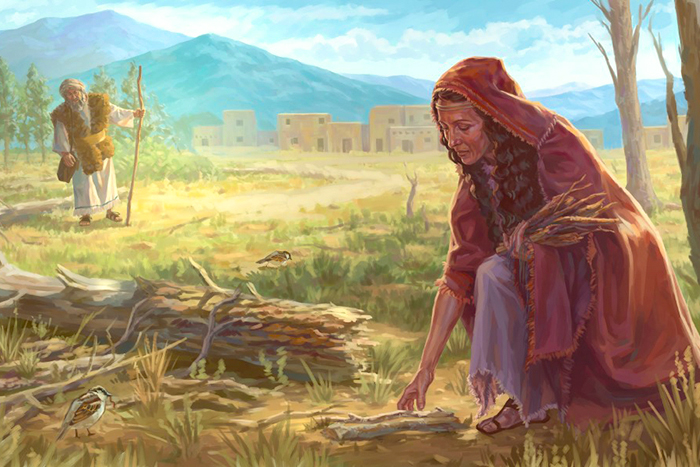 And Elijah said unto her, Fear not; go and do as thou hast said: but make me thereof a little cake first, and bring it unto me, and after make for thee and for thy son. (1 Kings 17:13).
What an amazing situation! The prophet Elijah turns to the starving woman and tells her to dispose of the future good in advance, while still waiting for it. Her first act should be an act of charity, not of acquisition. First of all she had to work for another person, for the prophet: "First make a cake for me." Let us not be surprised by this. Let us not regard these words as the prophet being insensitive to someone else's need, or oblivious to someone else's grief.
On the contrary, it was an expression of the most empathetic understanding of human need. Denial of oneself must be our main concern, both in the spiritual and material world. All our sorrows result from caring for ourselves too much. When we focus on our personal difficulties and hardships, we do not receive the desired relief. Instead, when we commit ourselves to the hardships of others and try to alleviate others' burdens, we also provide relief for ourselves. By helping others in their infirmities, we find a cure for our infirmities as well. At all times, in all circumstances, we must remember that the wounds of others are as open as ours, that the dark clouds hanging over our heads cast the same shadow around us, that our brothers, like us, need relief, encouragement, affection, and love.
Our greatest sorrow brings us a great gift – the gift of sympathy. Let us now offer this gift, let us spend it generously, and our spiritual strength will double from it. Let us forget about ourselves, and then return to our spiritual chamber, and find it already illuminated with a new light, decorated with new radiance: the light of the Spirit of the Lord and the radiance of God's love.
It may not have been easy for the prophet, the strong, independent man, to ask the poor widow for bread; and it was not easy for her to forgo her own need and serve another person. Nevertheless, they both obeyed God's will, and this produced great blessings for both of them. The obedient and humble prophet became the instrument of the great miracle, whereas the poor and helpless woman saw the love and care of God Himself in this miracle. This is always the case when the soul follows the path of obedience without visible support.
Translated by The Catalogue of Good Deeds
Source: https://azbyka.ru/otechnik/prochee/den-za-dnem/5_23