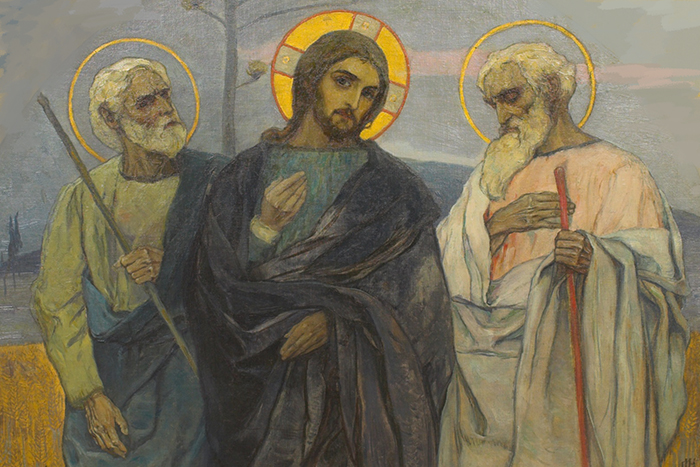 We do not know the exact time when Christ rose. Myrrh-bearing women barely waited until the beginning of the day following Saturday. It was still dark, but the stone was rolled away, and the body of Jesus was no longer in the tomb. Angels proclaimed His Resurrection, then He appeared to Mary Magdalene, then to the other myrrh bearers, then to Peter, then to two disciples on the way to Emmaus.
A day passed and evening came. The disciples gathered in the house. Suddenly the Lord Himself appeared among them and said: "Peace be unto you!" He appeared when the doors were "locked." Evangelist Luke says that the disciples "were terrified and affrighted, and supposed that they had seen a spirit." But the Lord showed them "His hands and feet and His ribs". Luke also narrates that the Lord asked: "Have ye here any meat? And they gave him a piece of a broiled fish, and of an honeycomb. And he took it, and did eat before them". All this convinced the disciples that their Lord was before them, that He really had risen. He was dead and returned to life, returned to them. But His body, although it was exactly His body, was different. Now it is able to go even through walls. It would seem that now the Lord could reveal Himself to the whole world and indisputably prove His resurrection from the dead. But He only favored the appearance to His faithful disciples, His called Apostles. He repeated: "Peace be unto you: as my Father hath sent me, even so send I you". Then he breathed on them and said: "Receive ye the Holy Ghost: Whose soever sins ye remit, they are remitted unto them; and whose soever sins ye retain, they are retained". Let us firmly and forever remember these words: there is Divine power in them. God once said: "Let there be", and according to His every word from nonexistence another parts of our world arose one after (Genesis 1). Just like here. The Lord said, and a sacred hierarchy arose, people appeared who were empowered to forgive sins, and thereby to connect people with God.
The enemies of truth in their so-called "new, modern translation" of the New Testament "translated" these words as follows: "if you forgive the sins of others, they will be forgiven to you too. And if you do not forgive, then your sins will not be forgiven". It is difficult to more clearly reveal to the whole world your father, who is also the father of lies; and it's hard to prove stronger the importance of this divine commandment.
The apostles received this authority from Christ Himself. Then they passed it on to their successors, bishops and priests of those churches that arose by their preaching. This power has reached the modern clergy. In the sacrament of the priesthood, the Lord said to each of us: "As my Father hath sent me, even so send I you". "Whose soever sins ye remit, they are remitted unto them; and whose soever sins ye retain, they are retained". 
And when we hear during the service: "Peace be unto all!" – This is nothing more than an unceasing greeting said by the resurrected Christ two thousand years ago. In every sacred sacrament, the same breath of the Lord works. And the blessing hand of the priest is a living continuation of the blessing hand of the Lord.
Let us hold on to this hand so that this blessed day and this blessed evening will not end for us, and that the Lord will always be in front of us with His victorious flesh, with His plagues accepted for us, and so that in our hearts always burn the joyful: 
"Christ is risen!"
Source: https://azbyka.ru/otechnik/Vyacheslav_Reznikov/propovedi-na-kazhdyj-den/1_1