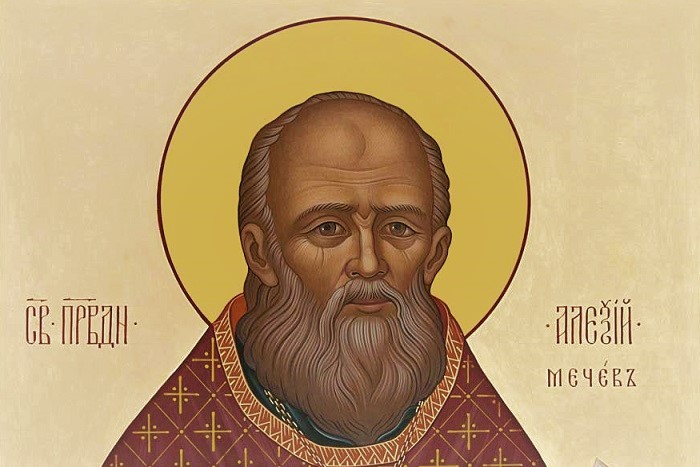 Commemorated on June 9.
Since so many of the saints whom we venerate lived in the early years of Christianity, it would be easy to conclude that the age of saints is over, that there are no more holy priests and bishops, monastics, missionaries and evangelists, or martyrs. But there are numerous men, women and children in modern times who have shown the light of Christ in their lives to such a degree that they will be revered forever as saints. As in the early Church, these saints are first known in their own lands and become known to the wider Christian community slowly through the years. It is to our spiritual benefit to learn about the saints who lived nearer to our own time, in the 20th and 21st centuries. One such saint is St. Alexiy, the Righteous Priest.
Our Lord's parable of the mustard seed would surely apply to Alexei Mechev. There was no sign of real promise in this child's early life. He was born in 1859, the son of a choir director who served under Metropolitan Philaret of Moscow. The family lived modestly with no opportunity for young Alexei to have the privacy of a room of his own. His ambition was to become a doctor after finishing school, but his mother's ambition was for him to be a priest.
Alexei sang in the choir of another Moscow church, where the priest was extremely cruel to him, even to the point of beating him at times. Instead of rebelling, Alexiy decided that the priest was trying to teach him humility and so he endured this treatment.
At the age of 25, Alexiy married Anna Molchanova and they had six children over the next decade. Only one of these children – Sergius – remained close to his father through the years. Finally, at the age of 35, Alexei was ordained to the priesthood, fulfilling his mother's ambition. He was assigned to the small church of St. Nicholas in Moscow which was in terrible decline. When Fr. Alexiy began offering the Divine Liturgy, no one came! He would ring the church bell to indicate that services were about to begin, but the church would remain empty. For eight years, this situation existed, and despite the ridicule of some of his fellow priests, Fr. Alexiy did not give up hope.
Gradually, people began to come to the church for services and, before long, many people came. Fr. Alexiy also visited prisons, where he read to the prisoners. He even gave readings in some restaurants and he provided religious instruction at a school for girls.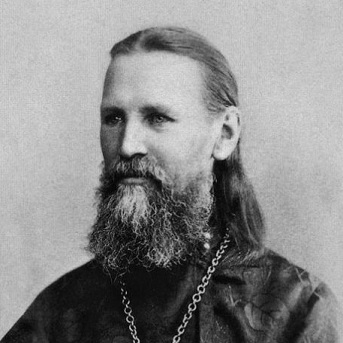 Tragedy struck the family in 1902, when Anna became ill and suddenly died, leaving Fr. Alexiy with the six children to raise alone. He was grief-stricken and sought the spiritual guidance of Fr. (St.) John of Kronstadt. The advice he was given sparked the blossoming of the mustard seed into a great tree: "Go to the people and share in their grief!"
Through his grief, Fr. Alexiy was able to discern the spiritual needs of people even before they told him of their troubles. He began to be able to speak to their hearts and give counsel that would help them in their lives. He worked tirelessly among his flock and kept a notebook with all the names of those for whom he prayed daily.
Soon Fr. Alexiy became known as a great spiritual father, an elder or "starets". Those who came to him for counsel were so numerous that there were long lines waiting for him at the church or his home. Like his mentor, St. John of Kronstadt, he gave each person his full attention and turned no one away, even those who were not church-goers or who were of other faiths.
Descriptions of Fr. Alexiy's personal appearance and that of his home are indications of how he spent all of his time helping others: he was a small, bald-headed man with a very unkempt beard and his cassocks were old and faded. His books and liturgical items were strewn everywhere in his study.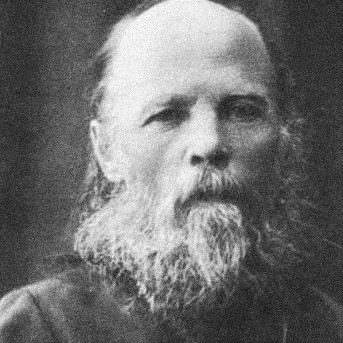 Among the many words of wisdom which Fr. Alexiy passed on to others were those which served as his motto: "Live for others, and you yourself will be saved. To be with people, to live their life, rejoice in their joys, sorrow over their misfortunes…herein lies the meaning and way of life for a Christian, and especially for a pastor."
With the uprising in Moscow in 1905, Fr. Alexiy foresaw the Revolution and the chaos which that would bring, especially to the Church. He advised the writer Nikolai Berdyaev to leave the country so that the world would be able to hear his words.
When he fell asleep in the Lord on June 22, 1923, tens of thousands attended his funeral. The incarcerated PatriarchTikhon – the St. Tikhon who is considered a patron saint of Western Rite Orthodoxy – was allowed out of prison for a few hours in order to be present for this holy priest's burial. In 1934, as Fr. Alexiy's body was being removed to a new grave, the body was found to be incorrupt. This mighty tree, which blossomed from a humble mustard seed, was declared a saint – the Righteous Priest, St. Alexiy – by the Moscow Synod of the Russian Orthodox Church in 2000. Now closer to the throne of God, he can intercede for us as he did for so many in life. Holy Alexei, pray for us.
Following in his father's footsteps, Fr. Alexiy's son, Sergius, who had also become a priest, was assigned to continue the work of his father at St. Nicholas Church. With the worsening of relations between the Soviet government and the Church, Fr. Sergius was imprisoned several times and finally murdered in 1941. He is now also a saint of the Church.