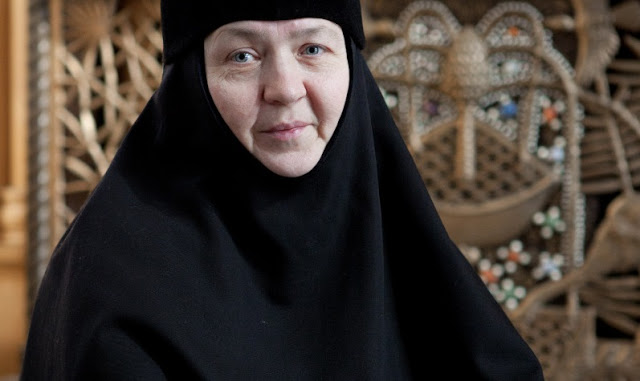 I came to the Convent with a great but probably naïve desire to turn from a boss into a subordinate and obey someone at last.
When we stay in the world, our "obedience" to our spiritual father is deformed sometimes and boils down to us making the priest choose between two options of our choosing, "Father, please tell me what to do: this or that? Really, this option is great, isn't it? Isn't it?" The poor priest has nothing else but to agree with you. Or, "Should I get married or become a nun?"
Do we think we have the right to transfer responsibility from ourselves onto the spiritual father's shoulders, so that he could be blamed for your failure in marriage or in the monastery? It looks like some kind of deception, albeit inarticulate. When I was making my mind to go to the Convent, I also asked my spiritual father… Well, how does one know what life in a convent is like? It's like going to war: you've read books and watched films about it but you'll never really know what it is like until you hear a missile explode near you, and you'll be lucky if it doesn't hit you. Our Father Andrew Lemeshonok had been my spiritual father since 1993. I had reached the decision to become a novice already, and the abbess with the sisters had approved it, and Father Andrew had blessed me already, "Please come, Sister Irina."
And so we were sitting on a bench in Ss Peter and Paul Cathedral after a service, and I said, "I think I should go consult an elder, perhaps?" And he replies, "Of course, you can… But anyway, you've got to decide it for yourself." His words "You've got to decide for yourself anyway" left an indelible mark on my memory for the rest of my life. Nothing can make up for absence of a vocation inside: either you have it — this God's voice telling you the right thing to do — or you don't. You can run from one spiritual advisor to another to have your problem sorted out the way you want it. And voilá — you've got someone to blame your failure on. Let's be honest, does it never happen? It happens all the time. Some people don't realise it but some do insist on their own solutions. We can't even imagine how much trouble one can find himself in due to his wilfulness!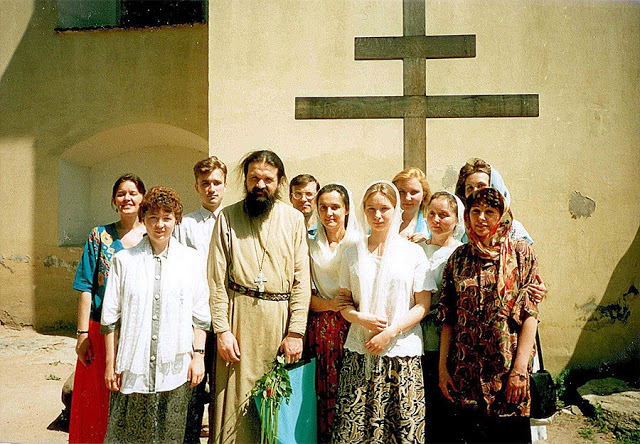 So when I came to the Convent, I wanted to start obeying someone first (that was my stated goal) and humble myself down, so that people could order me around and not say "please". Naturally, no one likes it by definition. I'm a regular person, not a masochist. No one wants to get hurt and be treated rudely, for instance; in principle, no one wants to feel any kind of pain. However, when you go to the Convent, the other part of your self — the spiritual one — becomes a little bigger. It is an act of God, of course. Because no one would become a monk or a nun without God. No one would fall in love, either, because the feeling of love is a bonus that God gives us, it's just that we often don't realise it.
I was instantly appointed to do the job that I had been doing my whole life. That is, I do what I have learned to do. There are few people in our Convent who have an obedience related to their past occupation. At first, they sent me to the choir, where I had to learn to sing, strange though it may sound. Singing in the Convent is totally different. Right now, I've got used to it but then… Sure, I heard how the sisters sang and even participated in the shaping of their worship repertoire. I helped Mother Martha and trained the sisters a little but it was, so to say, like someone looking out of the window of a train hurrying past the station. You've got to get off the train and spend several years on that station to know how people really live there. That was how I was learning to sing. I was often criticised: I knew it well that I was making many mistakes. It was a serious school.
I believe I managed to learn everything in half a year. I met with our abbess and she told me that I was to be in charge of the choir. The choir was in some kind of a crisis at that time because Mother Martha (Guskova) who was the chief precentor of the Convent was appointed to supervise the Rehabilitation Centre. The Rehabilitation Centre is a huge part of the life of the Convent but it's located too far, so she couldn't be in two places at the same time. Mother Maria (Derzhanovich) is a wonderful precentor, too, but she is the Convent's treasurer and cannot pay a lot of attention to the choir. That was why they appointed me. Perhaps, due to my age, or because they thought that I was a well-trained precentor, "widely known in narrow circles." In fact, I have a long way to go before I reach the level of Mother Martha and Mother Maria. They appointed me the chief precentor in order to have someone responsible for the choir, to have a person who can organise things and lay out the choir timetable. That was when I began to conduct the choir more often: I conducted the choir during all Sunday All-Night Vigils and weekday services.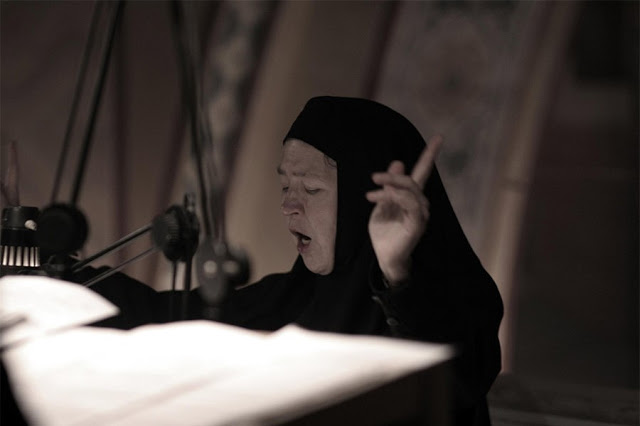 That was what the situation was like until Mother Anfissa became the precentor of the Monastic Choir. Currently, it is her who is the chief precentor of the Monastic Choir, and I simply help her sometimes. Yes, it was difficult for me at first, with regard to choir singing. I had an alternative point of view on lots of things: what to sing and how to sing. Everything is different here… Gradually, I got used to it and came to realise that it was not accidental that this choir was like that. It doesn't have to be similar to a female choir at all. The definition "female choir" doesn't match the sound of our Monastic Choir. It doesn't sound like any other female choir with trained voices. It's impossible because no one has the time or opportunity to train voices. We invited a vocal teacher to do it but it didn't help because we have a different spirit. It doesn't mean that the secular choirs are bad, it's just that we're different. I fully agree with it, and this is what our two choirs — the Monastic Choir and the Festive Choir, although it's a professional choir — have in common. Or even three choirs — we can mention the Brothers' Choir in this respect, too. The sound and the voices are simple, straightforward, and open. Needless to say, there are amazing voices in all three choirs! However, the three choirs are united by the "natural" voice sound. There is another thing that they have in common, and it is znamenny (and Valamo as part of it) chant, which dominates our soundscape here in the Convent.
The choir taught me so much. It is a place where you'll learn to obey even if you don't want to. It is extremely hard to sing in the choir. All singers know it. People allow themselves more in non-monastic church choirs, unfortunately. Some singers are far from the church, judging by their outfits and their gossip, newspapers, and smartphones during rehearsals. The Monastic Choir is free from it, and I like it…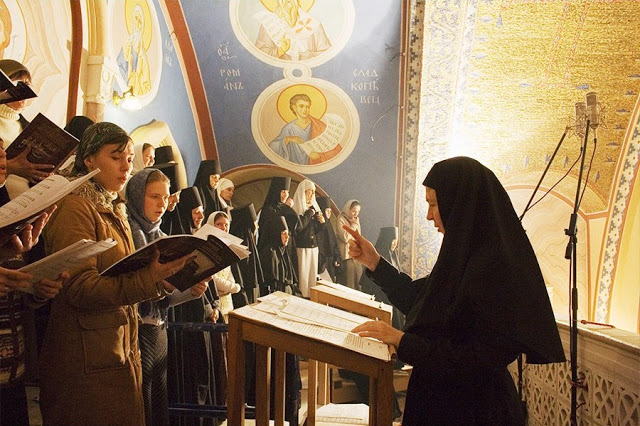 Almost instantly, one or two months after I came to the Convent, Father Andrew blessed the Festive Choir to become part of our community.
It was called The First Choir of Ss Peter and Paul Cathedral at that time. Our Father Andrew is tuned in to all suggestions, like a God's radar. He always evaluates if this or that object or thing is what God needs. So he decided that yes, that was what Good needed, and that the new choir was a great idea. Indeed, it was really helpful because the Convent began to grow very fast. A new dormitory, a school, the House of Love of Labour, the Pilgrims' House, and rehabilitation centres… There are so many new projects now that we have eighteen liturgies a week — sometimes even more, when we have liturgies in our educational facilities. We are in need of singers to provide the singing during all those liturgies. That was why new choirs started to emerge. There were only two choirs at first: the Monastic Choir and the Brothers' Choir. Today, there are also the Festive Choir, two choirs of lay sisters, a children's choir, the Department of External Relations Choir, and this isn't the limit, I guess.