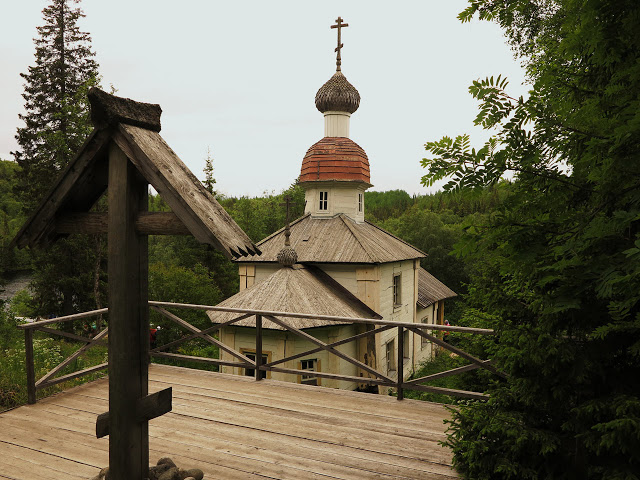 From June 17 to 23 the workshop of non-ferrous metals went on a pilgrimage trip to the Northern Russian region. The last and main stop was the Solovetsky Monastery. Every Russian person knows the tragic truth that in soviet times the monastery was a concentration prison camp. On the way to the Solovetsky archipelago, the staff of the workshop visited a chapel in honor of St. Xenia of Petersburg at the Smolensk cemetery, and also venerated the relics of John of Kronstadt, having visited the Ioannovskii Convent. During the pilgrimage the workers of the workshop had a chance to pray at the relics of St. Alexander Svirsky in the Alexander-Svirsky Monastery. This is the very place where The Holy Trinity appeared to St. Alexander.
While visiting Solovki, in addition to the tour of the Kremlin, the group managed to visit the Holy Ascension monastery located atop of a large hill called Sekirnaya Gora. During the Soviet era, the insides of the walls of the church served as isolation cells for prisoners. On the Solovetsky island of Anzer, the workshop participated in a 9-hour walk to the Golgotha-Crucifix skete. Workers of the workshop said that they were shocked not only by the surrounding nature and its beauty, but also by the life of the ascetics who live there and have to endure certain harsh conditions. At one time, there were many ascetics who lived there, among them the most highly venerated was – Eleazar of Anzersky.
Thousands of unknown martyrs died here in the Soviet era when a "hospital" was organized in the church and people were sent there, on a temporary punishment,  instead to die either from exhaustion, torture, cold, hunger or being overworked  due the merciless labor of the camp. On the way back, the pilgrims stopped at the Vazhaozersky Transfiguration Monastery (Republic of Karelia), which was established by the followers and disciples of Alexander Svirsky.Their names are Monks Gennady and Nikifor. It is interesting that one of the main churches of the monastery – the church in honor of the Transfiguration of the Lord – was consecrated in 1892 by St. John of Kronstadt himself.