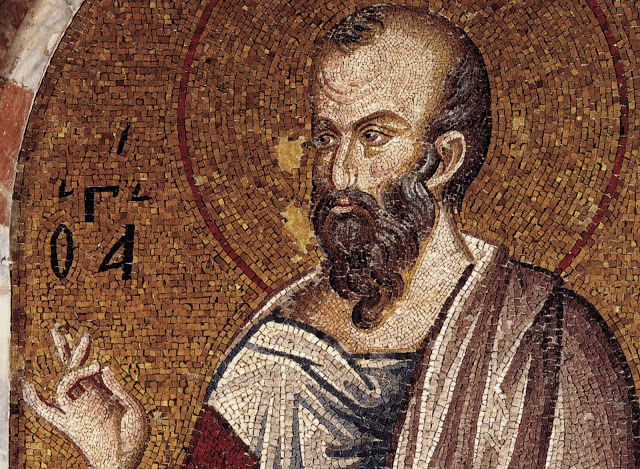 "To the present hour we both hunger and thirst, and we are poorly clothed, and beaten, and homeless.
And we labor, working with our own hands. Being reviled, we bless;
being persecuted, we endure; being defamed, we entreat.
We have been made as the filth of the world, the offscouring of all things until now"
(1 Corinthians 4:11-13).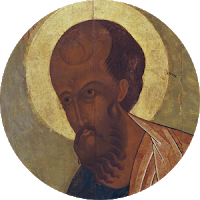 In the first letter to Corinthians, Apostle Paul states that he has worked on preaching the Name of Jesus Christ more than anyone else has. From the Bible, we know about four missionary journeys of Apostle Paul, during which he and his followers visited many cities and countries; they came across many Roman provinces, proclaiming Christ's name both to Hellenes and to Hebrews. However, since Apostle Paul worked on preaching the Holy Gospel more than others did, he consequently became the one who suffered the most. From the Book of Acts, written by Apostle and Evangelist Luke, who was Apostle Paul's follower, we can learn about all the sufferings he faced on his way.
Apostle Paul writes: "I am more: in labors more abundant, in stripes above measure, in prisons more frequently, in deaths often. From the Jews five times I received forty stripes minus one. Three times I was beaten with rods; once I was stoned; three times I was shipwrecked; a night and a day I have been in the deep; in journeys often, in perils of waters, in perils of robbers, in perils of my own countrymen, in perils of the Gentiles, in perils in the city, in perils in the wilderness, in perils in the sea, in perils among false brethren; in weariness and toil, in sleeplessness often, in hunger and thirst, in fastings often, in cold and nakedness" (2 Corinthians 11:23-27).
As we can see, Apostle Paul suffered for his Gospel preaching from various persecutions more than one time. For example, in the city of Lystra, in spite of the healing of the person who was sick from his very birth, the Hebrews coming from Antioch and Konya, where Paul had preached as well, managed to persuade the locals to reject the teaching of Jesus Christ. Apostle Paul was stoned for his preaching and when they thought he was dead, they brought him out of the city. But the Apostle survived. Despite the threat of death, he continued his missionary trip.
A little later, after the events of the Apostolic Council, Apostle Paul began to spread the teaching of the Gospel on the territory of Europe. When he came to the city of Philippi, he converted and baptized one woman and the members of her family. Then he casted a mantic spirit out of a servant, who was following him for many days and shouting various predictions. The masters of the servant, who had much benefit from her predictions, grabbed Paul and his disciple Silas and brought them to the city square. There they ripped off the apostles' clothes, beat them up with sticks and then threw them in a dungeon.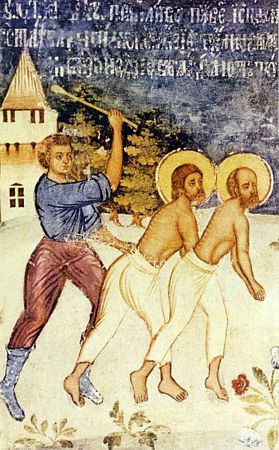 It is an incredible fact that although Apostle Paul and Silas had taken so many hits, were covered with wounds and enchained in the prison, they were singing and praising God for the whole night and all the prisoners were listening to them. The Book of Acts tells us what happened then: "Suddenly there was a great earthquake, so that the foundations of the prison were shaken; and immediately all the doors were opened and everyone's chains were loosed" (Acts 16:26). We can draw an interesting analogy between the imprisonments of Apostles Peter and Paul. Apostle Peter trusted in God; he was quietly sleeping and was released by an angel so that no one noticed his disappearance. Peter even thought that what was happening was just a dream. What concerns Paul and Silas, they were full of enthusiasm. Perhaps, they were so happy that they had suffered for the Name of Christ, that they began to praise God, and all the prisoners heard their prayers and became the witnesses of the miracle. However, the main miracle happened to warden who saw that all the doors of the dungeon were open and was going to kill himself. Paul did not let him do this and the person, who was on the edge of death, believed in Christ and "immediately he and all his family were baptized… and he rejoiced, having believed in God with all his household" (Acts 16:34-35).
That imprisonment would not be the last one for Apostle Paul. Many of his letters to various churches and disciples were written exactly when he was in chains. No matter how much he suffered on his way, he only became stronger and brought him even more glory both among Christ's disciples and among other people in the world. Apostle Paul, as well as Apostle Peter and other martyrs,  were ready to face any sufferings because of their love towards the One Who "will wipe away every tear from their eyes; there shall be no more death, nor sorrow, nor crying. There shall be no more pain, for the former things have passed away" (Revelation 21:4).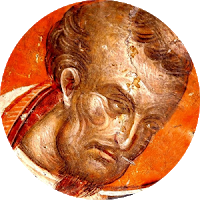 What St. John Chrysostom writes in his works:
Let us compare, beloved, with that night these nights of ours, with their revellings, their drunkenness, and wanton excesses, with their sleep which might as well be death, their watchings which are worse than sleep. For while some sleep without sense or feeling, others lie awake to pitiable and wretched purpose, plotting deceits, anxiously thinking about money, studying how they may be revenged upon those who do them wrong, meditating enmity, reckoning up the abusive words spoken during the day: thus do they rake up the smouldering embers of wrath, doing things intolerable.
Mark how Peter slept. Both there, it was wisely ordered (that he should be asleep) ; for the Angel came to him, and it behoved that none should see what happened ; and on the other hand it was well ordered here (that Paul should be awake), in order that the keeper of the prison might be prevented from killing himself. "And suddenly there was a great earthquake". And why did no other miracle take place? Because this was, of all others, the thing sufficient for his conversion, seeing he was personally in danger : for it is not so much miracles that overpower us, as the things which issue in our own deliver- ance. That the earthquake should not seem to have come of itself, there was this concurrent circumstance, bearing witness to it: "The doors were opened, and all their bonds were loosed." And it appears in the night-time; for the Apostles did not work for display, but for men's salvation. "And the keeper of the prison", etc. The keeper was not an evil-disposed man; that he thrust them into the inner prison, was because of his having received such a command, not of himself. Why did Paul not suddenly call upon him? The man' was all in a tumult of perturbation.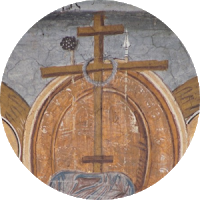 Reflections in the Holy Church tradition:
With a fiery zeal, Paul preached the Gospel everywhere from the borders of Arabia to Spain, among the Jews and among the Gentiles. As horrible as his sufferings were, so much more was his superhuman patience. Throughout all the years of his preaching Paul, from day to day, hung as one on a weak thread between life and death. Since he fulfilled all days and nights with labor and suffering for Christ, since he organized the Church in many places and since he attained such a degree of perfection he was able to say: "It is now no longer I that live, but Christ lives in me". (The Synaxarion on the 29th of June)