A young man full of hopes, faith, and aspirations… He wants to serve God and carry the Word of Christ to the people in the times of persecution and unbelief.
January 14, 1930
A cold prison cell in Sluck. It is snowing. When you look at the intricate snowflakes dancing around in the air, you can even lose touch with reality for a moment. However, you come round and start praying again after a while. No one knows what will happen to you in the next couple of hours…



A local teacher reported Father Valerian Novicki to the authorities. He was accused of anti-kolkhoz agitation. In fact, all he had done was speaking out against the new anti-religious club formed in a neighbouring village, where they staged blasphemous plays and sketches. He said that he would not perform funerals for the peasants who visited that club. The priest pleaded not guilty.



A young man full of hopes, faith, and aspirations… He lives in a cosy house with a wife and three children.
He wants to remain alive so badly! He wants to serve God and carry the Word of Christ to the people in the times of persecution and unbelief… He had made up his mind in 1923, having studied law in the Belarusian State University for two years and upon seeing the persecutions of the Church. He became a priest, saying, "We've got to rescue the faith!" He was 26 at the time.



He was aware of the risks and challenges that he was about to face. Being a worthy son of his father, Archpriest Vasily Novicki, and a faithful warrior of Christ, he fearlessly took up his cross and carried it to the end. The Lord comforted him with an opportunity to serve in Holy Trinity Church (v. Teliadavičy, MI), a wonderful wife, and remarkable children.
Dominica Ignatievna, the priest's wife, went to visit her husband in the prison but she was denied a meeting. She received a note from her husband, which read, "They offered me to save my life by denying God and my ecclesiastical rank. I refused. Will you pull through with the children alone?" She wrote back, "Don't deny God or your priestly rank. The Lord will help me."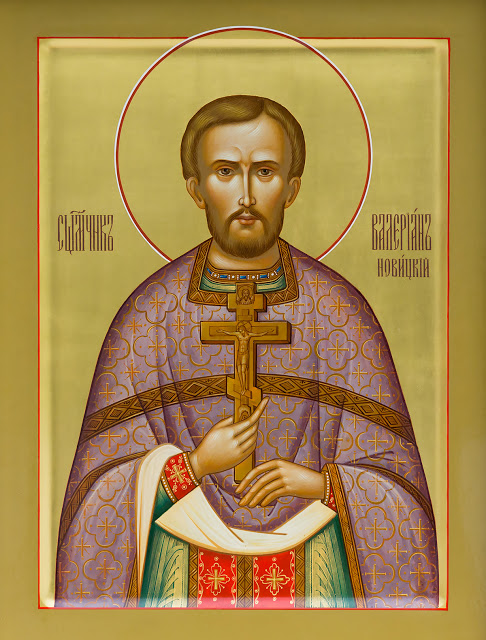 They were a gorgeous couple. Look at their amazingly expressive eyes that shone forth their souls of unearthly beauty! She did not want to part with her beloved husband: they had dreamed of spending their entire life together in love and faith, and to have grandchildren. Nonetheless, they had to make their choice and bear the brunt of it.



Matushka Dominica was left alone with three children. The family did not know anything about the fate of Father Valerian until 1975. The sole response to all their requests was that he had died of a stomach-related illness in exile.
February 23, 1930. The country was celebrating the Day of the Red Army and Navy for the twelfth time.



The three prisoners sentenced to shooting were brought to the rifle range. They were offered life in exchange for disavowing their faith in God and priestly rank.
The ground was frozen. Digging out a grave wasn't easy. Especially for oneself. Can you imagine what it could be like to dig out your own grave, especially when you are just thirty-three?
— Fire!
Several tomtits were scared away by the shot. They were the only witnesses of that tragedy.
People do not know where these three graves are even now. What we know is that Hieromartyr Valerian Novicki intercedes before God for all of us and for the peace in our land.


Prepared by Sister Tatiana Khomiankova and Sister Maria Kotova