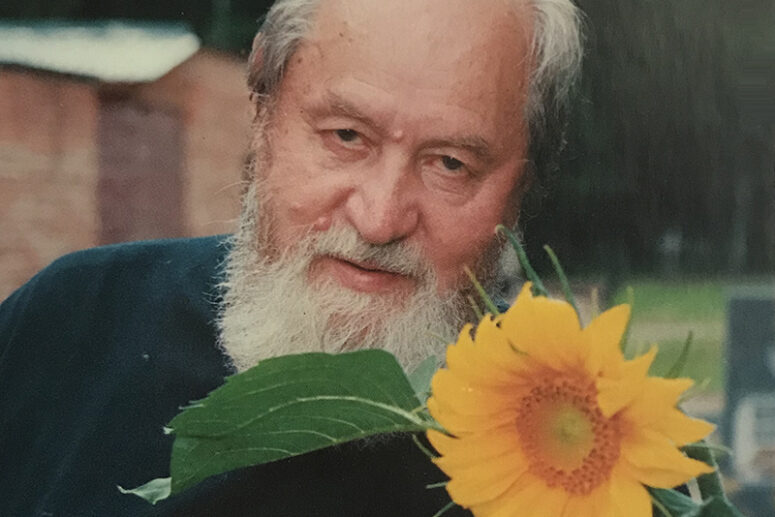 "Where people are still shedding tears at the thought of their homeland, hope remains alive, as they keep the ability to perform heroic exploits for the sake of their country." These lines are from the graduation thesis of Vasily Yermakov, a student of the religious schools of Leningrad. His thoughts suggest a high degree of maturity achieved by Vasily Yermakov, a young man at 25 years of age. In his life, he had more than his share of trials and misfortunes.  More than once did he look death in the eye. He survived dispossession and life in a cold earth house. He knew hunger, occupation and forced labour and captivity. He spent years in a German concentration camp in Estonia. He bore witness to tremendous human suffering and many deaths. The memories of World War 2 left deep wounds in his heart.
From his liberation from the German concentration camp to the end of the war, Vasily Yermakov lived in Tallinn. He was friends with Mikhail and Elena Ridiger who let him read religious books from their library. While in Tallinn, he also established a friendship with Alexis Ridiger, the future Patriarch of All Russia Alexis II. 
Vasily returned to his birthplace determined to dedicate himself to the career of a priest. After graduating from the religious seminary in Leningrad he went on to study at the religious academy, while the majority of his peers went to work to different parishes as priests.
Today, many who have heard about Father Vasily but never met him in person wonder what was so special about this priest and why he is still remembered fondly.
One among the people
Vasily's first duty station was the Nicholas Naval Cathedral of the Epiphany, one of a handful of active churches in his city.
"Contrary to the stereotypical perception of a priest, I stepped down from my pulpit to mix with my flock. I asked them about their needs and sorrows."
Those were difficult years. Less than a decade had passed from the lifting of the blockade. The people who came to church were retired front-line soldiers and survivors of the horrible blockade. God had kept them alive.
"I needed them as much as they needed me," remarked father Vasily at the beginning of his service.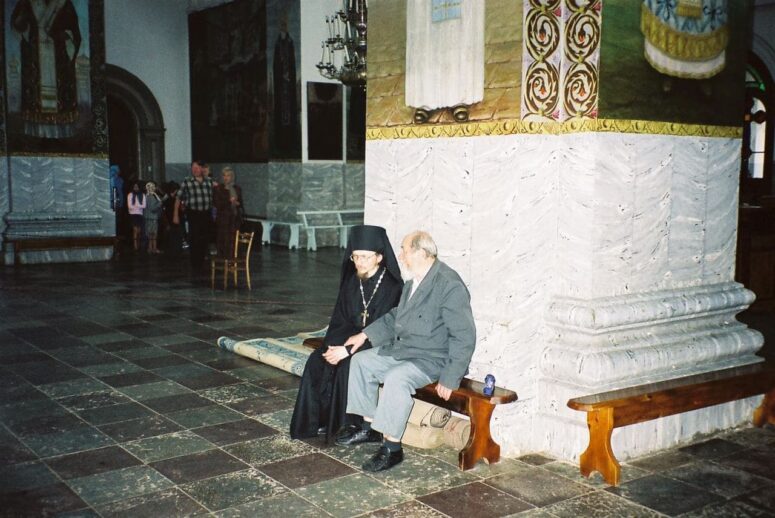 Exile
Father Vasily never feared the wrath of the authorities and he experienced it first-hand.
"While still a student at the academy, I wrote a dissertation on the role of Russian clergy in the struggle for the liberation of Russia from Polish invaders." The Soviet press blasted this work of mine several times."
In 1957, father Vasily was called to the KGB and offered to travel to the World Festival of Student and Youth as an informer.
I refused, politely but firmly. Ever since then, they excluded me from every delegation of the clergy that travelled abroad. The diocese might have nominated me, but they crossed my name out.
After almost a quarter-century of service at the Nicholas Naval Cathedral, he, a mitred archpriest, ended up as a parish priest in a small church at Serafimovsky Cemetery. It was not an accident. Everybody knew that his posting was an exile," remembers Father Vasily's spiritual child, Georgy Mitrofanov.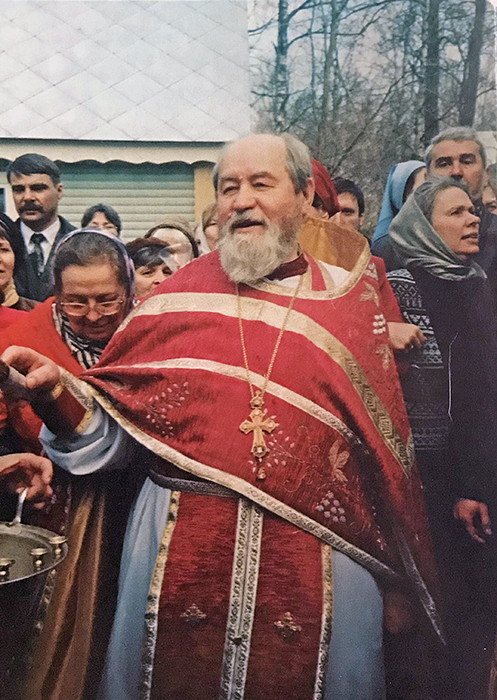 Memories of the spiritual children
Priest Mikhail Sereda, s spiritual pupil of Saint Seraphim of Vydritsa departed to God in Velebitsy. He wrote music and poetry and much else under the pseudonym Eyewitness. His widow Ekaterina asked Mikhail Fedorovich to deliver her late husband's records to Father Vasily.
Mikhail, the messenger, comes to the church of Serafimovsky Cemetery and sees Father Vasily waiting for him at the gate. "Are you bringing greetings from the Eyewitness?" he asks, and continues without stopping, – "Work for us, or you will starve to death, you scoundrel!" That was what the KGB officers had told him as they were sending him away from the rich Nicholas Church to his present duty station. They said exactly these same words to Father Mikhail as they were sending him to Velebitsy. While he was at Velebitsy, people were coming to see him from every corner of the world, even from America. Archpriest Vasily did not starve, either. It is not one's duty station that brings one glory.
Six months later, father Vasily returned the records to the messenger. "Take it back, do not make the matushka worried." He was right – Matushka Ekaterina was anxious to receive the records back, and she was happy when she got them.
***
Father Vasily's other spiritual pupils also experienced his gift of far-sightedness. Natalya, a parishioner, shared a story about her two twins who went to church at first but stopped when they went to grade six saying that they were too tired and busy.
"I complained to Father Vasily,
Father, when they were little, they went to church. Now they are staying at home sleeping.
'Do not worry. They will wake up sometime," he replied confidently.
Time was passing, but little was changing. I approached father Vasily again.
'Father, I do not know what to do! The children have been going without communion for eighteen months!'
'Do not worry. They will wake up.'
'But when will that happen?'
'Wait another year,' said Father Vasily, brusquely.
I felt reassured but also quite upset. I worried that they might go within God's protection for another year at their vulnerable age.
As if reading my thoughts, Father Vasily added smilingly.
'Half a year."
Inspired, I continued to go to church alone. One Saturday night as I was reading the prayer rule for the Communion one of my sons asked somewhat hesitantly,
"What if I went to church with you tomorrow?"
"Good idea," I replied. But I was still hedging my bets. "He may promise many things tonight, but come tomorrow morning and he will stay in bed," I thought.
The next morning my son woke up effortlessly in time for the early liturgy and went to church with me. It was exactly six months from our last conversation with father Vasily.
Sometime later, my second son also announced that he was going. As all three of us were waiting to approach the cup I remembered that it had been another six months since my first son began to go to church again.
***
Father Vasily's far-sightedness benefited many other people in many different situations.
Vyacheslav Rymsha, a composer and conductor of an amateur choir of Serafimovsky Church recalls how Father Vasily gave him his blessing to travel to Optina and visit his parents in Bolkhov on his way back.
A year later, Vyacheslav wanted to repeat the trip. As I was packing my bags for my visit to Optina, Father Vasily told me where to find a hotel in Bolkhov. I said, "Father, I will not need a hotel in Bolkhov, I will come in the morning and leave in the evening. I arrived in Bolkhov and went to book the return ticket for the bus to Belev. As I approached the ticket office window, the lady informed me that there was no evening bus because it had broken down, Then I remembered Father Vasily's directions to the hotel where I spent the night.
Father Vasily always objected when people called him an elder. "I am not an elder, I am just an experienced priest," he said.
He often advised people against searching for miracles and spirit-bearing elders. In his opinion, doing so would not result in any progress in spiritual life.
We have reported only a few examples of wondrous moments in the lives of Father Vasily and his spiritual pupils. Father Vasily possessed the gift of healing love for others. Visitors to Father Vasily will always remember the time spent with him as moments of spiritual renewal and healing and a gift from God.
Translated by The Catalogue of Good Deeds
Source: pravoslavie.ru